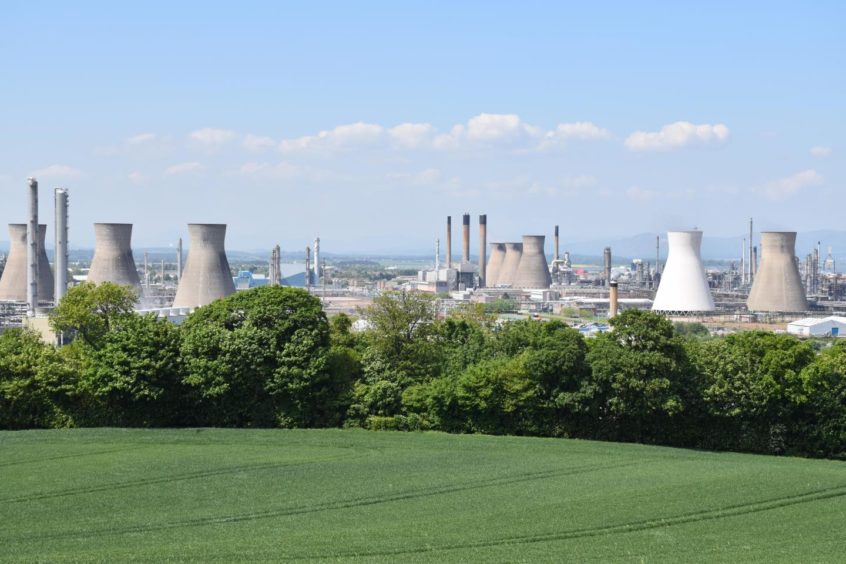 Ineos has invited engineering design contractors to tender for the design of a hydrogen production plant equipped with carbon capturing capabilities at its Grangemouth site.
The chemicals giant said the "world-scale" plant marked the next significant step on its net zero roadmap, which would see emissions fall by more than 60% across the site by 2030.
It follows the group's commitment made last year to invest more than £1 billion to reduce the environmental impact of its Grangemouth refinery, and reach net zero by 2045.
The tender will cover design of a "state-of-the-art" carbon capture-enabled hydrogen production plant, as well as major associated infrastructure, Ineos said.
Ineos Olefins & Polymers UK chief executive, Stuart Collings said: "This will see the displacement of hydrocarbon fuels used at Grangemouth, like natural gas, with clean, low carbon hydrogen to power our processes and manufacture vital materials used across a wide range of sectors.
"The carbon dioxide from this project will be routed to the Scottish Cluster's Acorn CO2 transport and storage project, resulting in reductions of more than one million tonnes of carbon dioxide emissions each year."
The Acorn carbon capture and storage (CCS) project at St Fergus, which leads the cluster, will store industrial emissions from heavy emitters around Scotland in depleted gas fields in the North Sea via the St Fergus terminal in Aberdeenshire.
Ineos anticipates the creation of "several hundred" jobs during construction of the hydrogen plant, though its operational workforce is yet to be determined.
The operator has already committed £500 million to other active projects across the site, including investment in a new power plant, due to be commissioned in late 2023. Slated to lower emissions by around 150,000 tonnes of CO2 per year, the power plant will later be converted to run on hydrogen, leading to further emissions reduction, Ineos said.
Local hydrogen production will also feed other assets at the Grangemouth Site, including the KG Ethylene Plant and assets in the Petroineos Refinery. A new hydrogen distribution network will be required throughout the site, alongside modifications the existing fuel gas network – all of which are captured within the scope of the engineering design.
The scope also includes the capability to link this hydrogen production to third parties in the local area, to support development of a local hydrogen hub.
INEOS Grangemouth chairman Andrew Gardner added: "The construction of a world scale low carbon hydrogen plant is an exciting development at Grangemouth and one that will deliver on our commitment to achieve Net Zero by 2045. It builds on the significant CO2 reductions we've already made at Grangemouth since we acquired the site in 2005."
However, Ineos' statement makes clear that the project is also tied to successful development of the Scottish Cluster's CCS project, to which it says it is "fully committed" as an important part of the country's path to net zero.
The project was passed over for UK Government "Track 1" funding last year, and instead placed on a "reserve" list ahead of "Track 2" awards.
Recommended for you

'Electrifying profits' from SSE Thermal as hunt continues for CCS