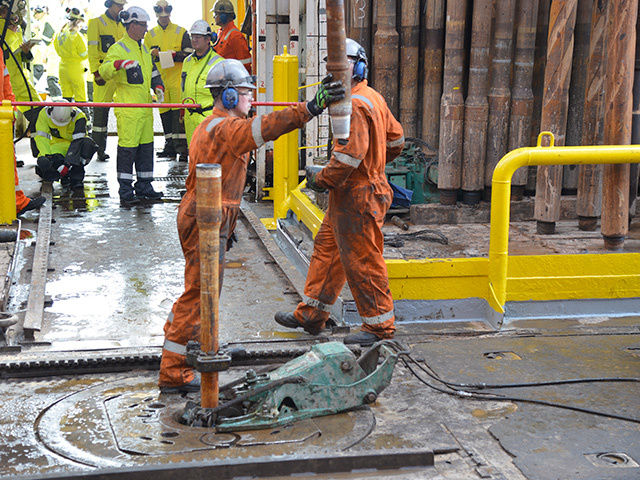 Norwegian energy giant Statoil has taken another step forward in developing a giant North Sea oil field.
The firm has applied for UK Government approval to press ahead with its multibillion-pound Bressay project.
Although Statoil will not make the final decision to sanction the development until later this year, it has submitted an environmental statement to the Department of Energy and Climate Change, a key milestone in the life of the field.
Bressay, a heavy-oil field around 80 miles south-east of Shetland, is similar in scale to Statoil's £4.7billion Mariner project, which is thought to hold up to 400million barrels of oil.
In its environmental statement, Statoil said operations at Bressay would start early in 2016, with first oil coming two years later.
The Norwegian operator predicted the field would still be producing more than 30 years from now.
The company plans to use a fixed steel jacket platform in addition to a processing, drilling and quarters installation and a floating storage and offloading unit.
Alongside Mariner, Bressay represents a huge investment in the North Sea and Aberdeen for Statoil.
Since sanctioning Mariner at the end of last year, the Norwegian operation has signed agreements worth a combined £750million-plus to develop the field.
Contractors now include Subsea 7, Odfjell Drilling and Noble, while it has also contracted Dragados Offshore, of Spain, to build the jacket and Daewoo Shipbuilding, of South Korea, to provide the topside.
Together, the production, drilling and accommodation platform is worth about £1.2billion, and several of the contractor agreements mean they would carry out the same work for Bressay.
Statoil aims to produce first oil at Mariner in 2017. If both Mariner and Bressay proceed, the operator plans to employ up to 1,000 people out of Aberdeen, but said yesterday it had not yet decided on a site for an office in the Granite City.
Offshore drilling giant Seadrill said it planned to bid for the remaining shares in rig firm Sevan Drilling after gaining control of more than half the company.
Seadrill, one of the world's largest offshore drillers and controlled by shipping tycoon John Fredriksen, added it had increased its holding in loss-making Sevan to 50.1%.
The market value of Sevan soared more than 16% to about £254million after Seadrill said it had bought almost 117million shares in the firm at 42.85p each. Oslo-based Sevan said Seadrill was undervaluing its assets and prospects, but it would come back later with formal opinions on the offer.
Sevan owns two rigs that can drill for oil and gas in ultra-deep waters; a growing business for oil companies seeking new reserves.