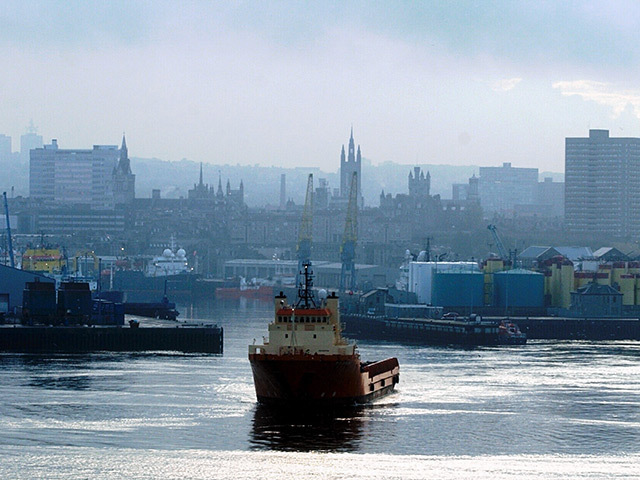 More than 10,000 jobs could be created in the north-east, thanks to ambitious plans to expand Aberdeen Harbour.
Port bosses want to spend more than £300million to extend the harbour into nearby Nigg Bay and keep up with competition across Europe.
The facility is currently operating at close to capacity, with record levels of activity, but Aberdeen Harbour Board (AHB) said yesterday it was determined not to be complacent.
Its investment plans are expected to benefit the region for decades to come.
Analysis carried out on behalf of the organisation revealed the potential jobs boom, with new employment opportunities anticipated in the oil and gas industry as well as dockside support and even the tourism sector by 2030.
AHB said 1,600 people would be required for the initial construction phase alone.
The harbour already contributes more than £420million a year to the Scottish economy and AHB predicts expansion into Nigg Bay will add a further £350million annually from 2030 onwards.
The board's plans recently won Scottish Government backing, with inclusion in a national planning framework setting out development priorities for the next 20 to 30 years.
AHB is now drafting a business case for the development.
Chief executive Colin Parker said if all planning applications were approved, the development could be complete in five to 10 years but preparatory work would start within weeks.
He added: "We are about to start drilling test bores in the bay to find out what kind of bedrock is in place at Nigg, and the barges are here and ready to go.
"We also have traffic, environmental and visual impact studies to carry out, which will all be collated towards the end of the year for an ongoing feasibility study."
AHB is no stranger to investment, having spent tens of millions of pounds on its existing facilities at the mouth of the River Dee, but Mr Parker described the Nigg Bay development as "a very different proposition".
He added: "It is significantly the biggest thing the harbour has even looked at for hundreds of years.
"These are exciting times for us because this is a game-changer for the whole region."
Vessel tonnage was nearly 28.2million at Aberdeen harbour last year and Mr Parker said the port was on course to record an even better performance in 2013.
But he also warned the harbour could hit a ceiling.
He said: "If we cannot anchor oil and gas here, then we will miss out and work will go elsewhere.
"We could rest on our laurels because we are really busy now, but boats get bigger and decommissioning work is on the horizon. When that comes along we would not be able to cope as things stand.
"If this kind of port expansion is going to happen in Scotland, it has to be here in Aberdeen."
berdeen Harbour Board has spent tens of millions of pounds upgrading its facilities in recent years to cope with rising demand.
Its major project has been the redevelopment of Torry Quay, where the port is nearing the end of £30million of work.
A deep-water facility at Torry Quay was extended by 985 feet last year and further work is adding nearly 330ft this year. The port welcomed its largest vessel, the Skandi Arctic, at the end of 2012 after bosses spent more than £5million on widening and deepening the navigation channel at the harbour mouth.
In the previous year, about £4million was spent on Commercial Quay East. Work there included the reconstruction of a 558ft wall and the dredging of the berthing area to a depth of 25ft.
Recommended for you

Aberdeen Harbour in rebrand as £400m expansion takes shape