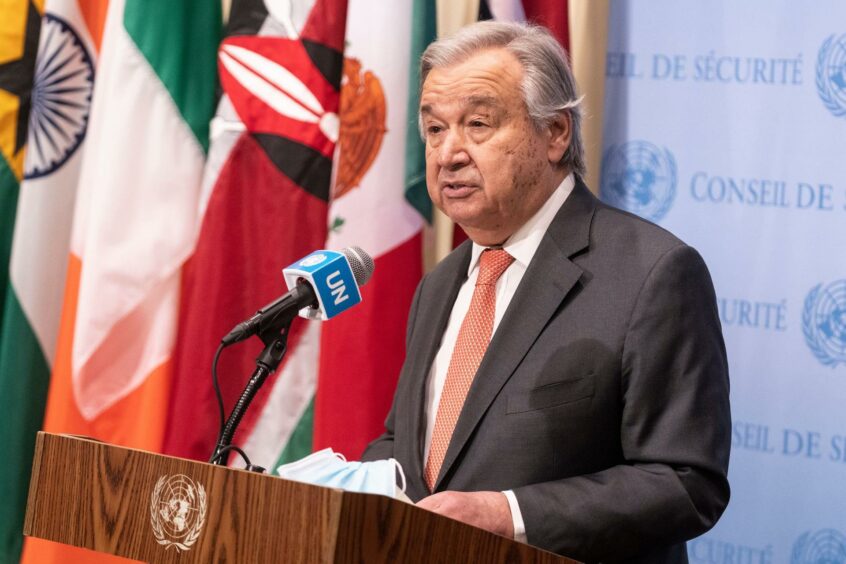 Investing in new fossil fuel production and power plants is "moral and economic madness", UN Secretary-General Antonio Guterres has warned.
He was speaking as the Intergovernmental Panel on Climate Change (IPCC) released a major new report warning that the world is heading for temperature rises twice as high as the 1.5C seen as the threshold beyond which the worst impacts of global warming will be felt.
The report from the UN science body called for substantial reductions in the use of fossil fuels, as part of efforts to deliver deep, rapid and immediate greenhouse gas emissions cuts, with a switch to increasingly cheap renewables, electric cars and energy efficiency.
It warned that maintaining fossil fuel energy systems may become more expensive than low-carbon alternatives, and that 1-4 trillion US dollars of coal, oil and gas assets could become "stranded" in the next few decades as the world tackles the climate crisis.
Mr Guterres' comments come as the world wrestles with high energy and food prices and supply issues in the face of Russia's war on Ukraine.
But he warned that increasing fossil fuel production would only make things worse and called for a shift to renewables to mend the "broken global energy mix", and an end to coal-fired power and fossil fuel subsidies.
The UN report comes ahead of the delayed launch of the Government's its energy strategy which aims to set out how the UK will secure supplies and reduce reliance on imported oil and gas.
Downing Street has said domestic oil and gas will play an important role in the strategy, due on Thursday, after minister Jacob Rees-Mogg said "every last drop" of oil should be extracted from the North Sea, and there have been calls for a rethink on fracking, which is currently banned.
But campaigners warn that the invasion of Ukraine and Russia's control of European gas use shows the folly of global reliance on fossil fuels, which are also driving the climate crisis.
Mr Guterres warned that climate pledges made by governments are "empty" and have put humanity on track for an unliveable world.
He accused high-emitting countries and corporations of "not just turning a blind eye – they are adding fuel to the flames".
In a message to mark the publication of the report, he said: "They are choking our planet, based on their vested interests and historic investments in fossil fuels, when cheaper, renewable solutions provide green jobs, energy security, and greater price stability."
And he said: "Climate activists are sometimes depicted as dangerous radicals, but the truly dangerous radicals are the countries that are increasing the production of fossil fuels.
"Investing in new fossil fuels infrastructure is moral and economic madness."
Responding to the report, Greenpeace UK's chief scientist, Dr Doug Parr, said fossil fuels are driving the climate crisis, funding Russia's war and other conflicts, and "clobbering UK households with rocketing bills".
"This IPCC report is clear on what the solution is: cut meat consumption, cut energy waste, dramatically cut fossil fuel use, and turbocharge homegrown renewables and clean transport.
"Yet Boris Johnson's new strategies on energy and food are on a collision course with this advice.
"The Government energy plan is set to double down on fossil fuels, bet heavily on expensive and slow-to-build nuclear, and ignore our energy-wasting homes, while its food strategy may not even mention meat reduction," he warned.
Fionna Smyth, from Christian Aid, said those most at risk from climate change have done least to cause it and need major emitters to take "drastic action".
"The invasion of Ukraine and Russia's control of European gas usage has shown the folly of having a global economy reliant on fossil fuels.
"A shift towards decentralised, clean and ever cheaper renewables would help build a more peaceful world and also tackle the cause of the climate crisis," she said.
Recommended for you

'Emissions canyon' between current policies and safe climate, says UN