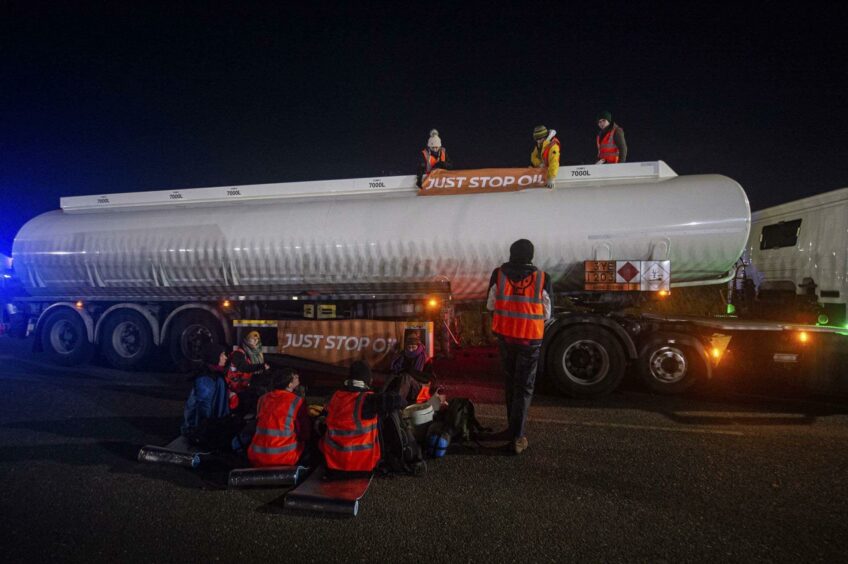 Environmental group Just Stop Oil has staged a protest at three key oil terminals in England.
Protestors arrived at the the Inter and Navigator Terminals in Essex and the Kingsbury terminal in Warwickshire at around 4.40am.
They are demanding the UK Government bring an end to new oil and gas projects.
At the Kingsbury terminal seven people have climbed into loading bay pipework and locked themselves in.
Meanwhile roadblocks have been set up in Essex and protestors are 'tanker surfing'.
The group expects its actions to impact fuel availability at petrol pumps across England ahead of the Easter weekend.
Nearly 1,000 Just Stop Oil members have been arrested since protests kicked off earlier this month.
And campaigners have pledged to continue the disruption until the government commits to ending oil and gas.
Alex, aged 16 from South London said: "I'm taking action because I'm terrified of the future for my friends and family. If we do not act with urgency to end our reliance on fossil fuels, climate collapse will be inevitable, and that means we will lose everything. All our certainties, everything we rely on will go. We will be lucky to have enough food to eat. Oil will destroy everything."
Claudia, 24, a student, from Latin America said: "Ordinary people are the ones who are suffering the most from our fossil fuel dependency and yet they are deliberately kept in the dark about the impending catastrophe and have been fooled into thinking we need more oil and not less or that we can afford to wait out the current crisis. The truth is that there is never a good time to make such a massive change in our way of life, but the sooner the better. We cannot carry on sleepwalking our way to disaster."
Recommended for you

Shell hits Greenpeace protestors on Penguins FPSO with injunction