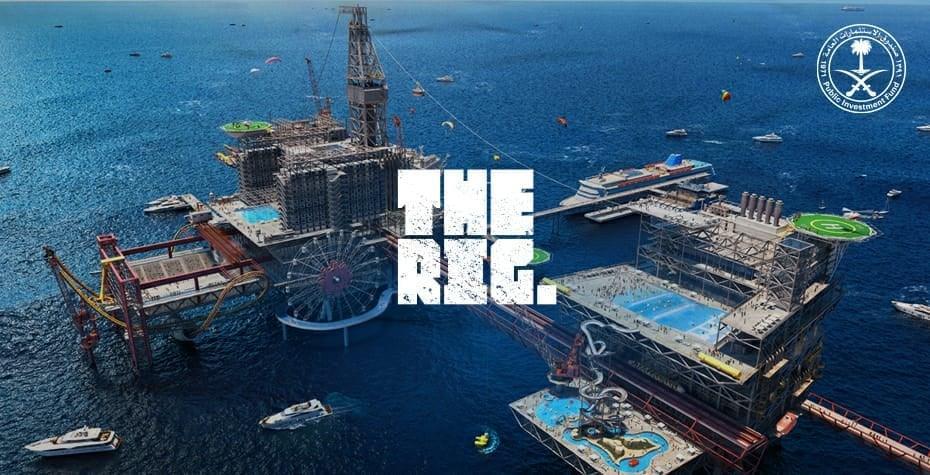 The first tenders have reportedly been launched for a huge offshore oil rig theme park mooted by Saudi Arabia, with potentially more than $5 billion of work up for grabs.
Oil Park Development Company (OPDC), a subsidiary of Saudi Arabia's sovereign wealth arm Public Investment Fund (PIF), has reportedly sought request for proposals (RFP) from global oil and gas contractors for the mammoth offshore tourism project, dubbed The Rig, according to Upstream.
Announced last October, PIF said The Rig would be based around a series of oil and gas installations in the shallow waters of the Arabian Gulf, and span a total area of more than 150,000 square metres.
Tenders will progress in a similar manner to those issued for oil and gas projects, beginning with engineering studies, moving to front-end engineering and design (FEED), and then engineering, procurement and construction (EPC).
One source cited by the publication suggested the total work on offer could exceed $5 billion in value, with PIF pushing for commissioning within a very tight 27-30 month period.
Another said the project could involve up to four bridge-linked offshore platforms, potentially requiring more than 200,000 tonnes of offshore fabrication.
Where previous reports suggested the project would use refurbished oil and gas assets, the scale and timeline of the project may require newbuild facilities as well, another source intimated.
Firms which already work under Saudi Aramco's long-term agreements (LTAs) for offshore projects are expected to lead the bidding.
The Rig
Proposed facilities at The Rig would span three hotels with up to 800 rooms, 11 restaurants, and a range of activities including extreme sports, a water park, diving activities, theme park rides, retail space and live shows.
Guests would arrive by ferry, yacht, cruise ship or helicopter, with marina space for up to 50 berths.
PIF has called the project "a unique tourism attraction" for visitors from around the world – though expects it to be "especially popular" with citizens and residents of the GCC countries in the region.
The project forms part of the fund's 2021-2025 strategy to build up new development opportunities in the country, in line with the Saudi Arabia's 2030 vision to diversify the economy away from oil and gas.
However, the Kingdom has been criticised for harnessing its vast oil wealth to cover over its human rights record in order to attract tourists.
Recommended for you

Ades plans Saudi IPO in September