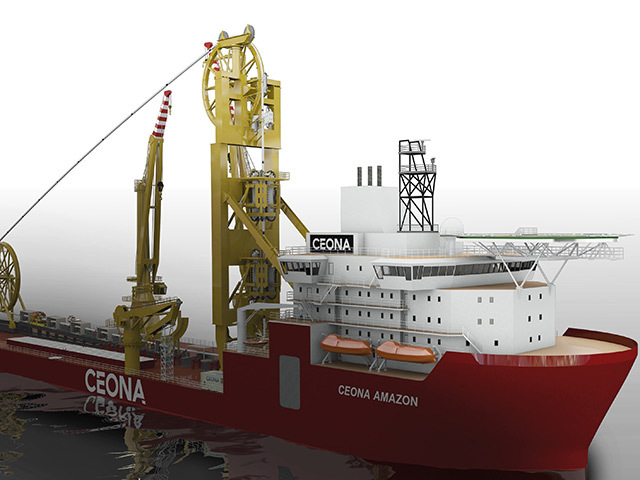 Subsea contractor Ceona has signed up German shipbuilder Lloyd Werft for the construction of a new high-capacity multi-purpose vessel, the Ceona Amazon, with keel laying scheduled for this month.
This is a very significant commitment by the young company, hence the heavyweight line-up at last month's signing in Bremerhaven. Members of the Ceona management team, led by CEO Steve Preston and chairman John Smith, were joined by a representative from majority shareholder Goldman Sachs Capital Partners.
With detailed design work well under way and major subcontracts placed already, work will now progress on the fabrication, construction, outfitting and commissioning of the Ceona Amazon.
Fabrication of the hull will take place at Polish yard CRIST S.A.; then it will be towed to Germany for outfitting at Lloyd Werft Bremerhaven.
The yard will deliver the vessel to Ceona in October 2014, prior to final installation work which will be carried out by heavy-lift crane and pipelay systems specialist Huisman in the Netherlands.
The hybrid construction and pipelay vessel is set to enter service in December 2014.
The 199.4m length overall by 32.2m breadth Ceona Amazon, based on a drill-ship design, is SPS compliant and equipped with a DP2 system. Ceona says it will be especially well-suited for operations in remote and challenging locations and capable of laying rigid or flexible pipelines and umbilicals.
The design features large under-deck storage capacity for line pipe or umbilicals, together with a deck area of 4,600sq.m, which allows further storage of line pipe and standard flexible installation reels.
The vessel is being kitted out with two 400-tonne heave compensated mast head cranes and a single 30-tonne heave compensated knuckle-boom crane.
The pipelay suite will comprise an inclined lay system with a top tension of 570 tonnes and a rigid pipeline firing line system.
Amazon will be able to lay rigid pipelines, flexible pipelines and umbilicals, plus install large subsea structures using one or both of its big cranes in tandem lift mode.
Ceona says that the Amazon's capacity is such that it will not require a spool base to support its operations, even in remote areas. In essence, in a market that has seen a number of game-changer vessels join the global offshore construction and pipelay fleet, such as the Seven Borealis, it would appear that the Ceona Amazon will take the market offering to an even higher level.
CEO Preston said of the commitment: "We are very happy to sign on the dotted line here in Bremerhaven with Lloyd Werft, and look forward to seeing the Ceona Amazon take shape. It's a fantastic vessel and we are now focused on putting it to work following its completion in late 2014."
Meanwhile, the hull of the offshore construction and well intervention vessel Polar Onyx, which was built in the Ukraine and launched at the Zaliv Shipyard on May 31, has been towed to Norway for final completion at Ulstein Verft.
The high-capacity Ulstein X-Bow vessel is designed for operations in harsh conditions and deep waters and has a length of 130m and breadth of 25m. The class DP2-plus vessel is being equipped with a 250t AHC offshore crane; also a 275-tonne vertical lay system above a moonpool which is capable of installing flexible pipe and umbilicals to 3,000m water depth.
The vessel has been taken on charter by Ceona for five years and is expected to start work in Q1 next year.
Recommended for you

Damen orders crew change vessels and DEME Orion takes shape