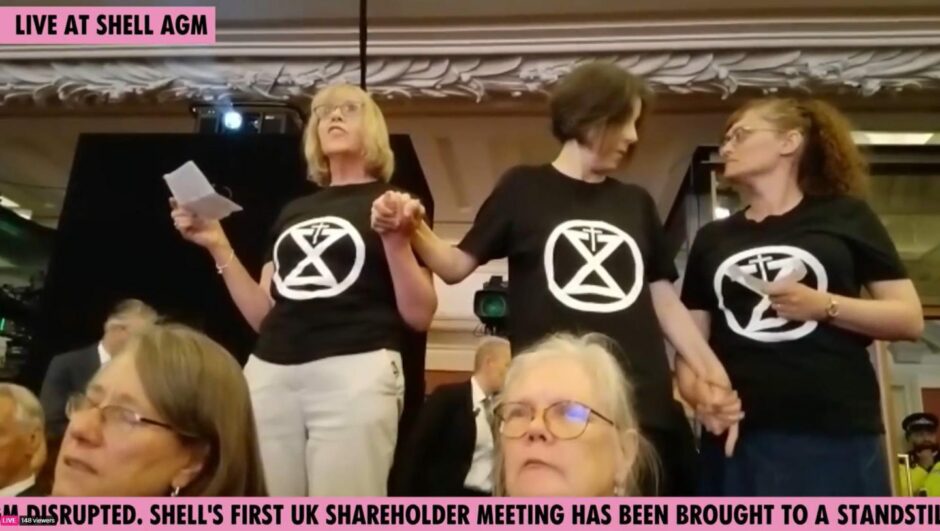 The Shell AGM (LON:RDSA) has been put on hold this morning following a group of Extinction Rebellion (XR) protesters who chanted and sang, while refusing to leave.
Sir Andrew Mackenzie, chairman of Shell, put the meeting on hold at around 10:35 am. The company called in the police and security guards to remove protesters inside the room.
Mackenzie had made a number of efforts to ask for quiet.
"I must ask you to leave," he said. "I will shortly invite discussion on resolution 20. I will ask you to come to the lectern and discuss the resolution, which as a shareholder you will have read. We will hear you much better when you have a microphone and you are discussing resolution 20."
The XR protesters continued to demonstrate as security guards moved in.
"You have Ukrainian blood on your hands. Shell must fall. Can you choose profit over your grandchildren's future? You profit from their misery," protesters said.
"You continue to cause suffering beyond comprehension. There are no dividends from pollution. Shell will be dismantled and shell must fall. We will not back down, we will never go away. We will come back again and again and again."
The protests started shortly after the Shell meeting began.
At around 10:20, Mackenzie had warned that if the protests continued he would have to call in security to intervene. After another 10 minutes, he said "I regret this deeply but I have asked the police" to remove the protesters.
Protests continued outside as the conference room was cleared. Mackenzie said the meeting would resume by around 11 am.
Two XR protesters were reported to have climbed the side of the building.
Recommended for you

WATCH: XR protests held at Aberdeen's Christmas Village