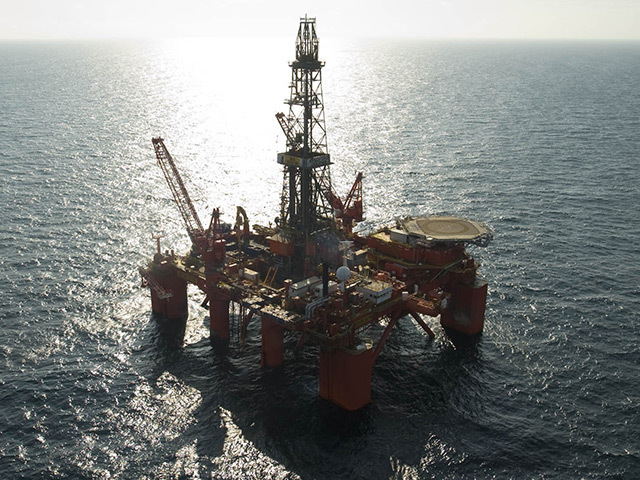 Eight E&A wells are active on the UKCS, three of which are nearing operational completion. Most of the current pool is exploratory – five wells – including four sidetracks. The three appraisals are all initial legs.
Thirty-four well starts are noted to date in 2013. The 18 exploration starts comprise 10 spuds and eight sidetracks. Eleven spuds and five sidetracks make up the 16 appraisal wells starts. The number of E&A spuds shows an overall 8.7% drop (9% for exploration and 8.3% for appraisal) compared to the same period last year.
Since the last update, one exploration well has spudded, two exploration sidetracks have kicked-off and a single appraisal has begun, evidence of the general low level of activity in the UK sector.
So far, 69 development and production (D&P) wells have been started this year (37 spuds & 32 sidetracks) 22 of which (15 spuds and seven sidetracks) are currently active on 20 fields utilising 14 mobile rigs and five platform-based derricks. The number of active wells shows the second month-on-month increase and contributes to a 23% jump over the 56 starts recorded by the end of June. More than 88% of the 37 spuds have been drilled by mobile rigs.
Northern North Sea
There is just one well active in the NNS. On July 18, Taqa's 210/25a-11 well was spudded by the John Shaw on the M.Jurassic Falcon North (Abercromby/Fairlie) prospect. Total's well 3/15a-16Y on the M.Jurassic Laphroaig prospect was finally abandoned on July 2; the Sedco 714 moving the short distance to abandon the initial and 2010-drilled Laphroaig well 3/15-13A.
Central North Sea
Three wells are active following abandonment after 35 days of Nexen's 21/3f-8 appraisal of the Ivy (East) L.Cretaceous discovery. Transocean Prospect moved to Nexen's Rochelle field on block 15/27b. Operations continue on GDF Suez's well 22/23c-8Y on the U.Jurassic Taggart/Rotliegendes Rebus prospect (Galaxy II), the second sidetrack kicking-off on July 5.
Talisman's Triassic Seagull North 22/24e-12 appraisal spudded at the end of March by Sedco 711 is in its final stages. ConocoPhillips' Triassic Lacewing well 23/22b-6Z continues operations (Maersk Resilient).
Atlantic Frontier
West of Shetland, Stena Carron abandoned Chevron's Cambo appraisal, well 204/5a-1 after 37 days (including two weeks at total depth) before the drillship sailed for Canadian waters. The sole active well is BP's Clair 206/8-16 appraisal spudded on July 1 (Paul B Loyd Jnr).
Dong recently confirmed that well 208/17-3, a 66-day well abandoned in December 2012 on the Cragganmore prospect, is a gas discovery. The operator's only comment on well 208/11-1RE (Glenrothes prospect) hinted at a duster.
Southern North Sea
E.On's Tolmount 42/28d-13 appraisal was sidetracked mid-month by Maersk Resolve, while RWE's twice-sidetracked Carboniferous Severn prospect, well 43/18a-2, is abandoning before the Ensco 92 heads back to Dutch waters. Jack-up Energy Endeavour (not Enhancer as reported last month) has meanwhile abandoned carbon storage appraisal 42/25d-3 for operator-National Grid – a programme managed by ADTI – and remained on location at the time of writing.
Irish Sea
Now that EOG's Conwy/Corfe development programme is under way with Ensco 80, the East Irish Sea Basin is once again devoid of E&A drilling.
And so the UK sector trails along behind Norway on the E&A front, though at least D&P activity has picked up. It's notable that exploration activity on the UKCS is being outpaced in Norway by a factor of 2.5 to 1.
NORWAY
There are currently 11 E&A wells active on the NCS of which 10 are exploratory. That's three in the North Sea, four in the Norwegian Sea and four in the Barents Sea. A total of 33 well spuds to date this year are noted, along with one sidetrack.
D&P drilling remains the same as in June with 20 wells currently active, all of which are drilling in the North Sea. The number of mobile rigs is one down . . . 37 in total, of which 11 are involved in E&A activity, 25 are active on fields, including non-drilling operations, while one rig remains in port. West Phoenix has returned to UK waters.
North Sea
Lundin has just spudded its Biotitt exploration well 16/4-7 (Bredford Dolphin) while Det norske has started operations on the Augunshaug prospect where well 2/1-15 is targeting Middle and Upper Jurassic targets (Maersk Giant).
Statoil has started work on its Cliffhanger North prospect with well 16/2-18 S (Ocean Vanguard). July also saw two well completions; Maersk Giant having abandoned Talisman's Frode exploration probe as a duster whereas Lundin was successful with its Johan Sverdrup appraisal well 16/3-6 (Bredford Dolphin).
Norwegian Sea
Shell's Onyx South exploration well 6406/9-3 continues, having spudded mid-April (Transocean Barents), while Transocean Winner continues drilling ahead on Sverdrup well 6608/2-1 S for operator RWE.
Another June hangover is Statoil's Smorbukk North exploration well 6506/9-3, with Transocean Leader targeting a M.Jurassic objective. Meanwhile, Statoil is targeting the Klara prospect with well 6507/3-10, the Songa Trym having spudded late June.
Wintershall abandoned Mjosa exploration well 6406/6-3 as a sub-commercial gas discovery, with Transocean Arctic moving north.
Barents Sea
Barents Sea has doubled since the last update with four exploration wells currently drilling. Statoil's Nunatak well 7220/5-2 is reportedly a sub-commercial gas discovery in the Cretaceous with the West Hercules shifting mid-month to spud well 7219/8-2 on the M.Jurassic Iskrystall/Samba prospect.
Scarabeo 8 started Eni's 7016/2-1 exploration probe mid-month, while Lundin kicked-off mid-month on its Gotha (Snadd) prospect with well 7120/1-3 (Transocean Arctic). The sector's one appraisal, well 7225/3-2, continues operations at Total's Norvarg discovery. The Leiv Eiriksson has conducted two DST's (drill-stem tests) in the gas-bearing Kobbe formation. Completion is expected this month.
And so exploration continues to be the order of the day in Norway with the E&A wells ratio running 3:1. While July was quiet in terms of wells completed, a sizeable number of results are expected this month.
Simon Robertshaw and Dave Moseley's column is courtesy of North Sea analysts Hannon Westwood
Recommended for you

Namibia: Shell and TotalEnergies giant oil discovery threatens resource curse