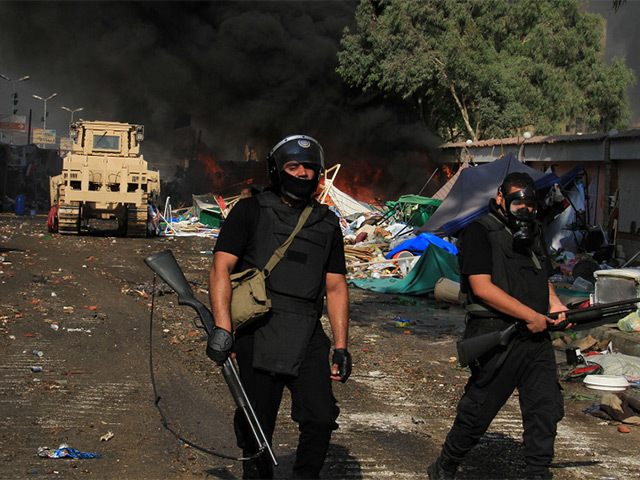 Major oil companies were pulling staff out of Egypt as the death toll from clashes between police and supporters of the country's ousted president exceeded 600 last night.
Shell said it was closing its offices in the crisis-hit African state as chaos reigned on the streets.
BG Group – whose offshore liquefied natural gas (LNG) operations in Egypt account for about a fifth of its total production – has already pulled out more than 100 workers. Meanwhile, BP and Aberdeen-based Dana Petroleum said they were monitoring their operations closely as the bloodshed continued.
Egypt's interior ministry has now authorised police to use live ammunition in self-defence.
Security forces broke up two camps of Moslem Brotherhood demonstrators who were demanding President Mohammed Morsi's reinstatement.
They had been staging sit-ins for weeks in protest at the army's overthrow of Mr Morsi in July.
Read Jeremy Cresswell's take on the Egypt crisis here.
In the latest violence yesterday, hundreds of Brotherhood members set fire to a government building near Cairo.
An estimated 638 people have died and more than 2,000 have been injured.
Egypt produces about 728,000 barrels of oil a day.
BP produces about 15% of that and more than 30% of the gas along with its partners, which include Shell.
"To ensure the safety and security of our staff, Shell offices in Egypt are closed for business today and into the weekend," a Shell spokesman said yesterday.
BG Group has already withdrawn more than 100 expatriate staff from the country and said those who remained were "safe and accounted for".
In a stock market update last month, it said political tension in Egypt was a "primary concern" for the business as it reported a drop in profits.
It has reduced the number of expatriate workers it has in Egypt from about 150 to 55, including contractors and family members, during the recent unrest.
BP said all of its staff had also been accounted for, but added it was "monitoring the security situation".
Dana Petroleum moved all non-essential expatriate staff and their families out of Cairo to Aberdeen last month.
The crisis is also impacting on the oil price – which, in turn, could push up petrol prices in the coming weeks. Brent Crude is heading towards a 2013 high and topped $111 dollars yesterday.
Egypt's Suez Canal – an important supply route for Middle East oil – is expected to be disrupted by a curfew imposed to curb the violence. Security problems are also disrupting supplies in Nigeria, Libya and Iraq.