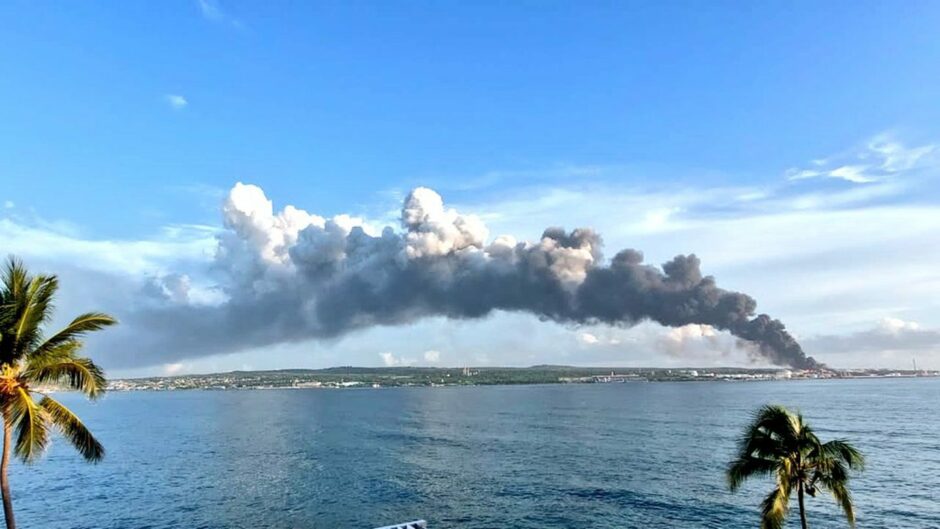 Firefighters are continuing to battle an inferno at a Cuban oil depot that has raged for several days.
Reinforcements have been drafted in from Mexico and Venezuela to help deal with the blaze at the Mantanzas supertanker port, about 60 miles east of Havana.
At least one person is dead, and another 17 are missing as a result of the blaze, Cuban authorities have confirmed.
More than 120 people have also been injured, and hundreds have had to be evacuated to safety as the fire continues to rage.
Importante incendio en un tanque de almacenamiento en un puerto de superpetroleros en Matanzas, Cuba. Un rayo impactó las instalaciones. La dictadura cubana pide ayuda internacional. EEUU aclara que el bloqueo no impide asistencia en este tipo de eventos.
pic.twitter.com/Wxefol8iu6

— El Nuevo País y Zeta (@enpaiszeta) August 6, 2022
Video footage shared online shows a huge explosion at the facility, with a fireball rocketing into the sky.
The blaze was sparked during a thunderstorm on Friday night when a bolt of lightning caused one of the eight tanks at the oil depot to set alight.
A second tank erupted into flame the next day, and there are widespread photos of thick smoke billowing from the facility.
In a Tweet published on Sunday afternoon, the Cuban Government said: "It dawns in the city of Matanzas . The morning was hard again.
"Firefighters continue to battle an intense fire, while help from friendly countries begins to arrive.
"Today will be a decisive day in this battle for life."
According to multiple reports, the Communist-run country has been suffering from frequent blackouts in recent times
This hit to fuel supplies is only likely to exacerbate that problem.