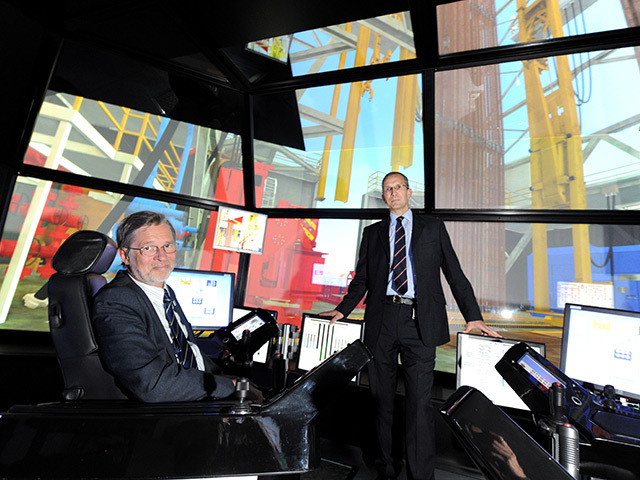 Two initiatives… one a drill-floor simulator, the other a "passport" for well engineers… together have the potential to transform the global reputation of the Robert Gordon University's school of offshore engineering.
RGU and KCA Deutag Dart Services have installed a state-of-the-art Drilling Systems DrillSIM-6000 drill-floor simulator at the university's new Riverside East facility in Aberdeen.
Robert Gordon's Energy Centre, a unit of its engineering department, will be working with the KCAD Dart team to use the simulator to provide enhanced training for oil industry engineers.
It will also be made available to oil companies and their supply chain for running simulations prior to drilling potentially difficult wells and solve problems with existing ones.
This is seen as especially powerful by Duncan Stephen, the Energy Centre's manager, who told Energy that it would attract considerable interest and that potential clients would have the opportunity to visit the Dart during Offshore Europe week.
On the training front, however, from engineering students to senior well engineering operational staff, the Dart will offer the opportunity to learn and develop their skills in a safe but challenging environment.
Everything from initial simple training exercises to complex real life scenarios can be modelled and worked through, as many times as needed, to develop learning and understanding of problems.
Enlarging on the consultancy aspect, by programming the full detail of an actual well, operating company engineers can model and test the well, optimising well programming at the design stage as well as during operations.
This facility will also allow testing of alternative solutions before the drilling of challenging sections begins. In critical well conditions contingency plans can be trialled repeatedly, providing rapid feedback to the rig operations team.
Land rig, platform, jack-up and floating rig systems can be simulated, giving the potential to cover the full gamut of operations worldwide from desert to deepwater.
Stephen said the Dart suite developed for RGU by KCA Deutag was of the latest design. It would be a flagship for both.
"It really is state-of-the-art. Most significant is that the screens are closer to the command chairs. This makes drillfloor images more immediate and the top of the screens curve over, adding to the sense of being on a real floor."
At 75% capacity, he sees some 30 delegates a month passing through the RGU Dart, generally on five-day courses.
"But this is not a bums on seats generic simulator. We see this developing into more of an operations resource for industry rather than a training resource."
He added that, with rig automation now advancing rapidly, it is an RGU ambition to harness the Dart to even enable remote operation simulation of drillfloors.
Turning to the so-called Well Engineering Passport, Stephen said this RGU initiative could become a world beater, setting a standard and attracting huge interest.
The passport is an RGU initiative, now being taken forward with the help of industry expertise.
It is intended to give recent graduates and well engineers the essential knowledge which underlies the development of practical capability and competence.
It is hoped that this process will also assist more experienced engineers with their CPD obligations under chartership.
The three critical "pillars" of well engineering… well positioning, well control and well integrity… lie at the core of the WEP process.
Each core unit is subdivided into a number of topics which cover the essential areas in which well engineers need to develop clear understanding.
Delivered as a combination of face-to-face teaching, distance learning and practical exercises using the KCA Deutag/RGU Dart facility, the WEP is intended to act as a readily accessible, self-contained training package which can be optimised to suit individual company needs.
The WEP development partnership, led and promoted by RGU, involves KCA Deutag, NExT, Tullow Oil and the University of the Highlands and Islands.
The concept brings together a university respected for its well engineering delivery; a progressive independent in the shape of Tullow; KCA with clear leadership in well simulation and, through NExT, the biggest oil and gas training outfit in the world with huge market penetration.
"I think we're developing a highly compelling offering," said Stephen.
"The ability we have as a group to address all the needs of the well engineering community means we're in a very strong position."
WEP is to be launched early next year, initially through a three-year part-time programme for grad engineers.
There are to be four entry points a year and the main targets are national oil companies, independents large and small and the wells-related supply chain.
"I can easily see 1,000 delegates a year going through this programme," said Stephen. "However, we will see maybe 100 delegates going through on the first year's intake, picking up thereafter."
Recommended for you

Talent and timing: Can Aberdeen's oil and gas skills make the energy transition?