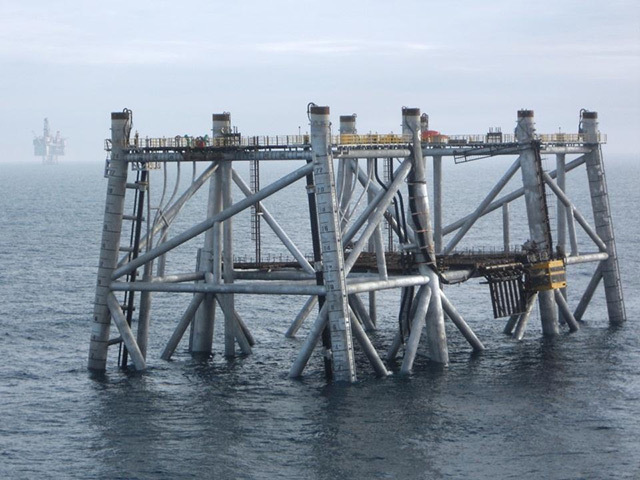 With spending running at record levels and a string of sizeable greenfield developments now under way, the UK Continental Shelf can truly be said to be enjoying an "Indian summer".
For a brief period they may even halt the dramatic decline in production that has been experienced since the turn of the millennium; among the steepest of all mature petroleum provinces.
Highest profile among the various developments under way or planned must surely be Clair Ridge (BP is operator), Cygnus (Gas de France) Mariner-Bressay (Statoil), Kraken (EnQuest), Rosebank (Chevron) and Catcher (Premier).
Of these, Clair Ridge and Cygnus are the furthest advanced; while Catcher is ostensibly the smallest, though it opens the door to a new Central North Sea fairway, which was successfully pioneered by Encore Oil before that company was taken out by Premier Oil in late 2011.
In this special Offshore Europe edition, we take a rapid canter through each of these projects which are collectively hugely important to the future of the UK-based offshore supply chain; of course on the capital expenditure front but also operationally long-term. They are, of course, of great interest to the UK Treasury as a fresh source of tax revenues.
Clair Ridge
Clair lies 75km west of Shetland in about 140m. This huge field was discovered in 1977 and covers five licence blocks – 206/7a, 206/12, 206/13a, and 206/9.
But it was not until the 1990s that BP started to make real headway with the discovery as its complex geology had frustrated earlier efforts. Crucially, advances in seismic survey and data analysis techniques coupled with the emergence of horizontal drilling played a major part in transforming viability.
That BP made the Foinaven and Schiehallion discoveries West of Shetland during the 1990s and successfully applied novel seismic techniques such as 4D (Schiehallion) and horizontal drilling was a considerable help. Initial estimates for recoverable reserves were in the range 4-6billion barrels though, more recently, that has risen to 7-8billion.
Phase one of the Clair development focused on the central area of the field, which was eventually brought onstream in 2005, based on a conventional steel jacket platform, the first ever installed WoS, exporting oil to Sullom Voe by pipeline. Gas is transported via a spur into the Magnus EOR pipeline system.
The field is currently producing around 60,000 barrels and 15million cu.ft of gas per day based on a suite of 15 production, eight water injection and one cuttings injection wells.
Clair Ridge is the second phase of development and is based on a pair of bridge-linked platforms, the jackets of which were successfully installed last month. They were designed and built by Aker Solutions at the Verdal yard in Norway.
MORE: Video and pictures of the Clair Ridge jackets being installed
The drilling and production platform jacket weighs in at 22,300 tonnes and the quarter and utility jacket is 9,000 tonnes.
Subsea 7 has the contract for subsea infrastructure. This covers project management, engineering, procurement, fabrication and installation of a 6km 22-inch oil export pipeline and a 14km 6-inch gas export pipeline connecting Clair Ridge into the existing infrastructure.
Amec, which built the phase one platform deck, won the contract to provide engineering and project management services for the Clair Ridge platforms.
The next major milestone is the installation of the topsides, scheduled to arrive from Hyundai of South Korea in 2015, with production expected to commence in late 2016.
The Clair Ridge development will have the capability to produce an estimated 640million barrels of oil over a 40-year period, with peak production expected to be up to 120,000 barrels of oil per day.
According to BP, about half of the $4.5billion Clair Ridge investment will flow to UK companies (around 80). Clair Ridge is also the first sanctioned large-scale offshore enhanced oil recovery (EOR) scheme using reduced salinity water injection (LoSal) to extract a higher proportion of oil over the life of the field.
Rosebank
Rosebank straddles blocks 213/26 and 213/27 and is located in 1,200m of water on the Corona Ridge West of Shetland. Recoverable reserves are estimated at almost 700million proven and probable barrels of oil though there may be considerable upside.
It was in August 2004 that the Chevron-operated 213/27-1z exploration well encountered significant evidence of hydrocarbons.
The drillship West Navigator drillship targeted two overlying prospects, Rosebank and Lochnagar, and encountered two oil and gas accumulations for a total net pay of 52m of 27 to 36 degrees API oil.
In 2007, the licence partners led by Chevron completed a $327million investment programme to appraise Rosebank by conducting a three well appraisal campaign and production test.
Appraisal well, 205/1-1, was drilled to a vertical depth of 2,750m by the semi-submersible Transocean Rather and encountered light oil with a gravity of 38 degrees. The well flowed at 6,000 barrels per day on test. Further appraisal work followed using the drillship Stena Carron.
About three years ago, it became apparent that Chevron considered Rosebank to be commercial though the company said very little about its plans. Development, however, would be based on a floating production system, most likely an FPSO, which has indeed turned out to be the case with Hyundai of South Korea contracted earlier this year to build the almost 100,000-tonne vessel.
Front-end engineering and design of the FPSO is expected to be completed late this year.
In July, Chevron awarded a contract to OneSubsea covering the engineering, build and supply subsea manifolds, trees and control systems for the project.
The project will see the development of the Paleocene Colsay-1 South and Colsay-3 reservoirs of the Rosebank field and the potential further appraisal drilling of the greater Rosebank area, which comprises the Rosebank South, Rosebank North and Colsay-1 North reservoirs.
The start of offshore work in the form of the drilling campaign is targeted for Q3 2015. The FPSO should be installed in 2017 with first commercial production shortly thereafter.
Oil production is expected to peak at 98,198 barrels per day in 2019 while gas output is anticipated to peak at 3.8million cu.m per day in 2022, Chevron said.
Rosebank is to be "pre-equipped" with tie-facilities to support a number of future subsea developments if required.
Mariner/Bressay
Ranked as one of UK's largest undeveloped oil finds, the Mariner field lies 140km south-east of Shetland.
Discovered by Texaco in 1981, extensively appraised and ultimately dumped together with neighbouring analogue Bressay by the company (then named Chevron through merger), Mariner has in-place reserves of around 2billion barrels of heavy crude (12-14 Deg API).
Then, in August 2007, Norsk Hydro of Norway took out Chevron's 64.6 % stake in the Bressay field and 45% in the Mariner field. However, Hydro some months earlier agreed to merge with Statoil, so the operator of both assets today is Statoil.
Statoil decided to develop Mariner, based on a large steel jacket platform capable of delivering up to 70-80,000 barrels of oil per day, with a floating storage offloading unit located nearby. Expected recovery is 250million barrels at this stage.
Aker Solutions started pre-engineering studies in 2011. Statoil decided to push the button on the project last December with a view to starting production in 2017. Capital cost will be around $7billion.
The company has brought its experience with the Grane field in the Norwegian sector and Peregrino offshore Brazil to the Mariner (and Bressay) table.
It is estimated that the field will produce for 30 years with production predicted to plateau at around 55,000 barrels per day over the period 2017-20.
The engineering, procurement and construction (EPC) contract for the steel jacket went to Dragados Offshore while the topsides went to Daewoo Shipbuilding & Marine Engineering (DSME). KCA Deutag unit RDS secured a contract to assist Daewoo with drilling package design.
A string of large contracts has followed and so far include:
In September 2012, Statoil issued a letter of intent to Samsung Heavy Industries for the construction of the Mariner FSU.
Early 2013 saw Odfjell Drilling securing the drilling services contract worth an estimated $245million. Under the contract Odfjell will provide drilling services during development.
Options to the contract include casing/tubing running services and modification to the drilling equipment. Contract duration is four years beginning November 2016 with three two-year options.
Odfjell will also provide engineering and commissioning services during construction and startup of the Mariner platform.
In May, Statoil awarded Noble Corp a four-year contract to provide development drilling services using a new-build jack-up based on Statoil's Cat J specifications. The rig will be an enhanced version of GustoMSC's CJ-70 class. The contract is worth around $655million.
Also in May, Subsea 7 won a $170million contract covering engineering, procurement, installation and construction (EPIC) of 24-mile rigid flowlines and flexible riser systems with associated subsea structures, protection systems and tie-ins.
Aker Solutions was in June given the job of providing the drilling equipment package for the platform. This is pivotal to Mariner as something like 100 production wells will have to be drilled over the life of the field.
Included with the contract is an option to supply an identical drilling equipment package for the Bressay production facility. Delivery of the Mariner equipment will be completed in 2015.
Then, last month, Statoil awarded EMAS AMC a $126million firm contract for the transportation and installation of the Mariner (and Heidrun) floating storage units (FSU) with an option for a third FSU installation.
Bressay will in essence be a copy of Mariner, with a number of key supply chain contracts covering both projects. The development is currently in the FEED stage. The chosen development concept is a large integrated facilities (production, drilling and quarters) steel jacket platform together with a floating storage and offloading unit. The Environmental statement for the proposed development was submitted to DEC in June and a draft field development plan was submitted in July.
The final investment decision is expected by Christmas.
Cygnus
Cygnus, now under development, is a sizeable Southern North Sea resource. Though in-place reserves are quoted as 500billion cu.ft, the field could yield considerably more gas subject to geological conditions.
Cygnus lies across blocks 44/12a and 44/11a and comprises both Leman and Carboniferous reservoirs with up to five potential productive fault blocks. The geology is tight and therefore hard to produce.
Operator GDF Suez holds a 38.75% interest, while Centrica has 48.75%; and Endeavour the remaining 12.5%.
Cygnus was discovered in 1988 by the 44/12-1 exploration well, which found a gas bearing Leman reservoir. A year later, the find was appraised by well 44/11-2, confirming the presence of both Leman and Carboniferous reservoirs in a separate fault block.
In 2006, another appraisal well, 44/12-2, drilled in the original discovery fault block confirmed the reservoir held gas.
Further appraisal work followed in 2009 to prove the presence of the Leman reservoir in the eastern part of the field; also to assess reservoir quality and fluid content of the primary Leman reservoir and to test the deeper Carboniferous reservoir as a secondary target.
Well 44/12a-3 confirmed the presence of gas in both intervals of the reservoir. Then well 44/12/a-4 was drilled to better determine the size of the field. This was tested.
Not content, the partners carried out more appraisal drilling during Q1 2010 which led to an increase in reserves and prospective resource estimates.
Indeed, estimates of the field's reserves and prospective resources may be as high as 2trillion cu.ft, ranking Cygnus among UK North Sea's largest gas resources.
The phase one development plan was submitted to the Department of Energy and Climate Change in 2009 and subsequently approved. This focused on the eastern part of the field, consisting of two production wells connecting to an unmanned wellhead platform. Production would be exported via a 27km, 12-inch-diameter pipeline to the Murdoch field centre.
In later stages of development, up to five platforms could be installed and up to 15 wells drilled.
In October 2011, GDF Suez awarded Amec the Cygnus front-end engineering and design contract.
This included the "option to continue" into the detailed design and procurement phase.
August 2012 saw GDF Suez formally sanction the $2billion project to develop what was by then ranked as the sixth largest gas field in the UK sector of the North Sea and capable of meeting 5% of UK production when brought onstream in 2015.
GDF said too that the recent field allowance for new large shallow water gas fields by the Government helped reinforce confidence in the viability of Cygnus.
That same month, Amec secured the detailed design contract with completion set for 2014. The detailed development concept would comprise two drilling centres, four platforms and initially 10 development wells; the planned export route would be through the ETS (Esmond Transportation System) pipeline system to the Bacton gas terminal in North Norfolk.
Simultaneously, Heerema Fabrication Group was awarded a frame contract for the fabrication and commissioning of four platform topsides.
Fabrication of the 1,600-tonne Cygnus Alpha wellhead topsides has started and due for completion in March next year.
November last year saw Proserv get the job of designing, engineering and building wellhead control panels for the Alpha and Bravo platforms.
Aberdeen-based Proserv will also provide an umbilical termination unit that is integral to the control of the isolation valve fitted to the subsea export pipeline. Six of the 10 development wells associated with the platforms will be controlled through the initial panel design.
Burntisland Fabrication (BiFab) has also done well out of Cygnus, picking up the jackets contract, plus module work.
Recommended for you

Heerema completes last major lift at Schooner field