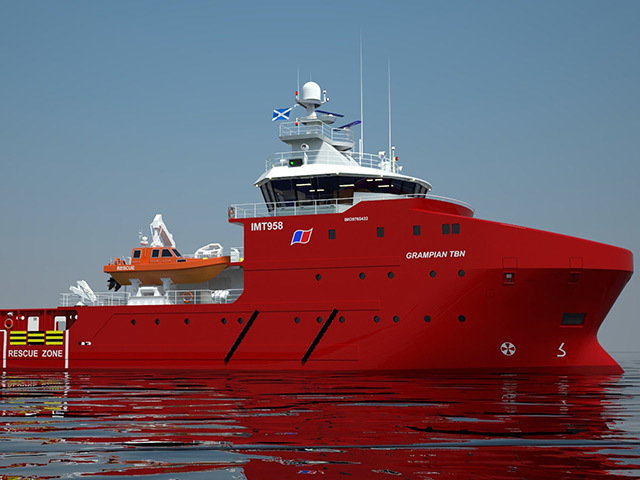 The Craig Group is to spend £70million on six new vessels, it will be announced today.
The family-run Aberdeen firm has struck a new deal with the Balenciaga Shipyard in northern Spain which will see the boats added to its fleet by early 2016.
Four D class IMT 950 Emergency Response and Rescue Vessels (ERRVs) and two F class IMT 958 ERRVs will replace existing tonnage in the fleet – and secure 160 jobs.
Douglas Craig, chairman and managing director of Craig Group, said: "This significant investment is part of our continued drive to operate the largest and most modern wholly British-owned fleet engaged in the UK offshore industry.
"A new-build programme of this size and scale underlines our commitment to the marine industry and means that we continue to offer our customers an unrivalled service."
Craig Group employs about 1,000 people in global operations run from bases at locations including Aberdeen, Houston and Cape Town.
It has three subsidiaries: North Star Shipping, Craig International Supplies (CIS) and Craig Group Leisure (CGL).
The fleet expansion comprises four D Class vessels, complementing the existing four D Class vessels already in service within the fleet. At about 150ft in length, the vessels will be outfitted as a minimum with 1 Daughter Craft and 1 Fast Rescue Craft as well as state of the art survival facilities. Two F Class vessels will also be brought into service.
Slightly larger, they will also be equipped with Daughter Craft and Fast Rescue Craft as well as being able to transfer and store limited deck cargo and provide offshore locations with fresh water and fuel if required.
Callum Bruce, managing director of North Star Shipping which is operated by Craig Group, said: "We are constantly looking at ways of expanding and modernising our fleet.
"The new vessels will feature the most up-to-date technology and designs, meeting our customers' needs in terms of safety, quality and efficiency."
More than 160 seafarers' jobs will be secured as part of the new-build programme which has seen over £230million invested and 22 new vessels since 2003.
The investment also allows North Shipping to continue to support British Shipping by training 80 Officer Cadets on an annual basis.
At present the fleet stands at 36 vessels and includes a mix of Platform Supply, Tanker Assist, ROV Support and Emergency Response and Rescue Vessels.
Recommended for you

Partners Group to acquire vessel operator North Star