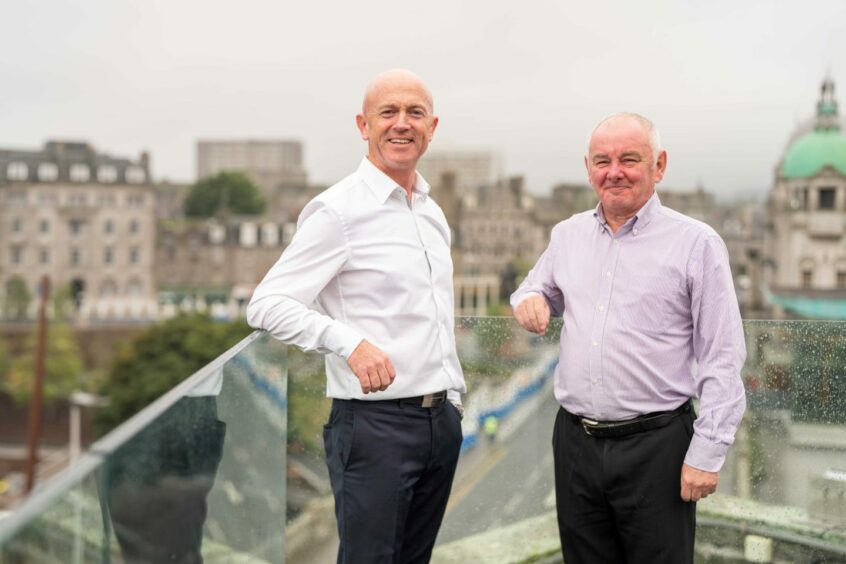 Another oil and gas industry big-hitter has joined Aberdeenshire environmental technology company Recycl8 as chief executive.
Mark Gillespie, whose past roles include stints as managing director of Aberdeen companies PDI and Global Offshore, as well as Banchory-based energy services firm Ecosse Subsea Systems (ESS) takes over the helm from one of Recyl8's founders, Ian Skene.
Mr Skene was previously the firm's managing director.
He moves into the role of chief technology officer, where he will work closely with the new CEO and wider Recycl8 team to bring the company's "green" concrete to market.
Big hopes for low-carbon product
Oldmeldrum-based Recycl8 works with partners in the waste-to-energy and global construction industries to transform incinerator ash – often destined for landfill – into a low-carbon additive for concrete manufacture.
Its groundbreaking technology is expected to help concrete manufacturers reduce their carbon footprint and achieve climate targets.
The business was established by Mr Skene, Raymond Cowan and Yvonne Walker after they met on an enterprise start-up scheme for redundant oil and gas professionals, Grey Matters, in 2019.
Mr Skene said: "Mark's strong track record as a leader in the energy industry, with his particular expertise in the renewable sector, places us in a very strong position to work with all our stakeholders to bring our unique product to market.
"By working with us, concrete manufacturers can deliver a significantly reduced carbon footprint to our ever-growing demand for concrete, and waste-to-energy facilities have an alternative, circular economy solution to sending ash to landfill."
'Timely' move
Recycl8's co-founder added: "Mark's appointment is extremely timely. We were recently awarded patent status for our low-carbon concrete solution, which means we are the only company in the UK permitted to process IBA (incinerator bottom ash) and transform it into our concrete mix.
"As we look to build on this milestone, Mark's appointment will strengthen our team and drive our progress in this next exciting phase of the business."
Mr Gillespie, who has also worked for CSL, Oceaneering and Royal IHC, said: "I'm excited to join Recycl8 and work alongside Ian and the team.
"I've long admired Ian's pioneering work in the waste management industry, and I'm passionate about helping Recycl8 in their bid to foster the circular economy and reduce the carbon footprint of the construction and waste-to-energy industries.
"I look forward to building on the excellent work that Ian and the team have done over the past three years."
Mr Gillespie and Mr Skene are both attending the RWM (resource and waste management) & Letsrecycle Live event in Birmingham this week.
Heavyweight backing
The new CEO is crossing paths again with Mike Wilson, who last year teamed up with fellow energy industry veteran Doug Duguid to lead a £1 million buyout of Recycl8.
Mr Wilson is the founder, owner, chairman and technology director at Banchory-based Ecosse IP.
It was spun out of ESS in 2018 when the latter was sold to US firm Oceaneering for about £50m. ESS was itself founded by Mr Wilson in 1996.
Mr Duguid is a co-founder and former chief executive of Aberdeen-based mechanical and electrical services company EnerMech. It was acquired by US private equity firm Carlyle Group in 2018 in a £450m deal.
Recommended for you

Environmental tech firm Recycl8 bags Scottish Enterprise grant