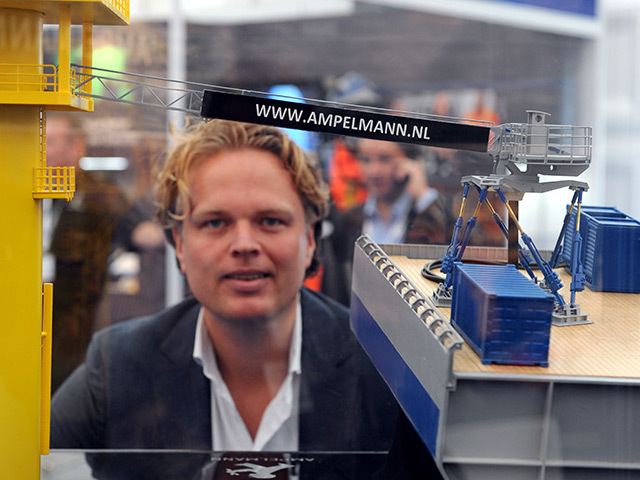 Huge speedboats which could reach most North Sea platforms within two hours are being offered as a potential solution to the oil and gas industry's helicopter crisis.
Dutch firm Ampelmann says it has been swamped with inquiries about its "walk to work" system – which allows workers to cross from boats on to platforms by foot – following last month's Super Puma crash off Shetland.
Last night one of the firm's bosses said he believed a 225ft catamaran the firm plans to use in Azerbaijan could finally make boat transfers a realistic proposition in the UK.
The vessel can carry up to 150 people at a time and speed through the water at around 40mph.
Speaking at the Offshore Europe conference in Aberdeen, business development boss Wiebe Jan Emsbroek said the boat, combined with Ampelmann's bridge technology, could ease the workload on helicopters – when the weather is right.
Boat transfers have been used by the industry when helicopters have been unable to fly.
They remain a last resort at present, due to the time it takes and the state it often leaves workers in.
READ MORE: Click here for the latest on the aftermath of the helicopter crisis
But Ampelmann is already working with BP, Talisman Sinopec and Chevron.
"The problem with boat transfers at the moment is that it can take up to 20 hours steaming sometimes. This makes workers sick," he said.
"We believe this boat could reach most North Sea platforms within two hours from three bases – Bergen, Sumburgh and Aberdeen."
Mr Emsbroek said the boat could operate in a swell of up to 10ft – which could limit its use in the rough seas.
But their bridge – which uses six hydraulic cylinders to remain stable as the boat moves – can be attached to almost any vessel, even a ferry.
"There have been a lot of calls from companies since the latest helicopter incident," Mr Emsbroek said.
"We are not saying this can replace helicopters – but it could help diversify the fleet
Oil and Gas UK's health and safety director Robert Paterson said the boats could be curtailed by stormy North Sea weather – but said their merits deserved to be examined.
"At certain times of the year it may offer a solution, particularly in the southern basin where there are smaller swells," he said.
"I can see them working well in coastal areas and the Fjords of Norway.
"We need to look at developing greater resilience in the way we get people offshore. A more diverse helicopter fleet is one way of doing that, but we need to look at what the other potential options are.
"This may certainly offer us something in the summer months. In winter it would be heavily restricted."
Recommended for you

What would war in Ukraine mean for Europe's energy crisis?