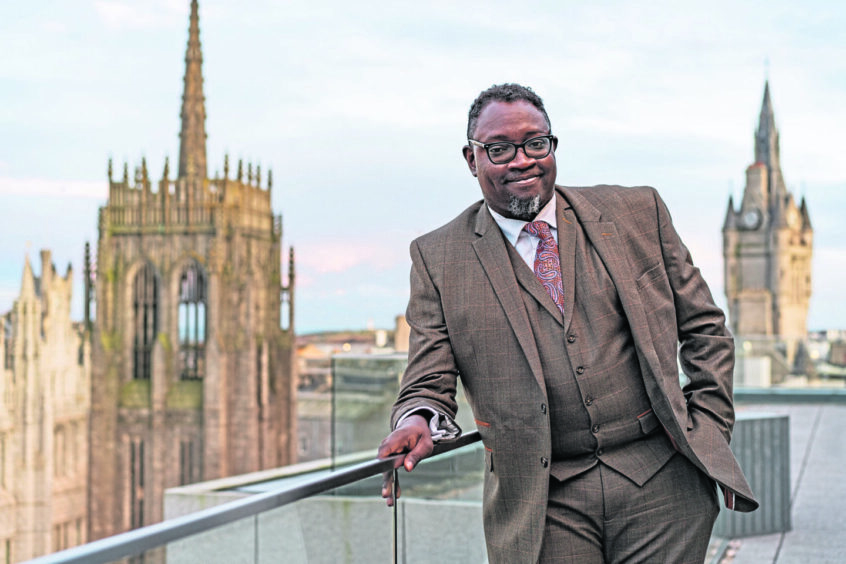 Offshore energy companies are still struggling on the issue of representation, an industry expert has said, as it still does not reflect its own community of workers.
It has been more than a year since the UK sector revealed results of its diversity and inclusion (D&I) index, which soberingly showed that people with a disability and black people felt the least heard of any groups by the industry.
That's despite around a third of UK-domiciled engineers at university level being from minority ethnic backgrounds, according to EngineeringUK, though far fewer secure jobs in the oil and gas sector.
Aberdeen, meanwhile, has one of the largest proportions of people from such backgrounds in Scotland –  twice the country's national average according to the OEUK index.
Pathways and representation
"Our companies don't yet reflect our communities, and that's something we need to be working on," says Dr Ollie Folayan, chairman and co-founder of the AFBE-UK-Scotland organisation which supports people from ethnic minority backgrounds in the engineering sector.
"To touch on that aspect to do with disability, there certainly hasn't been sufficient action that have followed that reflect those concerns.
"There is a need for the industry to continue to engage with the aspects of the D&I agenda that it feels less comfortable talking about".
Aberdeen has one of the largest ethnic minority populations in Scotland and at the moment you look at the landscape, especially in terms of leadership, and that is not reflected at all."
Action over rhetoric is the ask, and the tough nuts to crack on those fronts are representation at leadership level and the pathways to allow people to thrive on the career ladder.
On the latter, Folayan says one of the key actions needed is putting in place "systems that ensure that pretty much anyone with the right ability and the right application is able to get into the industry".
There is also a risk of bias – unconscious or otherwise – playing a role.
He adds: "Something I've heard people from ethnic minority backgrounds say a lot is that every time they needed to move positions or move levels in their career, they also needed to move companies"
"You may have what I would call an extractive culture within organisations where the whole system seems designed to favour certain people and maybe not so much others.
"Within most organisations, you have 'in' groups and 'out' groups and sometimes depending on gender and ethnicity, or depending on some other characteristic, you could very easily find yourself in an 'out' group and that's often what determines who progresses and who doesn't."
Leadership   
Looking across the leadership web pages of energy firms working across the UK North Sea today could lend credence to these concerns.
"Another aspect is to do with company culture and the way that people generally feel within the workplace, as well as issues on progression, particularly with representation in leadership roles.
"Up until a sort of a few years ago, I think the industry had one black person who was in a VP position and I think that person left the position now and gone on to something else.
"So when you have those kinds of things, it's very clear that, whilst the industry is doing a little bit better on some aspects of representation, maybe in areas to do with gender for example – though still not enough – it's doing them perhaps a little bit better than some of the other categories.
"It's certainly not doing very well in that regard on issues to do with race."
Gender and Race  
A study from Boston Consulting Group last year found that, although  the importance of race is increasing in the oil and gas sector's D&I conversation (based on industry press coverage), gender remains the primary topic.
However Folayan is wary of what he calls a "a hierarchy of emphasis" as no one group should be treated as a monolith.
"I just think that, for too long, people have equated the idea of diversity and inclusion with gender.
"And that means that when you hear about, for example, some of the progress has been made in leadership roles when it comes to women, you'll see that that that often does not represent black women – it speaks to a particular type.
"Surely what we want are systems that are malleable enough and inclusive enough to bring everybody to the group, not least because no particular group is a monolith."
Nonetheless, the conversation around D&I is richer than ever, and AFBE-UK-Scotland has been doing more educating on the topic than ever before.
Cultural shifts
What's driving it? Though there have been industry efforts, Folayan is clear that he sees wider cultural movements like Black Lives Matter as being among the main drivers.
And while the D&I index is a positive step, industry is yet to realise the right kinds of progress on the issues that report brings up, particularly in light of those groups which feel less heard.
Where that might continue to come into the fore is the rise of automation, where the topic will expand beyond just race and gender, but social class.
"When it comes to this issue around automation, there is a group of people for whom a high amount of what they do can easily be replicated, and when that does happen, that's going have a very significant implications when it comes to this issue around social justice.
"This cuts across race, gender, any of those things, and is probably more to do with social class so that needs to be added into the thinking when it comes to how we envision the future of the industry."
As well as business incentives (McKinsey research shows that companies with a diverse workforce are actually more profitable), well-applied D&I policies will be a powerful tool to attract the next generation, while not doing so could have the opposite effect.
"The younger generation make decisions of where they want to work based more on values than perhaps my generation did.