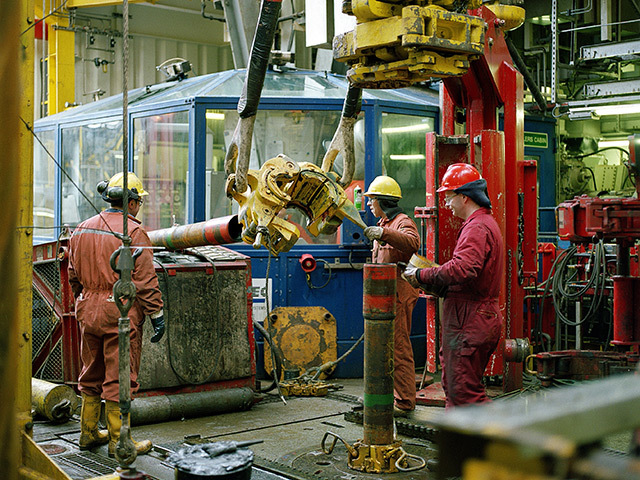 Wages in the UK's thriving oil and gas industry are growing by 15% a year, far outstripping the rate of inflation, a survey has found.
The study of more than 5,000 companies revealed expectations of an average wage of £73,600 by the end of the year, compared with £64,000 at the start, due to a chronic skills shortage.
Nearly three-quarters of the firms (70%) were worried wages were rising too fast. They cited different reasons for the skills shortage, with 35% saying it was caused by too little investment in apprenticeships.
Many of those questioned said they were unsure if new technology was up to the task of helping firms unlock reserves, so the recent growth and investment in the industry came as a surprise.
Nearly half the companies (46%) said the skills shortages were caused by growing demand for UK staff to work abroad.
The recruitment firm business behind the survey warned the increased investment was likely to exacerbate an "already serious skills shortage".
In addition, it said many offshore workers were going overseas to earn even higher wages and meet huge demand for qualified expatriates globally. Current job market conditions meant UK oil and gas companies were, therefore, competing for a dwindling number of skilled staff.
"This pressure on wages and skilled staff does not look likely to end any time soon," the recruitment firm said, adding: "The government urgently needs to step in and incentivise companies to invest more in people."
UK North Sea production is declining but the industry has decades to run and its lifespan is increasing all the time, thanks to new extraction techniques and tax incentives.
The wage expectations work out at an average of more than £1,415 a week by the end of the year.
Recent figures from the UK Government's Office for National Statistics showed Scottish workers had average annual earnings of £25,142 in 2012.
In July, the consumer price index – the standard measure for UK inflation – stood at 2.8%.