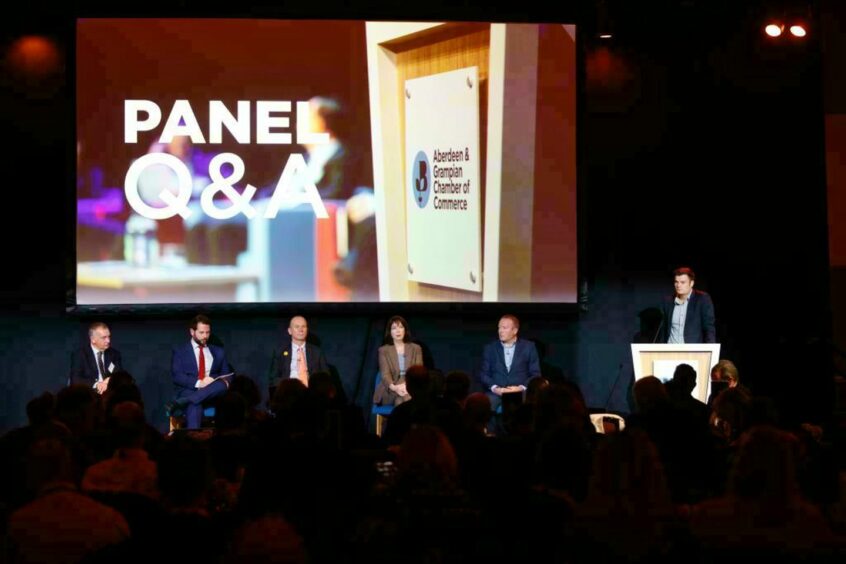 Aberdeen University's energy transition lead believes academia faces an uphill struggle in setting out the merits of the oil and gas industry to some students.
Professor John Underhill, a renowned geologist who joined the institution earlier this year, believes the sector suffers from an "image problem" that has been growing in recent months.
That makes it "very difficult" for oil and gas companies to "get their message across".
As such Professor Underhill, director of the university's Interdisciplinary Centre for Energy Transition, believes the onus is on people like him to share "accurate data and facts" about the role of industry in the energy transition.
During an industry event in Aberdeen on Tuesday, he said: "It is difficult. I'm certainly not immune to criticism, public and private, for expressing some of the views that I have.
"I actually feel that my view is closer to many people who are protesting in different ways, in the sense that we would all like to get to net zero as soon as we can.
"Where I differ, and there are several ways, is the way in which one articulates that – I would prefer to be doing that with sound reason and evidence.
"It is absolutely key that we get the message across all the way through, from schools to the public, about the reality of where the starting point is."
Just Stop Oil in Aberdeen
Professor Underhill was fielding a question about the need to "educate some younger people" about the role of oil and gas in delivering the transition to a low carbon energy system following a protest in Aberdeen yesterday.
It involved three Just Stop Oil activists throwing orange paint over the Silver Fin building in Aberdeen.
They were subsequently arrested.
During his speech at the event, office senior partner for KPMG in Aberdeen, Martin Findlay, who was wearing an orange tie, quipped, "I think I suit orange better than Silver Fin does".
The Silver Fin is home to North Sea firm Neo Energy, as well as Barclays bank, the protest's main target – energy giant Shell is due to move in soon.
'Skills and investment' will come from North Sea industry
Similar environmental demonstrations have taken place at Aberdeen University, led by students who want to see an end to oil and gas research.
Professor Underhill said: "We need to explain that we are all committed to decarbonisation and getting to net zero, but the industry and wider community – in engineering, law, business – are actually working together for that common cause.
"Most importantly, while we may be perceived as the problem, we need to get across the fact that actually we're the solution. The skills and investment in industry is going to be the thing that drives the energy transition."
Political instability has become the biggest obstacle to the UK's energy transition, according to a new report published today.https://t.co/9tXABfgIJs

— Aberdeen & Grampian Chamber of Commerce (@chambertalk) November 15, 2022
He added: "It's a very complex landscape, but we as academics have a responsibility to communicate the accurate data and facts, and seek to educate folk and inform opinion."
Professor Underhill and Mr Findlay were both part of the panel at the launch of Aberdeen & Grampian Chamber of Commerce (AGCC) latest energy transition survey.
It found that political instability, caused by Westminster's 'Machiavellian manoeuvres', is acting as an obstacle to energy companies wanting to transition.
Recommended for you

Aberdeen University to research colocation of CCS and offshore wind