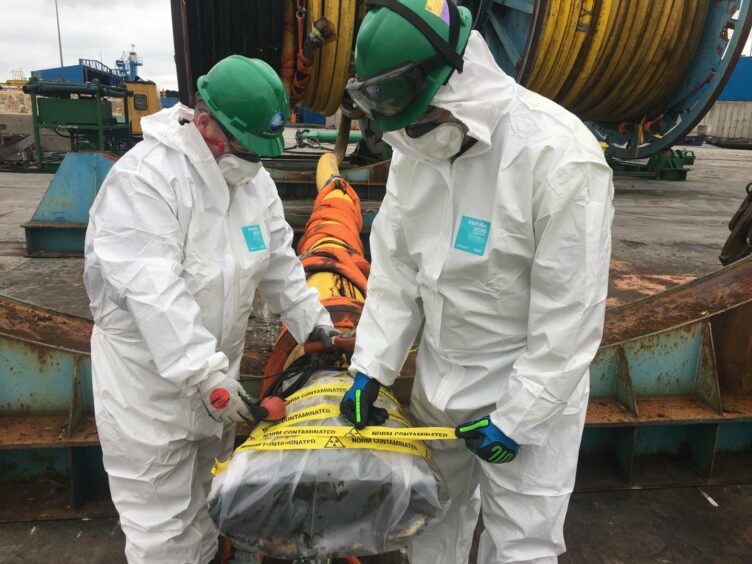 The Aberdeen-based firm, ASCO has signed a deal with over £10 million for naturally occurring radioactive material (NORM) decontamination and disposal services with undisclosed operators.
NORM Solutions, part of ASCO's environmental service division, has won multi-year contracts with four "leading operators" to provide safe management and decontamination of NORM on North Sea installations as they are decommissioned.
As well as handling and recycling offshore materials and equipment, the firm will also deal with NORM-contaminated sludges and liquids and repackage them for transport and disposal.
ASCO will also deploy its radiation protection supervisors, who manage the offshore processes required to identify and safely store and offload any contaminated material.
The firm's NORM facility is based in Aberdeen and is fully authorised by the Scottish Environment Protection Agency (SEPA).
Chris Lloyd, head of environmental and decommissioning at ASCO, said: "Since ASCO acquired full ownership of NORM Solutions in 2019, the business has gone from strength to strength.
"The quality of our facilities and the professionalism of our team at NORM Solutions has played a major part in these contract successes and we greatly appreciate our customers faith in the services we deliver."
"We have unique facilities which, together with ASCO's other service lines of logistics, materials management and supply base services, provide a fully integrated solution for our customers."
Mr Lloyd anticipates continued growth at NORM Solutions to service increasing demand in the market as global decommissioning activity ramps up.
Recommended for you

Navigating the Global Decommissioning Landscape