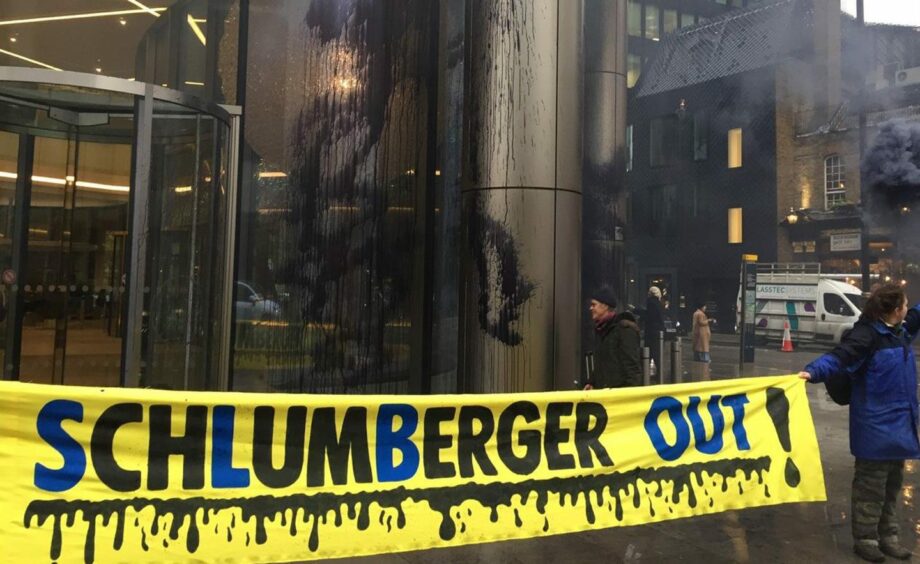 Extinction Rebellion has targeted a number of companies it sees as implicated in fossil fuel production, including service companies, financiers and a PR company.
The group held the protest under the banner of "cut the ties", arguing it was time to end support for hydrocarbons.
It targeted sites across London this morning.
Those on the list were BP, Hill+Knowlton Strategies, BAE Systems, Church House, Ineos, Eversheds Sutherland, Schlumberger, the International Maritime Organisation, the Institute of Economic Affairs, JP Morgan, Arch Insurance, the Ontario Teachers Pension Plan and the Department for Business, Energy and Industrial Strategy (BEIS).
XR complained of the involvement of oil and gas company representatives at the recently concluded COP27, in Egypt.
There are a "network of companies and organisations that are profiting" from oil and gas developments, XR representative Sarah Hart said. She noted the concerns of people in the UK around heating in the winter, while the government is "prioritising the profits of the very companies that are jeopardising our climate and environment".
It is time, she said, to "cut the ties with fossil fuels or lose the social license to operate in the UK".
Splattering oil
Hill+Knowlton has been an increasingly prominent target of XR. The PR company has come under scrutiny over its work in support of COP27, while also working for the Oil and Gas Climate Initiative (OGCI). This brings together major oil and gas companies.
XR Cymru "splattered fake oil" over the PR company's office in Clerkenwell Green.
XR groups also used fake oil in protests at the London offices of petrochemical producer Ineos, law company Eversheds Sutherland and SLB's offices.
An XR group used a fire extinguisher to spray fake oil on BP's headquarters. More was also sprayed on BEIS offices, in protest at plans for a new North Sea licence round.
The Money Rebellion group poured fake oil on the offices of Arch Insurance, citing some talk that the company was in talks to insure TotalEnergies' East African Crude Oil Pipeline (EACOP).
Meanwhile, the Doctors for XR group glued themselves to the windows of JP Morgan's London office.
The Christian Climate Action group also protested at Church House this morning. It was there to criticise the Church of England's strategy of investing in energy companies. The church attempts to drive change from within.
Trial tomorrow
Seven women are due to go on trial on November 22, at Southwark Crown Court. They are accused of causing criminal damage to Barclays HQ in April 2021.
The women broke windows in a protest, using hammers and chisels. They have all pleaded not guilty.
Recommended for you

Greta Thunberg returns to protests at JP Morgan, Barclays