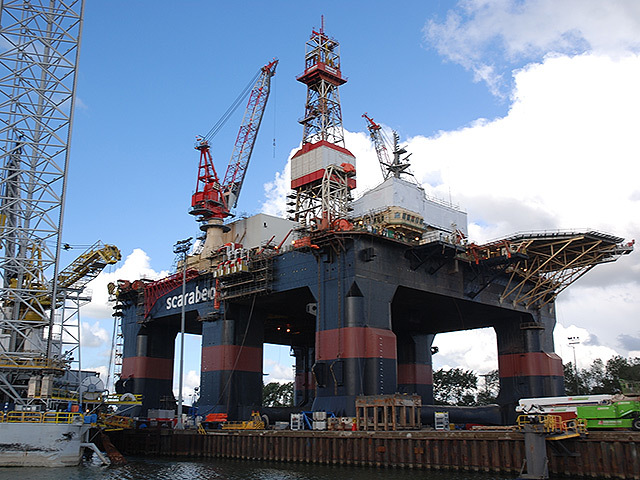 Just four E&A wells are active on the UK Continental Shelf, a drop of two since last reported although the imminent re-entry of Total's Spinnaker exploration well, 206/4a-3 will bring the tally up to five.
For now, only a pair of exploration wells and two appraisals are being drilled. However, for almost a week last month just one E&A well was active in UK waters . . . very low indeed.
Should no more spuds or sidetracks be noted on the last day of September the number of well starts in the first nine months of 2013 will be 43, comprising 27 well spuds and 16 sidetracks. The spuds are made up of 12 exploration wells and 15 appraisals (the latter nominally including National Grid's well 42/25d-3 on CS Licence 01). Two re-entries and a re-spud are also noted.
Since our last Wellslot report, four E&A wells have been spudded (two exploration and two appraisals) and another five well operations have ended (three exploration and two appraisals).
The number of development and production wells started this year over the same period is 89, comprising 48 spuds and 41 sidetracks. Two wells have required re-spudding. In the drilling or operating phase are 22 wells on 15 fields utilising 12 mobile rigs (seven semi-submersibles and five jack-ups) and four platform-based derricks.

West of Shetland
E&A activity in this sector sees the continuation of BP's Clair appraisal programme where well 206/8-16 was plugged and abandoned (P&A) after 74 days prior to the semi- Paul B. Loyd Jnr spudding well 206/9a-3 11.2km (seven miles) to the north-west on September 24.
Poised to re-start drilling operations following well abandonment duties in the Northern North Sea is the Sedco 714. The rig will imminently re-enter Total's well 206/4a-3 on the Spinnaker prospect in 295m (970ft) of water, suspended in the top hole section in September last year as it was dispatched to drill a relief well during the Elgin field crisis.

Northern North Sea
No drilling activity is currently noted. Taqa's well 210/25a-11, the high-angle exploration probe on Middle Jurassic Falcon North, which initially targeted the Abercromby prospect ahead of the Fairlie prospect, was abandoned on September 13 after 58 days, a somewhat shorter duration than anticipated. The John Shaw then mobilised for a single-well slot with EOG in the Central North Sea.

Central North Sea
EOG's well 21/12b-6 was spudded by the John Shaw on September 19. The Palaeoecene exploration commitment well is expected to be of short duration, the rig returning to Taqa thereafter.
The second active probe in the CNS is ConocoPhillips well 30/2c-J12, which is designated an appraisal and drilling from the Jade platform location by the Maersk Resilient to a bottom-hole location in neighbouring block 30/7b. The well was spudded on September 23.
GDF Suez's well 22/23c-8X (U.Jurassic Taggart/Rotliegendes Rebus prospect) was abandoned on September 11 after 32 days in the third sidetrack. Following the 165 days overall programme Galaxy II was taken to Dundee for inspection.

Southern North Sea
Only one SNS well is active; Dana's well 47/5d-3 on the Permian Pharos prospect was spudded by Noble Lynda Bossler on September 25, the rig having mobilised from the Dutch sector. Operations may last around 60 days.
On September 28, Centrica's Rotliegendes York South-east sidetrack, well 47/3a-Y2Z, designated an appraisal by DECC, was abandoned by the jack-up Noble Julie Robertson after 64 days. The well will likely be tied back to the York platform as a producer, should it be successful. The rig remains on location at the time of writing.
Also finishing operations was EON's Tolmount exploration leg, well 42/28d-13Z. The well was suspended as a gas find on or around September 10 after some two months in sidetrack. Maersk Resolve, which drilled the well, moved to the Danish sector.
Tolmount was first encountered by well 42/28d-12 in the second half of 2011. Appraisal #13 and exploration leg #13Z were drilled from a surface location 1.6km (one mile) north-west of 42/28d-12. Latest drilling appears to have accessed a more prolific area of reservoir and rumours of a 350billion cu.ft reservoir abound.

West of Britain
In the East Irish Sea basin, EOG's Conwy/Corfe area appraisal well 110/12a-C5, C5Z was suspended on September 1 after 17 and six days respectively. Meanwhile, the operator's Conwy/Corfe development operations with the Ensco 80 jack-up continue.

Summary
E.on's Tolmount success has brought some good news in an otherwise low-key month in the UK sector. It is significant that this particular find was made in a sector of the North Sea where drilling activity has been at a low ebb for several years and yet this is where one of the largest finds for quite some time has been made.
Analysis of the last 10 years of E&A drilling on the UKCS suggests that between 32 and 41 wells will have spudded by year end 2013 with 36 the most likely outcome. That's only three wells per month over the final quarter.
Activity levels might not be as low as 2011 (just 30 spuds) but are on track to be the lowest since 2003 when 34 spuds were recorded.
NORWAY
In total 11 wells were active as September drew to a close . . . nine exploratory and two appraisals. Of these, five are drilling in the North Sea, while the Norwegian and Barents seas each have three wells drilling. So far this year, 43 spuds are noted, along with two sidetracks. There have been zero re-entries or re-spuds so far this year.
Two-up on last month, 23 development/production wells are currently active, all in the North Sea bar one, which is drilling in the Norwegian Sea.
There are currently 36 mobile drilling units active, comprising 23 tied-up in field operations, while the remaining 13 are either active on E&A drilling, or in the process of mobilising to new drill sites.

North Sea
Statoil started drilling on its Rav/Valemon North prospect with well 34/10-54 S (Transocean Leader) while Repsol spudded well 4/4-1 with the Maersk Giant on the Brattholmen prospect which is adjacent to the Norway/Danish median line.
Meanwhile, Statoil is drilling ahead with well 30/11-9 S on the Askja West/East prospect using the Ocean Vanguard, which had previously been engaged carrying out abandonment operations on the same operator's Cerberus probe (well 30/9-25), which was a duster.
Det norske's Augunshaug well 2/1-15 was abandoned at the tail end of August as a dry hole with Maersk Giant mobilising to drill for Repsol. The two active appraisals, both of which are end-August spuds, continue operations, with Wintershall drilling its Asha East well 16/1-20 A. The prior well to this, 16/1-19 S, targeted the Amol prospect and was abandoned dry mid-month by the rig Borgland Dolphin.
The second active appraisal, on the huge Johan Sverdrup discovery, also continues operations, reportedly successful at month-end. The rig Bredford Dolphin is expected to abandon and move off location early this month.

Norwegian Sea
Just one new spud is noted this month, with the Songa Trym drilling on Statoil's Snilehorn prospect. Well 6407/8-6 is targeting the Jurassic. Meanwhile, Shell reported its long-running Onyx South probe 6406/9-3 spudded in April as a sub-commercial gas discovery. The rig Transocean Barents is expected to terminate operations early this month.
Well 6608/2-1 S drilling on RWE's Sverdrup prospect continues. Meanwhile, Statoil has recorded a discovery with its Svale North well 6608/10-15, which was abandoned mid-month having encountered two 45m oil columns. The rig, Songa Trym has since been mobilised to drill the operator's Snilehorn probe.

Barent's Sea
A gas discovery has been reported on the Jurassic Iskrystall prospect, with the rig West Herculese abandoning well 7219/8-2 at month-end. Meanwhile, Lundin continues operations on Gohta well 7120/1-3 on Gohta using the Transocean Arctic. A discovery has been made and a testing programme initiated. We expect completion early this month.
OMV can also add a discovery to its books having been successful with its Wisting Central well 7324/7-1 S. The work was carried out using the rig Leiv Eiriksson, which has since mobilised to spud well 7324/7-1 S on the Wisting Main structure.
In addition, Eni continues operations at its Bønna prospect with well 7016/2-1. The rig Scarabeo 8 had started operations in mid-July.

Summary
It's a busy time on the NCS with a number of wells currently completing and more in the pipeline as rigs are released to their next tasks.
Five new discoveries are recorded for September; all having recorded technical successes, although one (Onyx South) is considered sub-commercial. These five are in addition to the seven NCS finds already chalked up this year.
With no let-up in E&A activity it should continue to prove a fruitful year on the Norwegian Shelf, even if the success rate dips as we head into the last quarter.
This column, researched and written by Simon Robertshaw and David Moseley, is courtesy of North Sea analysts Hannon Westwood
Recommended for you

Longboat confirms non-commercial find at Velocette