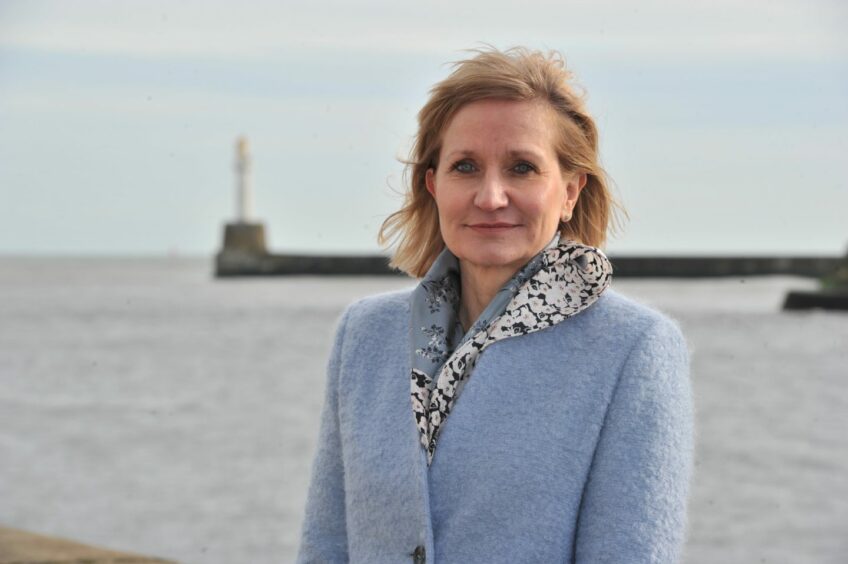 As "another extraordinary year" in the energy sector comes to an end, outgoing chief executive of Offshore Energies UK (OEUK), Deirdre Michie, reflects on the last 12 months and her time at the helm of the trade body.
In July, Ms Michie announced that she would be stepping down as OEUK's boss at the end of the year after eight years in the top job.
Reflecting on her time at OEUK, Michie described the "constant change that we had to deal with as a society, as a sector and as an organisation."
She became CEO, of what was then called Oil and Gas UK, during the industry downturn in 2015, replacing Malcolm Webb, during "one of the biggest downturns that sector has had to deal with".
"It provided an opportunity to work with both governments to collaborate across the industry".
"We were pushing in boundaries where we hadn't before, and we had a new regulator set up, the OGA – now known as the NSTA.
"It was a global economic crisis for the oil and gas sector and we saw jobs being lost, we company shutting down and if you worked in Aberdeen you could see it as you walk down the streets."
Michie spoke about building back investor confidence during this time, something she says we need to do again following a year of windfall taxes.
She said that as an industry "we worked on efficiency" which "attracted investment back to the basin" by 2019, however, the following year the COVID-19 pandemic struck presenting a new host of challenges for Deirdre Michie and her team.
Reflecting on the pandemic, Michie said: "I am really proud of the way the sector worked together and when you think of those folks who had to keep going offshore to keep the power going, to keep production going, to keep the lights on and we worked well."
What's next?
Michie's tenure was not without its hurdles, having to deal with the aforementioned global events and adapting to the UK government's commitment to net zero and COP 26 being held in Glasgow.
However, she still speaks highly of her position, describing it as "an amazing job."
Following her departure from OEUK, Ms Michie, the long-running trade body's first female CEO,  wants to continue working towards the energy transition and promoting diversity and inclusion (D&I).
She said that during her time at OEUK she has been proud of "what we've done in the D&I space, with the task force being set up."
The outgoing OEUK boss said she wants to "shine a better light" on the issue, complimenting the sector's moves towards inclusion during her time at the trade body she added, "there's much more to be done."
2022: a year in review
A lot can be said about this year with regard to the energy sector but it cannot be described as dull, which, according to Ms Michie, is "something we say every year".
However, this year we have seen three prime ministers, the introduction of the energy profits levy and a recent hike in tax rates relating to it and a series of IR35 reforms.
Despite the near-constant changing legislation and political landscape, the OEUK boss pulled out a series of silver linings for the industry in a chat with Energy Voice.
Ms Michie pointed out progress made throughout the North Sea Transition Deal in "terms of decarbonising".
"We were able to report that the sector reduced emissions by 20% and we delivered a methane action plan in support of that," explained Michie, adding that "the North Sea Transition Deal is gaining traction".
Another positive takeaway from 2022 for the OEUK boss was the work towards developing the UK supply chain, establishing a "supply chain champion" and "producing a number of reports."
The offshore energies trade body published a report on "carbon capture and storage visibility", because, according to Michie it is important "for the supply chain under the North Sea Transition Deal to give them visibility of opportunity."
To assist with this, OEUK is publishing a "Supply Chain Road map" that is set to come out by the end of the year.
"How do we take the supply chain from oil and gas and support it? One way is to ensure that you provide them with visibility so that they can see where the opportunities are so that they can do the investment in support of that," Michie explained.
"It's also about showing where the government can make interventions because I think a key thing for us as we go forward is making sure that the new energies are homegrown."
Energy Security
Energy security has been at the forefront of the energy conversation following Russia's invasion of Ukraine.
The war has led to energy shortages as Europe looks for alternatives to the Russian gas supply it had become reliant on, however, OEUK's chief executive thinks "we've done good work as a sector in terms of security of energy supply".
Michie commended the industry's efforts during a time when supplies were lower than usual: "The energy crisis that was exacerbated by has been exacerbated by the war in Ukraine, which continues to be a real challenge but I think we've stepped up as a sector."
Professor Alex Kemp, a petroleum economist at Aberdeen University spoke at Energy Voice's Future Offshore event this year and explained how even if the war in Ukraine was to end, energy security would remain an issue as sanctions against Russia would stay in place.
Ms Michie agreed, saying: "I think Professor Kemp's absolutely right, we can't just assume that things will rectify overnight.
"It's a really good point which reinforces why as a country we have to be continued to want to transition in a careful way, one that balances out the need for oil and gas for as long as we need it.
"We need a homegrown industry."
Windfall tax and investor uncertainty
The introduction of the windfall tax was described as a particularly low point in the year by the OEUK boss.
The energy profits ley, also known as the windfall tax, was implemented by the current prime minister, Rishi Sunak, during his tenure as chancellor during Boris Johnson's premiership.
"Our concern is that it has and will continue to undermine investor confidence," said Michie, adding: "It's not about us paying taxes. We're proud to pay taxes. We paid £400 billion in taxes.
"That's not our issue, our issue is we are now one of the highest-taxed regimes and the way it's being done is putting real pressure on investor confidence and that is something that we have to tackle with the government going forward."
This is a sentiment that has been shared across the industry with Harbour Energy's chief executive, Linda Cook, stating that the recent increase in windfall tax rates risks "driving investment out of the UK altogether."
However, Michie warned that the impacts of windfall tax harming investor confidence will not be felt in the next few months, instead, the industry will notice as the next set of projects is being set up in 12 to 18 months' time.
"We shouldn't see much impact because we're not the kind of sector that downs its tools and says, right, that's it, you know, we've got operations ongoing," she said.
The impacts of windfall tax may be felt further than just in the fossil fuels industry; Michie described how the energy profits levy may hamper the UK's transition to renewables.
"That's the bit that we remain concerned about because we believe that the two go hand in hand and it's the same companies that are doing the oil and gas piece that we need for the energy transition."
Energy Transition
This year also marked the trade body's "evolution" from OGUK to OEUK, signalling not only the organisation's commitment to the energy transition but the sector as a whole's commitment.
Michie described the move to the new name as a "big but obvious" change.
She said: "Evolving to reflect the evolving sector and to reflect the fact our members are working across all these different energies but we still have members that are focussed on oil and gas has been a big highlight that I'm proud of."
Recently Scotland's energy secretary Michael Matheson has discussed filling the energy supply gap left by Russia as the UK moves towards a transition, saying that mainland Europe is looking to hydrogen as a clean replacement and Scotland could be the provider of this fuel source.
Energy Voice asked Deirdre Michie if she has heard a similar buzz from the private sector.
"Certainly hydrogen is seen as being an opportunity for companies and I think the Minister is right, there is potential there that we need to get after.
"It is an opportunity. There's lots of opportunity actually for Scotland and the UK across all these different energies because of the type of country we have and the history we have.
"I was speaking to colleagues the other day who were also getting very excited about carbon capture and storage prospects, again because of the because of the type of geology that the country has."
The OEUK boss said that the industry has a plan for the energy transition, it now needs to work together to achieve it, adding: "I think it needs to cross governments in terms of the long term planning and commitment."
Safety in the energy transition
Although highlighting the important steps the country is taking towards transition, Michie stressed that the move from fossil fuels must be done safely.
Echoing the words of Piper Alpha survivor, Steve Rae, at Step Change in Safety's 25th anniversary event earlier this year, Ms Michie explained the importance of passing on the lessons learned in the oil and gas sector to renewables to prevent the mistakes of the past from being repeated.
As she put it "we've learned a lot of them the hard way."
Looking to 2023
Following her reflection on the previous 12 months, Ms Deirdre Michie was asked what her predictions for the energy industry next year were.
"Could you imagine saying that at the beginning of this year? So I'd be a bit of a fool to say 'I think this' or I think that' because who knows?"
However, when looking at "what you can control" the OEUK boss said: "I think from a sector point of view it's really important that we continue to drive the North Sea Transition Deal and we continue to demonstrate that we are committed to the security of energy supply."
Michie also name-dropped Seageen, ScotWind and the 33rd licensing round, saying the UK needs to take advantage of the opportunities in both oil and gas and renewables, explaining that this is necessary to bring back investor confidence.
"I think next year it is very important that as an industry we keep driving forward," Michie said.