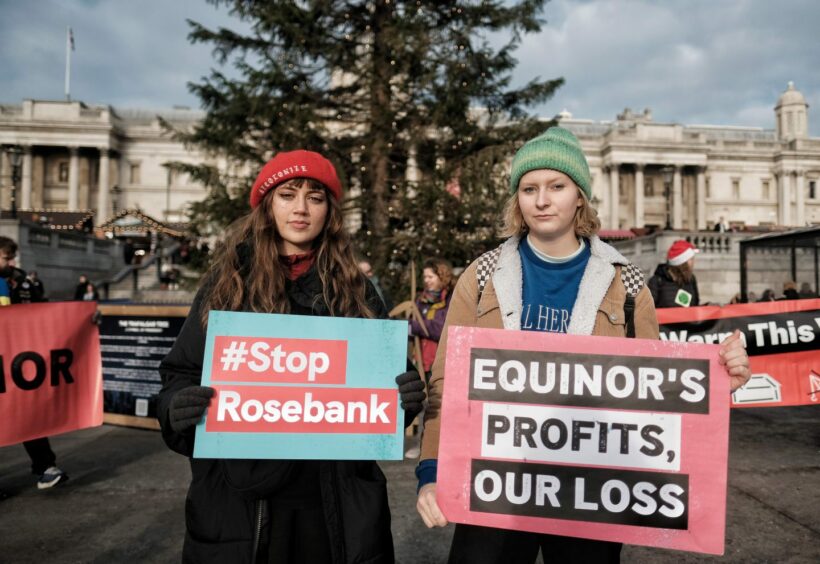 Protestors have gathered at London's Trafalgar Square Christmas tree to protest Norway-based Equinor's plans to develop the Rosebank oil field in the UK.
The Norwegian state-owned oil firm plans to drill the UK's largest undeveloped oil and gas field and is currently awaiting UK government approval.
Earlier today, Stop Rosebank campaigners handed in a petition to No.10 Downing Street, signed by over 130,000 people, calling on the UK government to halt Rosebank's approval.
European campaigns director of 350.org, Nick Bryer, said: "We've brought this petition to Downing Street today because Rishi Sunak needs to decide if his government is going to act in the interests of people and the planet, or for big business.
"Going ahead with Rosebank would be a disaster for the climate, and it's a distraction from the real action needed to make sure that everyone in the UK has access to clean, affordable energy.
"We should be investing in renewables, and insulating homes – not handing over even more money to the fossil fuel industry."
Why Trafalgar Square's Christmas tree?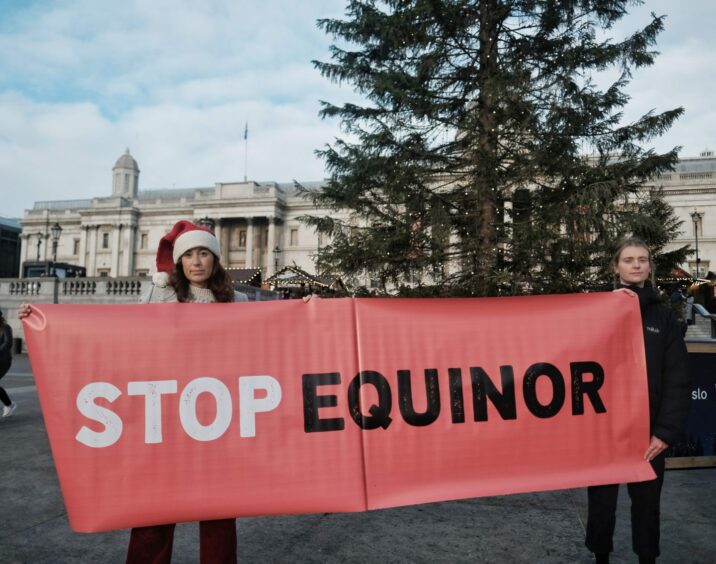 The festive decoration is gifted to the UK from Norway, a tradition that has stood for 75 years.
King Haakon VII sent the first spruce to London to show his appreciation for Britain's support during World War II.
This isn't the first time that the Christmas tree in Trafalgar Square has been the site of environmental protest.
In 1987 two Norwegian activists scaled the tree over the issue of acid rain, demanding that the UK cut sulphur emissions from its coal-fired power stations, which was damaging Norway's forests.
Rosebank a 'dead end'
Stop Rosebank protestor, Lauren MacDonald said: "Having just approved a new coal mine, the government needs to stop and think very hard about Rosebank.
"If Ministers want to attract investment to the UK and create decent jobs in clean industries that have a long-term future, they need to signal that the UK is serious about phasing out fossil fuels.
"Approving Rosebank would do the opposite. It's a dead end, like the Cumbria coal mine."
Greenpeace UK oil and gas transition campaigner, Philip Evans, added: "In the middle of an energy and climate crisis, it's unbelievable that the government is even considering approving Rosebank.
"Any oil produced from the field won't belong to the UK, but to the Norwegian state-owned company Equinor.
"The profits will go overseas, the energy will most likely go overseas, but it'll create climate chaos absolutely everywhere – particularly in the most climate-vulnerable countries."
Closer to home, Extinction Rebellion protestors also staged action in a festive spot as they set up shop in Aberdeen's Christmas Village recently.
An Equinor spokesman said: "The Rosebank project is estimated to bring £26.8 billion to the UK through tax payments and investments into the UK economy.
"It has the potential to strengthen energy security with oil and gas that is produced with a lower carbon footprint than imports.
"We obviously respect that there are differing views on energy policy.
"As we progress Rosebank towards a Final Investment Decision, our role is to ensure that Rosebank is developed with the lowest possible carbon footprint while bringing the maximum value to society in the shape of UK investment, local jobs and energy security."