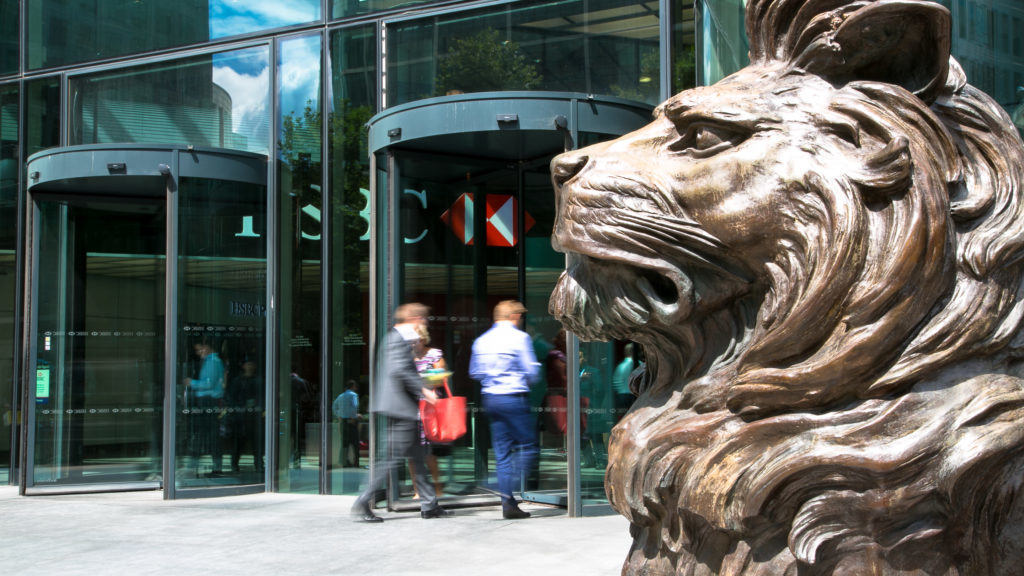 HSBC will no longer provide lending or capital markets financing for new oil and gas fields, it has announced, while accelerating support for renewable energy.
The bank has set out a new energy policy, building on a commitment from earlier this year to slow down financing for hydrocarbons.
However, the bank will continue to provide financing or advisory services at a corporate level in the energy sector. This comes with a requirement that such companies have a transition plan in line with HSBC's targets.
The bank is aiming for a 34% reduction in on-balance sheet financed emissions for oil and gas by 2030. It also requires a net zero by 2050 target from clients.
The International Energy Agency's (IEA) net zero report from 2021 said existing fields would need additional financing and investment. It sees 2020 financing levels maintained to 2030 and subsequently declining. HSBC's plans align with this.
The bank will "continue to provide finance to maintain supplies of oil and gas in line with current and future declining global oil and gas demand, whilst accelerating our activities to support clean energy deployment", it said.
Greenpeace UK senior climate campaigner Charlie Kronick gave his seal of approval. "There's no place for new oil and gas in a world that is trying to tackle the climate crisis", he said.
HSBC's move is "long overdue, and it's an embarrassment for the UK government. Ministers are now in the absurd position of pressing on with new oil and gas licences when the science rules out expansion and now even some banks are pulling out."
An Extinction Rebellion group disrupted HSBC's AGM in April this year, calling for an end to financing for new projects.
BREAKING: ABBA FLASH MOB DISRUPTS OILY @HSBC_UK CHAIRMAN'S SPEECH #DefundClimateChaos #MoneyRebellion #NetZeroBanking pic.twitter.com/525sZjPZrV

— XR Money Rebellion 🌍🌱🏳️‍⚧️ (@money_rebellion) April 29, 2022
Capital markets
HSBC's move away from capital markets financing seems particularly notable, as companies have shifted towards this in recent years away from bank debt. ShareAction has reported that 60% of the bank's financing for oil and gas companies came via underwriting.
Research from the NGO found HSBC was the top of the European banks in terms of oil and gas financing from 2016 to 2021, with $59.12 billion provided.
ShareAction noted support from HSBC for ExxonMobil, Saudi Aramco and Pemex. The first two of those companies have made net zero by 2050 pledges.
Jeanne Martin, head of the Banking Programme at ShareAction, said HSBC's decision "sends a strong signal to fossil fuel giants and governments that banks' appetite for financing new oil and gas fields is diminishing. It sets a new minimum level of ambition for all banks committed to net zero.
"We urge major banks like Barclays and BNP Paribas to follow suit."
Martin went on to note, though, that HSBC would continue financing expansion plans. "We expect to see HSBC come forward with new proposals that will address this as soon as possible," the official said.
Digging into the rules
HSBC did make some allowances for gas over oil. The two fuels will "follow different phase down curves in a 1.5°C pathway, with a steeper decline in the demand for oil", it said. "We'll take this into account in our evaluation of clients' transition plans."
The bank said it sees a longer term future for natural gas, beyond 2050, given its role in producing hydrogen.
As such, it is not singling out shale gas – developed via hydraulic fracturing – for avoidance. Rather, it plans to work with companies in this area, while pursuing enhanced due diligence.
HSBC has brought in rules around some particular areas. It singled out extra heavy oil for a "phase down" of financing, while saying this would not have a material impact on supply.
Other areas it will not work with are ultra-deepwater plans, shale oil, work in environmentally sensitive areas and infrastructure related to these various plans.
It gave the example of the Arctic, the Amazon and UNESCO World Heritage Sites as environmentally sensitive.
Updated at 10:56 am with ShareAction comment. 
Recommended for you

UK government plans new oil and gas 'price shock' tax mechanism post-EPL