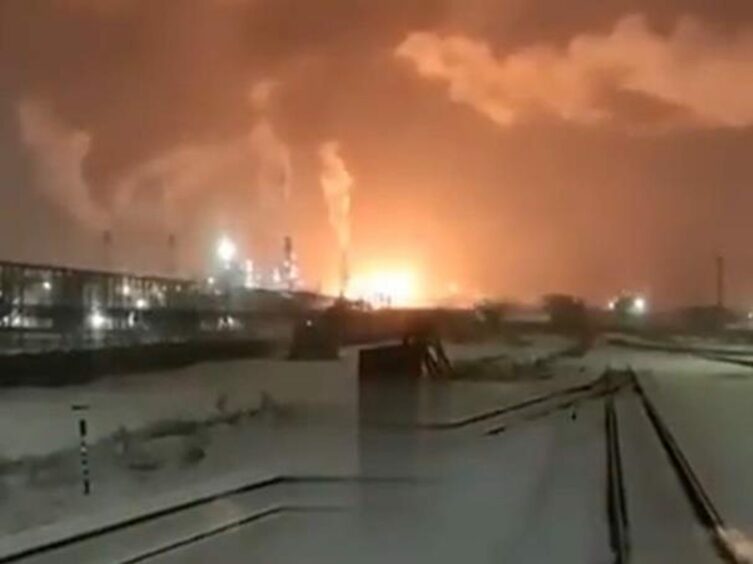 Two people have been reportedly killed and another five injured in an explosion at an eastern Russia oil refinery near the Siberian city of Irkutsk.
The detonation at the Angarsk oil refinery lit the early morning sky at around 05:50 am, local time.
Local officials say that the incident came about as a result of 'gas contamination' of the plant's equipment, however, there are some who suspect foul play.
It has been reported that more than 100 people worked on fighting the subsequent fires at the plant.
#UkraineWar #Ukraine #Russia
In Russian city of #Angarsk, in the #Irkutsk region, explosion rang out and fire broke out at oil refinery: 2 people died, 4 others were injured, – Russian media. The  #Angar Petrochemical Company plant is the largest refinery in Eastern #Siberia pic.twitter.com/oD4oZKYSwh

— 🛰️ War in Ukraine 🍉 (@EUFreeCitizen) December 15, 2022
The refinery produces jet fuel and diesel that could be used in Russia's military efforts in Ukraine and is owned by known supporter of Vladimir Putin, Igor Sechin's firm Rosneft.
Recently a Ukrainian Government representative urged BP to cut its connection to the Russian firm or it would "risk complicity with Russia's war crimes".
This marks the second incident at the plant in less than a month as fires broke out at the facility on the 27th of November.
Videos and images of the incident have begun circulating social media with one showing what appears to be the perspective of a person inside a part of the facility.
A Siberian local, Lyubov Volokitina, said: "My husband got up, went downstairs, poured himself a coffee and looked out the window to see the Christmas tree in our yard, which we decorated yesterday.
"Suddenly there was an explosion, a glow. I thought that a plane fell on us.
"My daughter cried, frightened, and ran to me from her room. My mother phoned in panic."
Tatyana Borovaya, from a nearby village, commented: "I thought war had started…. It was as if a wave passed through the house, it was shaking."
There have also been reported explosions at Russian energy storage facilities in the Kursk and Bryansk regions in the last two weeks as well.
The cause of the blasts at the energy storage bases is yet to be confirmed.
Recommended for you

Pemex platform fire leaves two dead, one missing