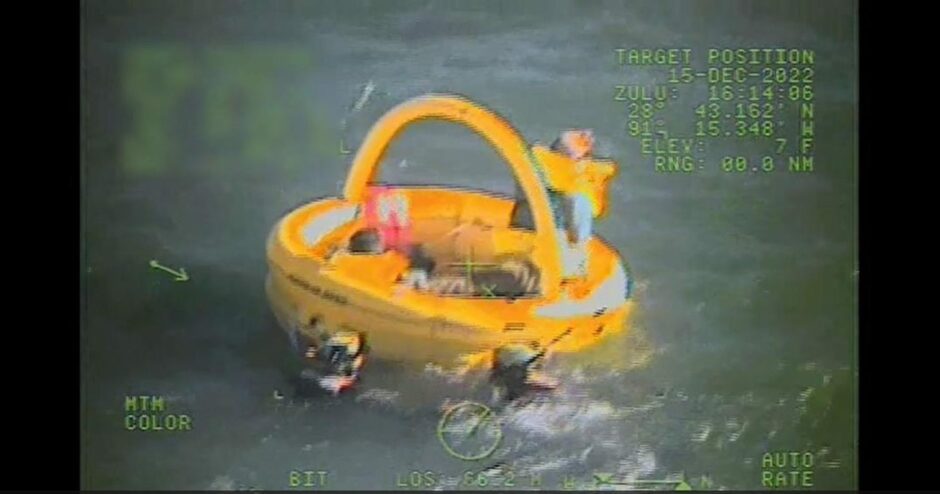 The US Coast Guard has released images of a rescue of a trio of workers after a helicopter ditched in the Gulf of Mexico after attempting to land on an oil rig.
A bell 206 helicopter had gotten its skids stuck in the rigs perimeter railing last Thursday (16) and was hurled into the Gulf as it attempted to take off.
Coast Guard crew were scrambled from New Orleans that morning, and managed to hoist the three workers to safety.
Neither the coast guard or any US media outlets have named which platform the incident took place on.
One of the three passengers had back injuries and all three were last reported to be stable, the rescuers said.
The Air Station NOLA helicopter crew rescued all three passengers and transferred them to awaiting EMS at the Houma-Terrebonne Airport. All the passengers were reported to be in stable condition!

Read more here: https://t.co/Jb1zrq6PJa pic.twitter.com/g68rv4Fe5m

— USCG Heartland (@USCGHeartland) December 16, 2022
After being hoisted from their liferaft, they were transferred to Houma-Terrebonne Airport in Houma, Louisiana, where emergency crews wer on standby.
Lt. j.g. Sadie Simons, a Sector New Orleans command duty officer, said: "The coordination between our watchstanders and the Air Station New Orleans helicopter crew was key to the quick response and rescue of the passengers.
"After an incident this serious in nature, we are happy all three passengers are back home and safe for the holidays."