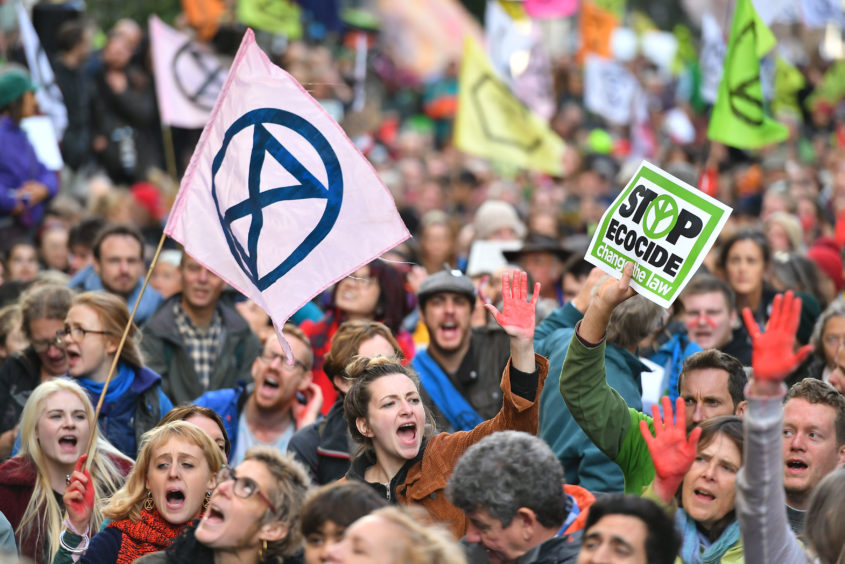 The climate action group has vowed to temporarily shift focus away from public disruption as its primary means of action, in a bid to prioritise "relationships over roadblocks".
In a message titled "We Quit" and posted on the Extinction Rebellion (XR) website on New Year's Eve, the group said it had made "a controversial resolution to temporarily shift away from public disruption as a primary tactic."
Though XR said it still recognises and celebrates the power of disruption to raise an alarm, it noted that "constantly evolving tactics is a necessary approach." However, it pledged to remain "radical" in its response to the current climate and ecological emergency.
"In a time when speaking out and taking action are criminalised, building collective power, strengthening in number and thriving through bridge-building is a radical act," the statement added.
"XR is committed to including everyone in this work and leaving no one behind, because everyone has a role to play. This year, we prioritise attendance over arrest and relationships over roadblocks, as we stand together and become impossible to ignore."
It comes as fellow pressure group Just Stop (JSO) used a similar New Year's message to demand police and courts stop arresting and jailing protesters.
The statements follow waves of protests, demonstrations and other direct action in the years since XR's foundation in late 2018.
This has included repeated marches and sit-ins which succeeded in bringing large sections of London to a standstill, as well as more targeted actions – such as protestors gluing themselves in a human chain around the Speaker's Chair in the House of Commons last year.
Throughout 2022 an XR offshoot group dubbed Insulate Britain also held a series of sit-down protests, blocking traffic on key roads including the M25.
Aberdeen has also seen its fair share of stunts too, owing to the concentration of oil and gas firms in the city, with the likes of Shell, BP, EnQuest and others the subject of various protests.
VIDEO: Extinction Rebellion dumps 'mounds of manure' outside BP Aberdeen offices
Most recently, this included a protest at Aberdeen's Christmas village, with demonstrators gathering outside the Marischal Square headquarters of the North Sea Transition Authority (NSTA) to voice opposition to the Jackdaw and Rosebank gas and oil fields.
The Big One
Despite a change in tactics however, the group also called on more people to sign up to participate in its plans to surround the Houses of Parliament in London this coming April.
Dubbed 'The Big One', the campaign intends to recruit 100,000 people to gather at Parliament Square for a days-long demonstration – the group's biggest ever action to date.
Launching a 100 Days campaign that will countdown to the event on 21 April, XR issued an invitation is "to all humans, all movements, all organisations to come together and stay for as long as you can."
"Surrounding the Houses of Parliament day after day in large numbers means we can leave the locks, glue and paint behind and instead demonstrate faith in a critical mass of people to create a moment that's impossible to ignore," the statement added.
Recommended for you

XR beams 'Stop Rosebank' message onto Valaris 121 rig in Dundee