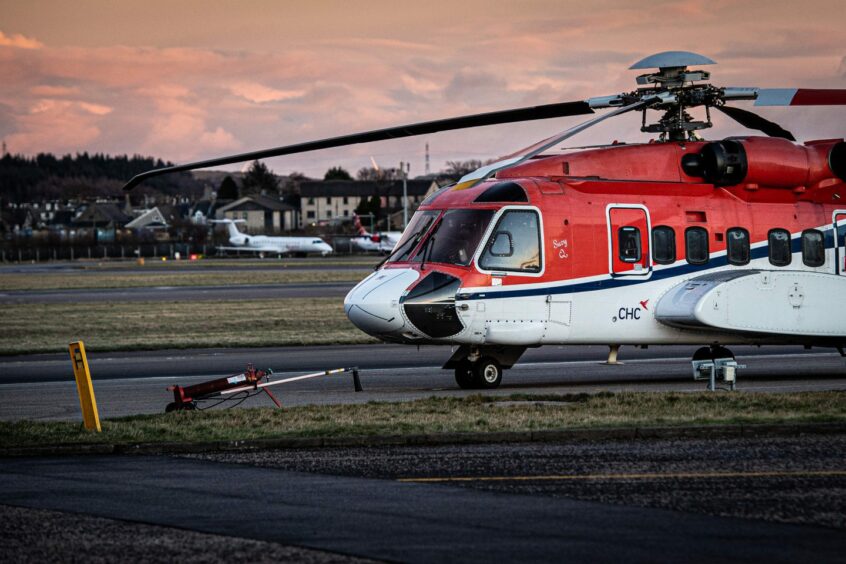 CHC has announced it will sell the former Babcock North Sea helicopter business to South African firm Ultimate Aviation Group.
The deal, expected to complete in Q1 of this year, comes after the UK competition watchdog ordered the sale of the Babcock (LON: BAB) business – which CHC acquired in September 2021 – arguing it would "significantly reduce rivalry" in the North Sea.
CHC said the sale and purchase agreement was signed in December, but needs to be cleared by the Competition and Markets Authority (CMA).
Chief executive David Balevic said: "While we remain disappointed with the CMA's decision and believe it was based on several fundamental misconceptions, we are glad to be close to completing this process through the sale of Offshore Helicopter Services UK (OHS UK )to Ultimate Aviation.
"CHC's talented team will continue to deliver outstanding levels of service and safety, quality and innovation, through our existing UK business."
OHS UK operates a fleet of Airbus H175, Sikorsky S92 and Leonardo AW139 helicopters from their main operating bases in Aberdeen and Sumburgh for various customers in the North Sea.
According to its website, Ultimate Aviation Group has operations in South Africa and Madrid.
The firm offers cargo transport, helicopter services for the oil and gas industry and commercial flights.
On the 1st of December last year a firm listed under the name Ultimate Aviation Group UK, incorporated on Company House,  listing Mr Shaun Bradley, a South African native, as its director.
Shaun Roseveare, Chief Executive Officer of Ultimate Aviation, said: " The acquisition is set for final closure shortly, and the integration of OHS UK into Ultimate Aviation will be seamless for customers and they can expect the same high level of service they have come to expect from both companies.
"This acquisition marks an exciting new chapter for Ultimate Aviation and we are looking forward to continue offering our customers the best services possible and expanding our reach to new regions."
The divestment to Ultimate Aviation Group covers the UK arm of Babcock – now known as Offshore Aviation UK – which as of last year employed around 500 people.
In a recent conversation with Energy Voice, recently appointed UK Operations Director for CHC, Harry Bos, said: "Of course, the decision of the CMA was disappointing, but it is the decision we are living with.
"We are moving on with the bits of Babcock that we have in Denmark and Australia and with our current team and our current portfolio."
'22 months of uncertainty'
Director of consultancy Air & Sea Analytics, Steve Robertson, said: "This does at least bring to a closure a period of 22 months of uncertainty and everyone involved can move on but it does also raise a lot of questions about the role of the CMA in these markets and the basis on which intervention is taken.
"This is a market with very large end-customers that can exert significant bargaining power and have clearly done so very well in the last decade.
"Quite why the CMA saw fit to intervene in the market in the interests of oil companies that were perfectly capable of encouraging new entrants (as we subsequently saw with Perenco) remains a mystery to many in the offshore aviation business.
"CHC's original deal announced in March 2021 was an attempt to return the market closer to equilibrium and what the CMA have achieved through their intervention is the exact opposite."
The Texas-headquartered firm long argued against the CMA's ruling, fighting its conclusion over a lack of competition in the struggling North Sea helicopter market.
In September 2021 CHC purchased Babcock's Aberdeen-headquartered oil and gas aviation business for the sum of £10 million.
Following the deal, it was reported that the North Sea helicopter operator made pre-tax losses of £383m the same year it was bought over by CHC.
The CMA launched an investigation into the acquisition and found that the deal would "significantly reduce rivalry" in the North Sea helicopter market.
This prompted the CMA to demand that CHCC sell the formerly Babcock-owned helicopter services company.
The CMA has said that "any updates will be made on our case page."
Mr Robertson added: "According to the IOGP Aviation Sub-Committee safety notice published in October 2022 the industry is seeing 'significant additional pressure on our aviation supply chain and its safety critical personnel' with the result being 'a clear increase in accidents and serious incidents'.
"You have to ask how far the market is willing to go in exerting further pressure on the supply chain and to what extent ill-advised government intervention will worsen the situation?"
Recommended for you

Aberdeen's Offshore Helicopter Services facing £10m HMRC probe