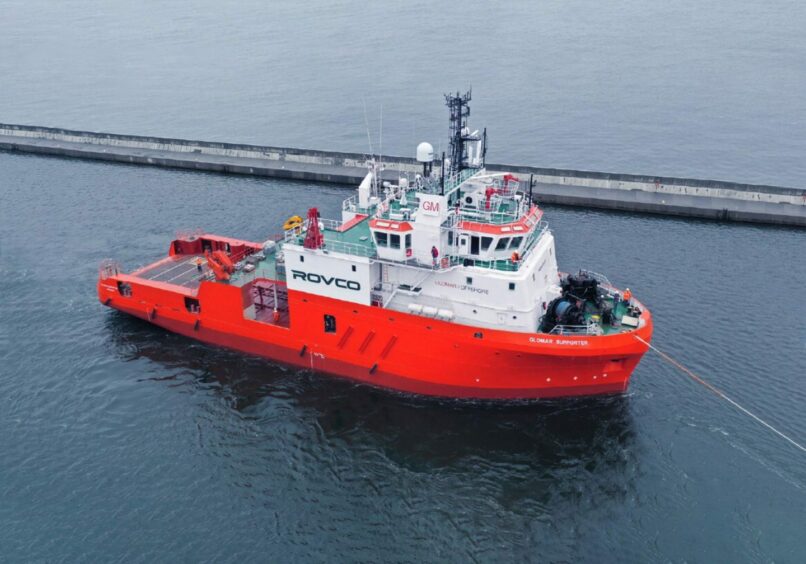 Rovco has signed a three-year contract for the Glomar Supporter multipurpose support vessel as it looks to further expand its survey business.
The firm, which provides subsea robotics and integrated survey solutions and has offices in Aberdeen, says that the deal is part of its strategy to grow its site characterisation business unit.
Signing the deal with the Aberdeen headquartered Glomar Offshore, Rovco says this marks a "significant expansion" in its offshore hydrographic, geophysical, and shallow geotechnical survey capabilities.
A collaboration between the two firms, plus marine design consultants, Medea, will see the vessel kitted out with a suite of survey sensors and equipment, aimed at providing data capture, reporting and technology-enabled solutions for a "streamlined and efficient site characterisation offering".
The work will be carried out when the vessel reaches its dry dock next month where it will be delivered to Rovco.
At the dock, a keel-mounted gondola, designed and analysed for performance by Medea, an array of deck equipment, and dedicated high-end survey and reporting office suites will be added to the vessel.
The gondola will contain a suite of permanently installed survey sensors including dual head multibeam configurations, with inbuild roll and pitch stabilisation for high-quality acquisition.
According to Rovco, the project has a key focus of "supporting the rapidly growing pipeline of offshore wind projects from their Aberdeen operational base, across ScotWind, the Southern North, Irish and Celtic Sea developments."
Director of site characterisation at Rovco, Craig Davis, said: "This agreement marks the continuation of a strong working relationship between Rovco and Glomar Offshore, as we adapt to support increasing client demand for turnkey integrated survey solutions across the offshore wind market.
"The Supporter will allow us to operate in a more efficient way for our customers, helping to accelerate the delivery of critical offshore wind projects."
Glomar Offshore chief executive, Klaas Weij, added: "Combining our great cooperation with Rovco over the last seasons and our Group's in-house vessel upgrade expertise, we are excited to embark on this long-term charter of our Glomar Supporter.
"As a company, we believe in the vast potential of the offshore renewables survey market and look forward to having Rovco onboard for the next years."
The Glomar Supporter was initially built in 2009 and underwent an extensive rebuild and refurbishment in 2021.
Measuring just shy of 197 feet, the vessel is currently equipped with P2 station-keeping capabilities, a carrying capacity of around 1395 of deadweight tonnage and a combined deck space of 1630 ft2.
Recommended for you

Up to £6.5bn to be spent on new wind turbine vessels in coming years