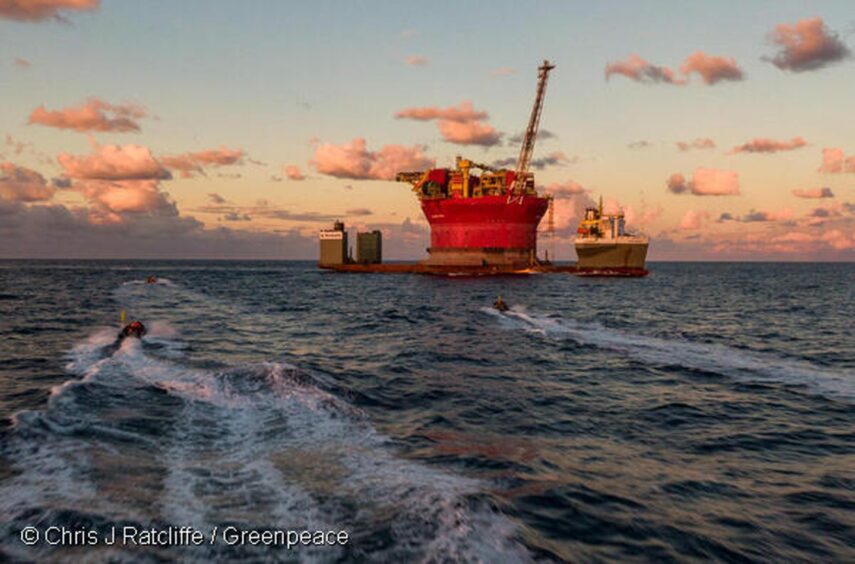 Greenpeace protestors have boarded a Shell (LON: SHEL) FPSO – destined for the North Sea – in the Atlantic Ocean, just north of the Canary Islands.
Activists from "climate hit countries", including the UK, have targeted Boskalis' White Marlin vessel, which is transporting the Penguins FPSO from China to Europe.
It comes ahead of London-listed supermajor Shell publishing its full-year financial results on Thursday.
A Shell spokesman said: "These actions are causing real safety concerns, with a number of people boarding a moving vessel in rough conditions. We respect the right of everyone to express their point of view. It's essential they do that with their safety and that of others in mind."
A representative for Boskalis confirmed the vessel is still continuing its journey, with the Dutch firm "monitoring the situation".
Bearing a banner reading, 'stop drilling. start paying', the demonstrators approached the 51,000-tonne White Marlin heavy-lift vessel off the cost of Morocco at at around 8am this morning.
They travelled in three boats, launched from Greenpeace's Arctic Sunrise ship.
The group aims to draw attention to "the worldwide climate devastation caused by Shell and the wider fossil fuel industry", which they claim "haven't paid a penny towards the loss and damage they've caused".
Could remain in place 'for days'
Four protestors – Carlos Marcelo Bariggi Amara from Argentina; Yakup Çetinkaya from Turkey; Imogen Michel from the UK and Usnea Granger from the US – used ropes to climb onto the deck of the White Marlin.
They are now "occupying" the Shell Penguins FPSO, due to be the oil giant's first new manned vessel for the UK in 30 years.
Greenpeace says the group have enough supplies with them to remain in place "for days" – according to vessel tracking website MarineTraffic, the White Marlin is still travelling.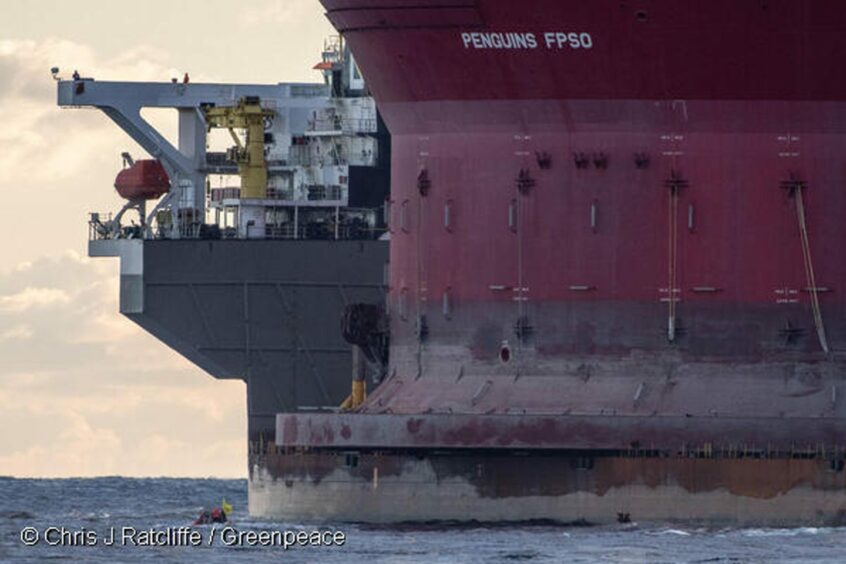 Two other activists, Yeb Sano from the Philippines and Waya Pesik Maweru from Indonesia, attempted to join them but did not manage to board.
Mr Sano said: "Shell must stop drilling and start paying. We're taking action today because when Shell extracts fossil fuels it causes a ripple of death, destruction and displacement around the world, having the worst impact on people who are least to blame for the climate crisis.
"Shell and the wider fossil fuel industry are bringing the climate crisis into our homes, our families, our landscapes and oceans.
"So we will take them on at sea, at shareholder meetings, in the courtroom, online and at their headquarters. We won't stop until we get climate justice. We will make polluters pay.
"They must take accountability for decades of profiting from climate injustice, and pay for the loss and damage they've caused. We need a just transition towards cheap, clean, renewable energy in a way that benefits communities, workers and the climate."
The long arm of the law: North Sea assets as targets for protests
Penguins
The Shell Penguins FPSO set off for its North Sea destination at the tail end of last year – before arriving in the UK it will stop at Aibel's Haugesund yard on Norway's west coast.
Sitting some 150 miles north-east of Shetland, Penguins is a redevelopment of a former tie-back field to the Brent Charlie hub.
Confirming a final investment decision in 2018, Shell said it expects the project to unlock 80 million barrels of oil that would have otherwise been left stranded.
The Shell Penguins FPSO is expected to deliver peak production of 45,000 barrels per day.
A spokesman for Shell said: "Households, motorists and businesses need a stable supply of oil and gas, which remain a key part of the UK energy mix as we build more renewable power. Projects like Penguins are vital to that supply and help reduce the UK's reliance on higher carbon and costlier energy imports. Locally-produced, responsible oil and gas production is critical for UK energy security and entirely consistent with a net zero pathway as modelled by the UK's independent Climate Change Committee.
"After decades of supplying oil and gas, output from the UK North Sea is tailing off and now meets less than 50% of the UK's demand. It is important to stop it tailing off too steeply, while the transition to low-carbon energy gathers pace. The new floating vessel will allow production from the Penguins field to continue to provide the necessary energy that the UK needs. It is not a new field, but one which has already been producing oil and gas for 20 years.
"We plan to invest up to £25 billion in the UK energy system over the next decade, providing individual projects remain economically viable under the revised tax regime, and subject to Board approval. More than 75% of this is intended for low and zero-carbon technology, including offshore wind, hydrogen and electric mobility."
NEO Energy is a 50% partner on Penguins, after acquiring ExxonMobil's stake in 2021.
A Boskalis spokesman added: "I can confirm that Greenpeace boarded the vessel early this morning North of the Canary Islands. The vessel is continuing its journey northbound, we are monitoring the situation and are in close contact with our ultimate client Shell on how to proceed."
Eyes on upcoming financials
Scrutiny of Shell is likely to ramp up further this week when the group publishes its full year accounts for 2022.
A rebound in oil and gas prices, due largely to Russia's attack of Ukraine, meant Big Oil posted record profits in quarterly results last year.
It pushed numerous governments to hit the energy sector with a windfall tax of one sort or another, in order to try to protect households from spiralling costs of living.
Shell's upcoming results will be the company's first under the stewardship of Wael Sawan, who took over as chief executive from Ben van Beurden at the start of the year.
Commenting on Greenpeace's Penguins protest, Natalie Coupar, Offshore Energies UK's communications director, said: "We respect everyone's rights to peaceful protest and share concerns about the safety of both the protestors and other personnel on board. Millions of people across the country need reliable supplies of fuel, electricity and heating and the UK's offshore energy industry is proud to meet those demands with homegrown supplies.
"Many of the companies producing the oil and gas we need are expanding to produce even more electricity through offshore wind, hydrogen and carbon capture. We're all agreed on the need for secure, affordable and cleaner supplies of energy – the challenge is making sure that we get there in a way that benefits UK jobs, communities and the wider economy. This industry is already on the case through meeting much of the country's gas requirements, while ramping up supplies of cleaner electricity and fuel."
Recommended for you

Greenpeace blockades Shell terminal in the Philippines