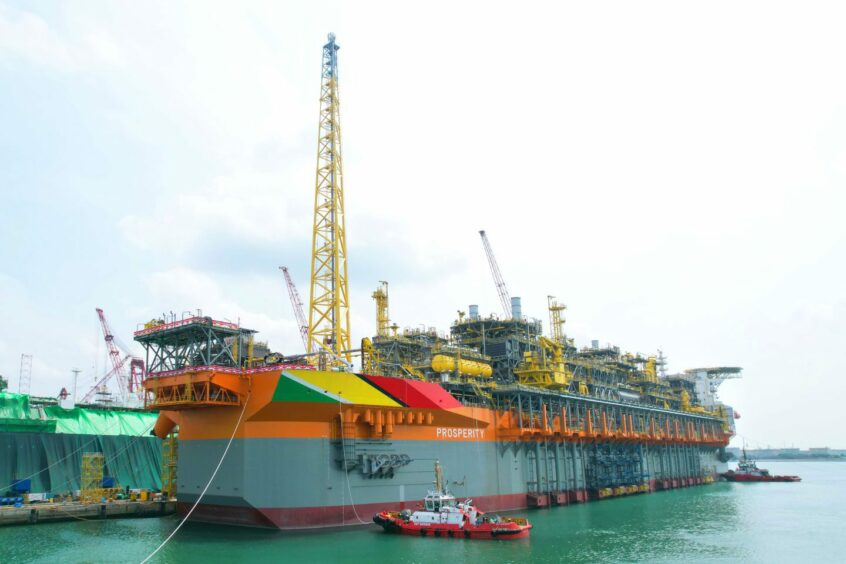 Keppel Offshore & Marine's (Keppel O&M) (SGX:BN4) reported it is on track to deliver a mega floating production storage and offloading vessel (FPSO) to SBM Offshore in 1Q 2023 that is destined for ExxonMobil's (NYSE:XOM) Stabroek Block.
It is the third FPSO that Keppel Shipyard is delivering to SBM Offshore and will be chartered to the consortium of ExxonMobil, CNOOC, and Hess to operate in offshore Guyana.
The Prosperity, which is scheduled to leave Singapore for Guyana this quarter, will be utilised on the Payara development, ExxonMobil Guyana's third project in the Stabroek Block. Start-up is expected later this year.
The vessel was named Prosperity FPSO by Guest of Honour, Her Excellency Mrs Arya Ali, the First Lady of the Co-operative Republic of Guyana at a ceremony held 1 February at Keppel Shipyard in Singapore.
Chris Ong, CEO of Keppel O&M, said, "We are pleased to support SBM Offshore and ExxonMobil in contributing to Guyana's oil and gas industry with a third FPSO for deployment in the Stabroek block. FPSO Prosperity reinforces Keppel O&M's standing as the world leader in the integration of FPSOs and extends our track record of more than 130 FPSO projects. It also marks our 27th major project for SBM Offshore, building on the strong partnership that we have forged over decades of collaboration."
Keppel O&M's scope of work on FPSO Prosperity includes the fabrication of several topside modules, riser, mooring and umbilical structures, followed by the installation and integration of these structures and all topside modules onto the FPSO.
The FPSO, which will be spread moored in water depth of about 1,900 metres, is designed to produce 220,000 barrels of oil per day, with associated gas treatment capacity of 400 million cubic feet per day and water injection capacity of 250,000 barrels per day. The FPSO will be able to store approximately 2 million barrels of crude oil.
ExxonMobil currently has four sanctioned projects offshore Guyana. Liza Phase 1 is producing approximately 130,000 barrels per day using the Liza Destiny FPSO vessel. Liza Phase 2, which started production in February 2022, with a capacity of 220,000 barrels per day using the Liza Unity FPSO. The third project, Payara, is expected to produce 220,000 barrels per day; construction on its production vessel, the Prosperity FPSO, is likely before year-end 2023. The fourth project, Yellowtail, is expected to produce 250,000 barrels per day when the ONE GUYANA FPSO comes online in 2025.
Guyana's Stabroek Block is 6.6 million acres (26,800 square kilometers). ExxonMobil affiliate Esso Exploration and Production Guyana Limited is the operator and holds 45% interest in the Block. Hess Guyana Exploration Ltd. holds 30% interest, and CNOOC Petroleum Guyana Limited holds 25% interest.
Recommended for you

End of year sees mixed progress on 2022's top 10 oil and gas projects