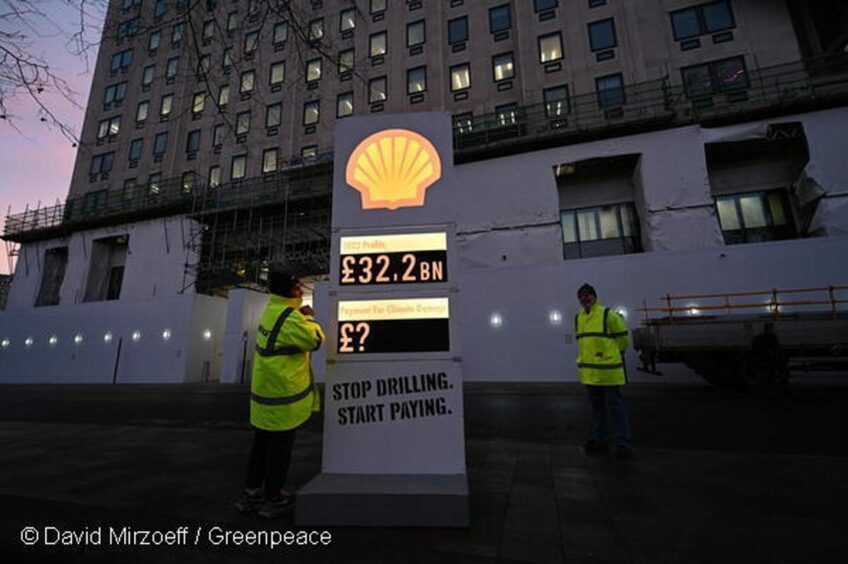 Shell (LON: SHEL) has hit a new all-time earnings high after the supermajor more than doubled its year-on-year profits.
The London-listed energy giant raked in global pre-tax takings of $64.8 billion in 2022, a mammoth increase on 2021's figure of $29.8bn.
In the fourth quarter alone, Shell's profits stood at $16.3bn.
As a result of its buoyant balance sheet, Shell has hiked its dividend by 15%, and announced plans to embark on a $4 billion share buyback programme, expected to be completed by its Q1 2023 results.
Adjusted earnings, the group's preferred financial yardstick, for Q4 were $9.8bn, bringing its yearly total to $39.9bn – the best in the oil giant's 115-year history.
Environmental groups are accusing Shell of "profiteering from climate destruction and immense human suffering".
Activists were also quick out of the blocks, targeting the group's London headquarters at first light on Thursday morning.
Oil and gas prices drive new highs
Shell's eye-watering takings are largely the result of a bounce back in global oil and gas prices last year, as Russia's invasion of Ukraine sent commodities sky high.
It was the soaring costs of hydrocarbons that prompted the UK Government to hit the North Sea with a windfall tax on its profits – the EU enacted a similar policy.
Combined with other duties, the energy profits levy took the headline rate of tax on oil and gas companies to 75%.
In the UK, Shell's chief financial officer Sinead Gorman says the company paid over "$100 million of cash tax" last year.
That is expected to rise to more than $500 million for 2023 due to the hike in the EPL.
Ms Gorman told an investor call that less than 5% of Shell's global revenue is made in the UK.
The company previously said it expects to take on a $2bn liability during Q4 as a result of the windfall tax, as well as the "solidarity contribution" in the EU.
Results debut for Sawan
The group's full year results is its first set of financials under new chief executive Wael Sawan, who took over from Ben van Beurden at the beginning of 2023.
Mr Sawan said: "Our results in Q4 and across the full year demonstrate the strength of Shell's differentiated portfolio, as well as our capacity to deliver vital energy to our customers in a volatile world.
"We believe that Shell is well positioned to be the trusted partner through the energy transition. As we continue to put our Powering Progress strategy into action, we will build on our core strengths, further simplify the organisation and focus on performance. We intend to remain disciplined while delivering compelling shareholder returns, as demonstrated by the 15% dividend increase and the $4 billion share buyback programme announced today."
Clamors for a windfall tax raise
While it's good new for shareholders, Shell's profits quickly garnered a mountain of strong criticisim from environmental groups.
Both Labour and the Liberal Democrats called for a "proper windfall tax" to be imposed on the oil and gas sector to help struggling households.
But trade body Offshore Energies UK has accused them of offering "false hopes", underlining that Shell's profits are global, and therefore can't be touched by UK taxes.
Mike Tholen, OEUK's director of sustainability, said it was wrong to offer such false hopes to consumers: "These calls for extra windfall taxes on profits made outside the UK make no sense and could never be implemented. The UK is subject to global tax agreements which say that it cannot tax profits made by companies outside of the UK."
Environmental groups scathing
Greenpeace staged a demonstration outside Shell's London headquarters this morning, where activists setting up a huge, mock petrol station price board.
It displays the company's profits, with a question mark next to the amount it will pay towards climate loss and damage.
That is in parallel to a another protest that is currently taking place in the middle of the ocean.
Earlier this week four Greenpeace protestors boarded the White Marlin vessel and "occupied" the Shell Penguins FPSO it is transporting.
Our four brave activists occupying the 34,000 tonne oil platform on its way to the North Sea have a message for Shell's CEO 👇🏽

They are responding to its announcement of record annual profits #MakeShellPay pic.twitter.com/A7gcMjI51A

— Greenpeace (@Greenpeace) February 2, 2023
Penguins is destined for the North Sea, where it will be the oil giant's first new manned vessel for the UK in 30 years.
Senior climate justice campaigner for Greenpeace UK, Elena Polisano said: "Shell is profiteering from climate destruction and immense human suffering. While Shell counts their record-breaking billions, people across the globe count the damage from the record-breaking droughts, heatwaves and floods this oil giant is fueling. This is the stark reality of climate injustice, and we must end it."
Tessa Khan, executive director of Uplift, said: "This feels like we're being mugged now. These are profits that Shell is taking from us in higher energy and fuel bills, including from the many millions of households living in fuel poverty, pensioners and families with children among them, and from businesses up and down the country that are struggling to survive. It is grossly unfair."
Questions over lack of renewables spend
An activist investor has also criticised the company for its lack of spend on low carbon energy activities.
Shell's investments in the division Renewables and Energy Solutions (RES) were $3.5 billion out of a total of $24.8 billion (14%).
Mark van Baal, founder of Follow This, said: "Shell can't claim to be in transition as long as investments in fossil fuels dwarf investments in renewables.
"The bulk of Shell's investments remain tied to fossil fuel businesses, because the company doesn't have a target to slash its total CO2 emissions this decade, as is required to reach Paris."
Recommended for you

Shell paid net UK taxes for first time in years on windfall levy