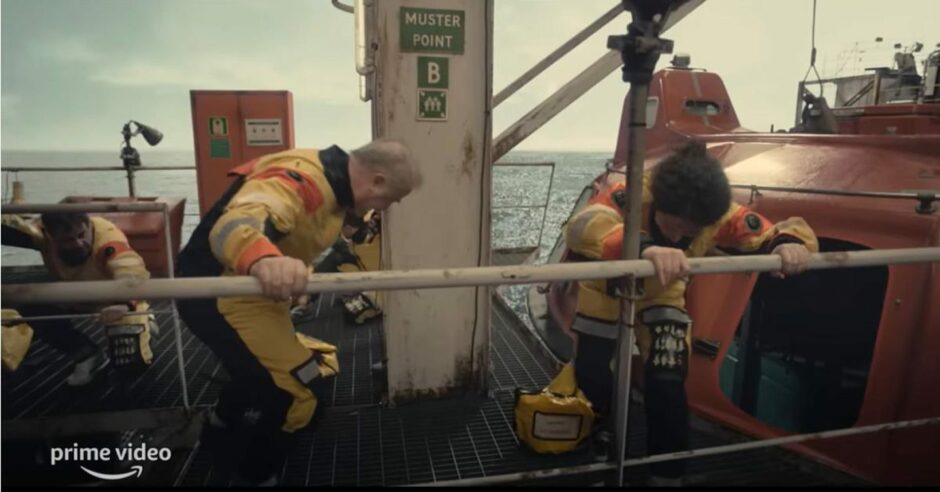 Any offshore workers watching Amazon Prime's The Rig earlier this year would of no doubt recognised the Survitec survival suits and Crewsaver lifejackets.
The suits worn by stars such as Owen Teale, of Game of Thrones fame, were part of Survitec's rental fleet, meaning those who recognised the PPE on screen might have been seeing their hand-me-downs.
A Survitec spokesperson told Energy Voice: "If you're an offshore worker reading this, one of the suits or lifejackets you saw in The Rig could be one you previously wore on your offshore transfer.
"You can't get more authentic than that!"
That being said, the offshore sector voiced its opinion on the North sea thriller when it hit our screens in January and they did not hold back.
Working on the series "definitely created a buzz" within the Survitec team, and the firm worked closely with the production crew to ensure that the kit shown on screen was as true to the North Sea as possible.
Survitec was not the only Aberdeen-based firm that had a hand in the supernatural thriller set in the North Sea, North Sea Core and HRH Geology worked with the Amazon crew to provide authenticity to the production.
"So before making our recommendations, we discussed each scene scenario to gauge how the immersion suits and lifejackets would be used.
"This allowed us to determine what the most appropriate equipment would be if this was a 'real' situation opposed to being set in a studio.
"The trickiest bit of this was to get an understanding of the scenarios without there being any spoilers."
The Aberdeen offices of the survival equipment manufacturer were particularly excited to be working on the project.
"It's definitely created a buzz within our teams, especially out of our Aberdeen offices which is where our suits are designed, manufactured and serviced.
"Every Teams call since The Rig went live seemed to start with 'have you seen the episode where…yet?'."
The Rig was not the first time the firm has had a hand in bringing the North Sea to our screens, Suvitec has also worked on film.
"We have a unique history of supporting TV and film media set in the North Sea over the years.
"The most recent of course being The Rig and before that, an epic Norwegian blockbuster titled Nordsjøen (2021) which features immersion suits from our Hansen Protection brand."
Survitec hopes to work with Amazon again in the future: "Who knows, perhaps the casting team will be looking for some extras for a potential season 2… we certainly hope so!"
Recommended for you

Amazon renews 'global hit' The Rig for second series