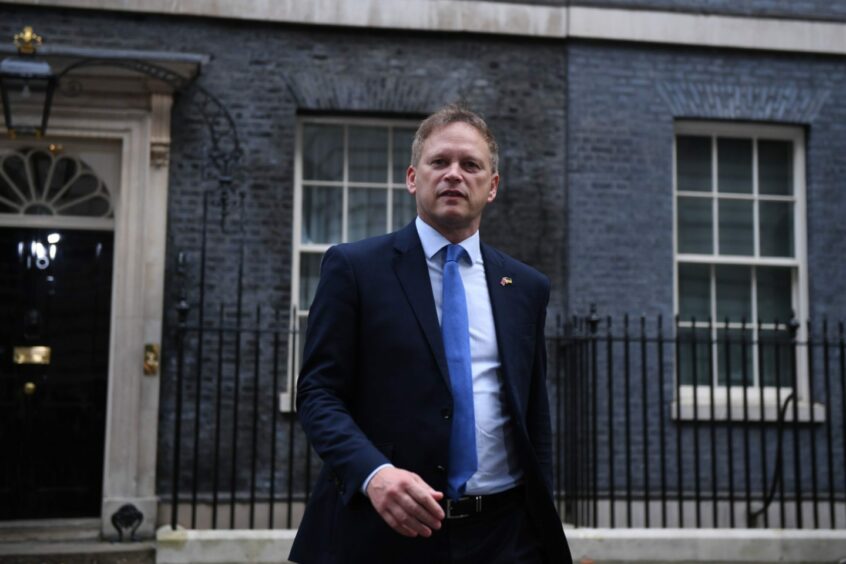 Rishi Sunak has enacted wholesale government changes in a bid to shore up energy security and spark economic growth.
The Prime Minister has created four new segments, splitting the business, trade and culture departments into different briefs.
Former-business secretary Grant Shapps becomes the UK's first energy security and net zero secretary.
As part of his Tory leadership campaign last year, Mr Sunak pledged to create a  standalone energy department, reversing a 2016 decision to disband the department of energy and climate change.
Mr Shapps tweeted: "Delighted to become the first Secretary of State for the new Department for Energy Security & Net Zero. My focus will be securing our long-term energy supply, bringing down bills and thereby helping to halve inflation."
MP for West Aberdeenshire and Kincardine, Andrew Bowie will also be part of the new department, after he was handed a job as parliamentary under secretary of state.
Chairman of the North Sea Transition Authority (NSTA), and former energy minister, Tim Eggar welcomed the creation of a dedicated energy division, describing it as "truly terrific" for the UK.
Mr Eggar said: "Ever since the abolition of the Department of Energy in 1992 we have seen critical energy issues deprioritised with inevitable adverse consequences for the energy sector and consumers.
"For too long we have run the risk of our security of supply and drive towards net zero being side-lined, only for a spotlight to be shone at times of crisis.
"The much needed return to a sole purposed energy department will allow the whole of our energy industry to thrive, from CCS to nuclear, and oil and gas to hydrogen.
"With the right leadership in place we will be able to focus on becoming a world leader in carbon capture, a pioneer in offshore wind and hydrogen, while maintaining our domestic energy supply, sustaining and creating hundreds of thousands of jobs and generating billions of pounds of investment in the UK.
"We look forward to working with the Secretary of State and ministers in this and other departments to drive down emissions, deliver cleaner domestic energy and support a thriving industry."
Other shuffles
Meanwhile, Kemi Badenoch will head up the joint department for business and trade, where she will "support growth by backing British businesses at home and abroad, promoting investment and championing free trade"
Greg Hands, once the UK's energy minister, becomes Tory party chairman after the recent sacking of Nadhim Zahawi.
Lucy Frazer takes up the culture secretary mantle, and Michelle Donelan is moving to the new department for science, innovation and technology.
According to Downing Street, the creation of four new departments will "ensure the right skills and teams are focused on the Prime Minister's five promises".
Greenpeace sceptical
But climate group Greenpeace has questioned the efficacy of the move to create a specific energy security and net zero department.
According to the the organisation, Westminster as a whole is the main blockade to takcling climate change, rather than specific ministers.
Doug Parr, Greenpeace's director of policy, said: "As climate disasters intensify, energy costs spiral and the world continue to sink under rising seas, without other fundamental reforms, re-establishing a Department for Energy will be as helpful as rearranging the deck chairs on the Titanic. It's government policy and underinvestment that is holding back real action on the climate and energy crises, not the departments or ministers in place.
"Unless the new-look Department for Energy is given the freedom and funding to rapidly scale up renewable energy production – both offshore and on – to sure up domestic supply, as well as roll out a nationwide scheme to insulate the tens of millions of energy-wasting homes across the country, what's the point?"
Alexander Kirk, a campaigner at NGO Global Witness, said: "Grant Shapps, a man who has always been inconsistent when it comes to the climate, has now been handed a new top job to protect it. This is the same Grant Shapps who was previously for fracking, then against it. It's also the same Grant Shapps who voted against reducing the UK's net emissions to zero by 2050.
"If this government is serious about its climate agenda, we need people at the top who really believe in it. We also need a proper and permanent tax for oil and gas companies that can support those struggling with bills, combined with a massive boost to renewable energy and home insulation, to end the fossil fuel era that is causing so much damage to both people and planet."
Recommended for you

Energy minister opens new Edinburgh office for ScotWind developer