Demonstrators gathered outside Equinor's (OSLO: EQNR) north-east base on Wednesday afternoon in opposition to the oil and gas company's "grotesque" profits.
Around 20 protestors from the Stop Rosebank and Extinction Rebellion Aberdeen campaign groups mustered outside the Norwegian energy giant's Aberdeen office at around midday.
It comes after the Oslo-listed company joined other oil and gas majors in posting record profits for 2022.
In its full-year results, Equinor reported whopping pre-tax takings of $78.6 billion – more than double the $31.5bn reported in 2021.
Campaigners described the company's takings, which cover its global operations, as a "slap in the face" to those struggling with the cost-of-living crisis.
They also used the demonstration, held outside Equinor's offices at the Primefour Business Park, to call for an end to one the group's Rosebank project.
Located West of Shetland, the project is thought to tipped to hold 300 million barrels recoverable in its first phase.
It is one of several North Sea oil and gas projects in development that climate campaigners are seeking to derail.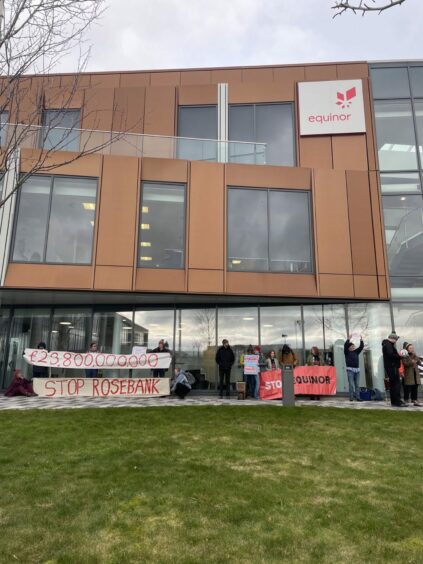 Friends of the Earth Scotland's oil and gas campaigner Freya Aitchison said: "The fact that Equinor and other fossil fuel companies made such obscene profits is a real slap in the face for the millions of people who are struggling to pay their energy bills and keep their homes warm this winter. On top of this, the UK Government is incentivising Equinor to drill for more oil and gas in the Rosebank field by giving them a £500 million tax break.
"Climate science is clear that to limit further dangerous climate breakdown, there must be no new investment in oil and gas extraction. Any oil produced from Rosebank will belong to Equinor who can sell it on the international market to the highest bidder. 80% of the oil extracted in the North Sea is exported and independent research has shown that it will not bring down energy bills."
Lee Matthews, a member of Extinction Rebellion Aberdeen, said: "People are really angry about this and they're showing it by turning out outside Equinor's offices here in Aberdeen. We want Equinor to know that we won't accept their plans to develop the Rosebank oil field, or any of the other new fossil fuel projects they're planning across the world.
"Workers and communities need a just transition to affordable renewable energy, and for that to happen we need to stop investing in new fossil fuels now. The tide is already turning against the oil and gas industry thanks to people power, and we won't stop until fossil fuels are a thing of the past."
Recommended for you

Protestors target annual Edinburgh energy event