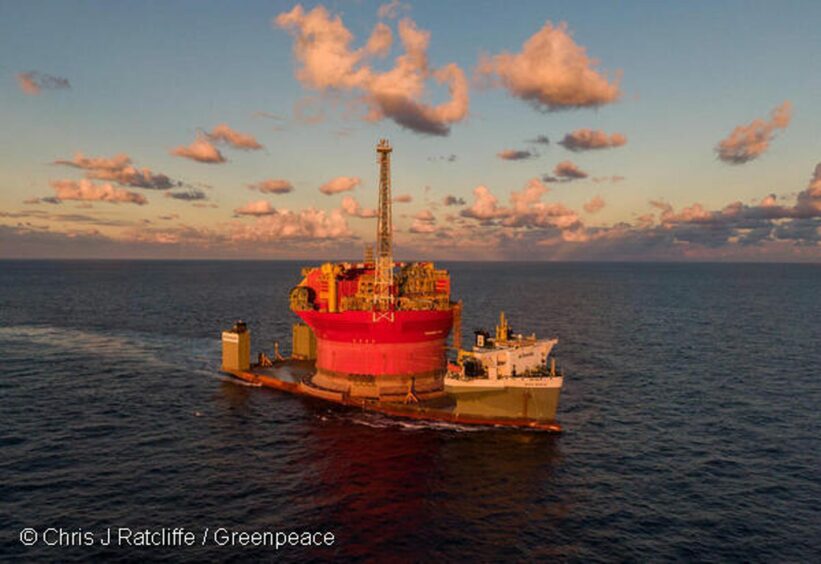 Transport of the Shell Penguins FPSO to Norway has been paused as a result of "deteriorating weather conditions" in the North Sea.
Boskalis' White Marlin heavy load vessel, which is carrying the UK-bound production facility, is currently "sheltering" in the interests of safety.
That is despite claims from environmental group Greenpeace that protestors on-board have "interrupted" Shell's "business as usual" by causing the transport to stop.
UPDATE: Oil platform has STOPPED in the ocean.

Shell's business as usual INTERRUPTED ❌ pic.twitter.com/gHvprVEtRB

— Greenpeace UK (@GreenpeaceUK) February 8, 2023
Early last week four activists boarded the Penguins FPSO – the oil giant's first new manned vessel for the UK North Sea in 30 years – just north of the Canary Islands.
Shell (LON: SHEL) subsequently filed an injunction against two Greenpeace vessels in a bid to stop things escalating.
But Greenpeace was able to get another two protestors aboard a few days later using different boats.
Shell previously condemned the action, flagging the potential risk to life.
Before it takes up station in the North Sea, the Penguins FPSO will make a stop at Aibel's Haugesund yard on Norway's west coast.
Vessel tracking website MarineTraffic shows the 51,000-tonne White Marlin is currently on anchor in the Central North Sea, off the coast of Denmark.
In a statement, Dutch contractor Boskalis said: "Due to deteriorating weather conditions North of Scotland, we are sheltering at the current location. This is in the interest of safety of the crew on board, the vessel and the cargo."
Sitting some 150 miles north-east of Shetland, Penguins is a redevelopment of a former tie-back field to the Brent Charlie hub.
Shell in on record as saying it expects the project to unlock 80 million barrels of oil that would have otherwise been left stranded.
Penguins is expected to deliver peak production of 45,000 barrels per day.
London-listed Shell recently set the tone for its oil and gas major counterparts, posting record profits for 2022 as a result of surging energy costs.
The group raked in global pre-tax takings of $64.8 billion in 2022, a mammoth increase on 2021's figure of $29.8bn.
Fellow energy giants BP, Equinor and TotalEnergies have all published similar successes in the last few days, prompting calls for an escalation to the UK's North Sea windfall tax.
Recommended for you

Greenpeace blockades Shell terminal in the Philippines