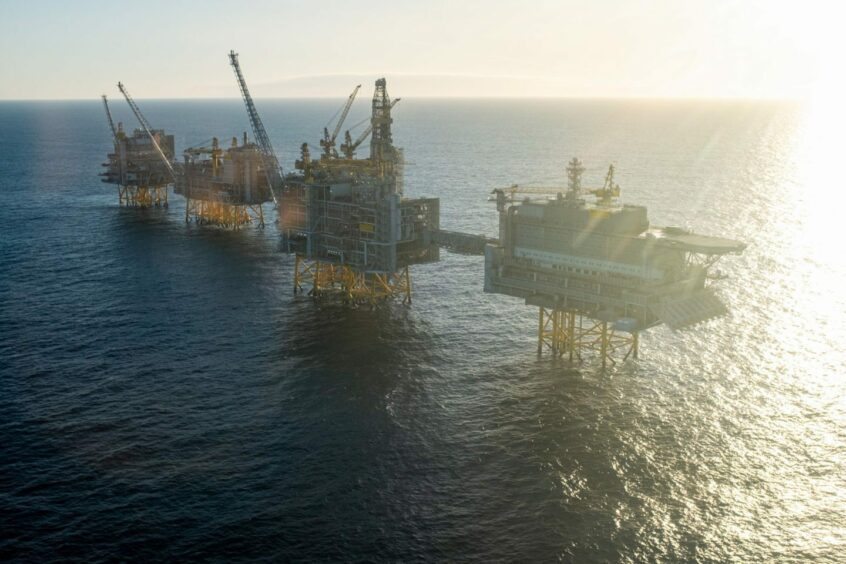 Amid a wall of screens in the control room of Equinor ASA's Johan Sverdrup oil field in the North Sea ticks a tally of the day's production — and a measure of Norway's growing importance to Europe's energy security.
On Monday, that figure hovered around 720,000 barrels a day. "By the end of this month, or maybe even earlier, we will conduct a production test to see if we can raise production up to 755,000 barrels of oil a day," Equinor's Executive Vice President of Exploration and Production Norway Kjetil Hove said during a visit to the platform. "In that case, Sverdrup will be covering between 6% and 7% of total oil demand in Europe."
Since Russian President Vladimir Putin decided to invade Ukraine almost a year ago, Norway's importance to Europe has never been greater. It has become the continent's largest supplier of natural gas, pumping a record 122 billion cubic meters in 2022 through over 8,000 kilometers of subsea pipes. Johan Sverdrup, which began production in late 2019, is estimated to hold 2.7 billion barrels of oil equivalent, making it the continent's biggest oil field.
"At a time when energy security is so central, with the war in Europe, it shows the importance that Norway has as a predictable and reliable deliverer of energy to the world, and to Europe that really needs it," Norwegian Petroleum and Energy Minister Terje Aasland said on the offshore platform during a visit to mark the official opening of its second phase.
Johan Sverdrup is Norway's newest major oil field, affording the 430 men and women who work there a surprising level of comfort for a location 160 kilometers out to sea. Equinor employees gathered to hear Aasland speak in a room resembling a hotel lobby, with soft leather chairs, a chess set and glass jars filled with candy. Down a flight of stairs in the canteen, a grand piano stood off to one side.
A quick glance through any of the windows gave a reminder of why all this was here — a clear view of the North Sea, dotted with rigs and support vessels.
"It is of enormous importance, the activity that is happening here right now," Aasland said. When Johan Sverdrup reaches full capacity, "every third barrel of Norwegian oil will come from this field."
The platform is so large that workers get from one end of the other using three-wheeled push bikes, traversing the 1 kilometer (3,281 feet) distance through enclosed walkways that link its five individual parts. It's a quieter journey than most offshore platforms because Johan Sverdrup draws power from shore via subsea cables, instead of running noisy generators within the confines of the facility.
That electrification is a key part of Norway's efforts to cut carbon from its oil and gas industry. By using hydropower generated on land, Johan Sverdrup's annual emissions will be 1.2 million metric tons lower than if they had been burning natural gas to run power generators on board — equivalent to about 2.5% of Norway's total emissions in 2021, Hove said.
"This is good for the whole Norwegian continental shelf and all of Norway," Aker BP ASA CEO Karl Johnny Hersvik said. Aker BP is a 32% owner of the Johan Sverdrup field. Other partners in the field include Petoro AS and TotalEnergies EP Norge AS.
Equinor and its partners are targeting a 50 year lifespan for the field, with a third phase expected to extend the production plateau. The company will "not leave valuable barrels behind" even as it looks to build out its renewable portfolio and cut its own emissions, Chief Executive Officer Anders Opedal said last week. "We have twenty years of resources in our books. We will continue to develop those resources."
Last year, Aasland's department received oil and gas field development plans representing $30 billion of new investment. The industry is "creating value, activity and not the least, energy to Europe when they need it most."
Recommended for you

Well Slot: Who's drilling in the UK North Sea and Norway?