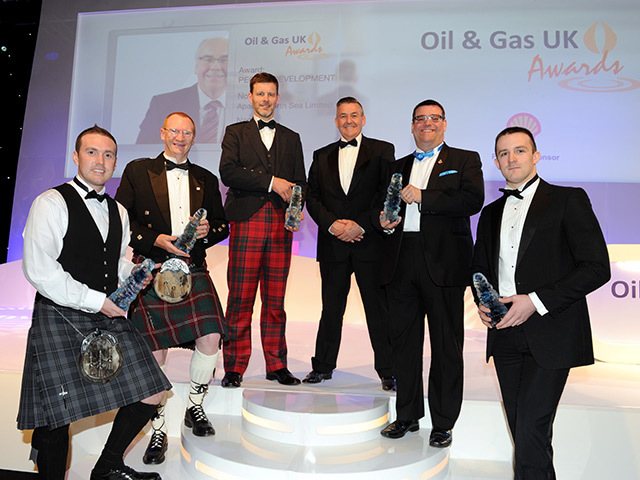 The North Sea's top talent was celebrated at the oil and gas industry's equivalent of the Oscars last night.
More than 600 people gathered at Aberdeen Exhibition and Conference Centre for the 2013 Oil and Gas UK Awards.
The annual showcase of the UK offshore industry – hosted by Pauline Cook – honoured some of the sector's top-performing people and companies.
Kenny Baxter, of Chevron, took home the prize for Overall Excellence. He was praised for his "flair and ingenuity" across multiple projects, including the Rosebank field.
James Gladden, of BG Group, was named Young Technician of the Year, and Archie Crawford – of Bilfinger Salamis – won the top honour for mentoring after helping ex-military personnel into the oil and gas industry.
The award for People Development went to Amec, and the gong for Business Efficiency was shared by Apache and the OGN project team for the installation of the Forties Alpha Platform.
Oil & Gas UK's chief executive, Malcolm Webb, said: "Once again the Oil and Gas UK Awards have shone the spotlight on the talent, dedication and achievements of people and companies which we are exceptionally privileged to work alongside. They are superb examples of what makes this industry great.
"Judging by the quality of entries this year, there is clearly an abundance of real talent, innovation and enthusiasm in our industry – something which I'm sure will come as no surprise to those of us lucky enough to work in it."
Keynote speaker Damian Bates – editor-in-chief at Aberdeen Journals and editor of the Press and Journal – told the audience about the importance of bringing new talent into the sector.
He also urged the industry to work together to promote the huge economic good it does for Scotland and the UK as a whole.
Glen Cayley, upstream director in the UK for Shell, which sponsored the ceremony, also addressed the audience.
Mr Webb added: "As we head into the next chapter for offshore oil and gas, we must ensure that we drive innovation and secure the right business environment in which our industry can continue to thrive – only the people working within this industry can make all this happen.
"I look forward to hearing more stories of excellence for many decades to come."