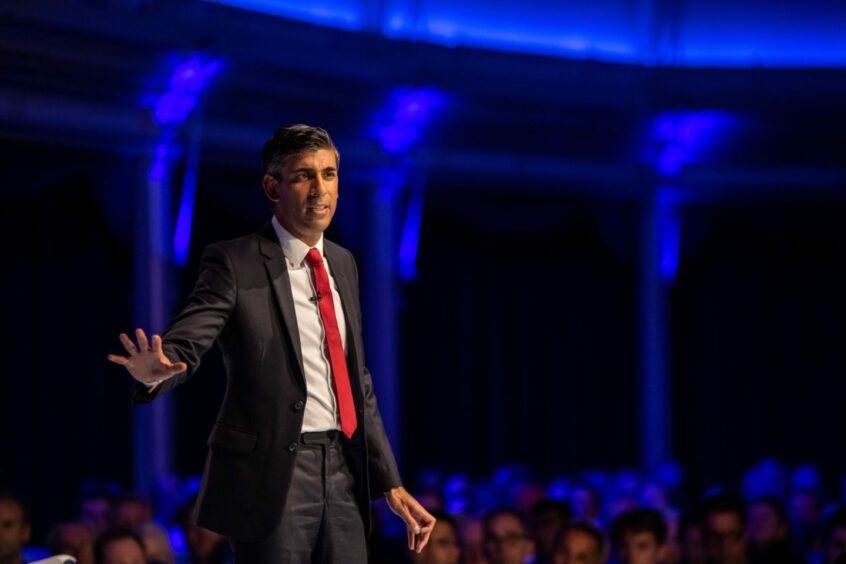 Industry leaders have accused politicians of scaring off energy investment and growth by turning the sector into a "pariah".
Steven Gray equated current government policy to "bashing someone over the head, knocking them unconscious, and then giving them a paracetamol".
Speaking at the Subsea Expo event on Wednesday, the industry entrepreneur listed several policy areas where he feels oil and gas is being "prejudiced" by bad policy.
Included in his rundown of "debilitating" policies was the windfall tax, Brexit, UK Export Finance pulling support for any hydrocarbon projects, as well as the Scottish Government's presumption against new North Sea drilling.
'Grow up'
Mr Gray, now chief executive of Subtron Group, said: "What the government is really doing, but they're not saying it, is adopting a policy during the energy transition of not producing energy domestically, but importing it.
"When we do that, we produce a higher carbon footprint for that oil and gas, and we have an enormous outflow of wealth. To my mind it's completely irrational, and it isn't green."
He highlighted other "comparable" areas, like Norway and the US, that are making "much more sensible policy decisions".
And while "they're not all getting it right", it's better than the UK doing "essentially nothing".
"Then you've got the terrifying statement from Rachel Reeves, the shadow Chancellor, saying the 75% windfall tax rate isn't high enough – it's irrational," said Mr Gray.
"I wish there were politicians here; I would just urge government to really reset, and grow up about support for the sector."
While Mr Gray is sure investment in energy will come, he believes that, as it stands, the lion's share will be in Brazil, the Middle East and Russia.
Unless there's a step change in rhetoric, that will simply leave the UK to import oil and gas from overseas.
Lack of understanding 'staggering'
Mr Gray's comments were broadly echoed by Nick Dalgarno, head of Piper Sandler's Eastern Hemisphere energy and power corporate finance team.
He described the "lack of understanding" amongst the UK's political parties about the broader energy industry as "quite staggering".
Oil and gas is now a key target for politicians of all persuasions, with criticisms ranging from the climate impact, to the profits made by companies.
Despite the eye-watering losses made by North Sea firms during Covid, a windfall tax on producers  was put in place last year as the sector finally returned to profit.
That is "significantly impacting" the industry's ability to attract external investment, and Mr Dalgarno reminded political leaders that their words have very real costs for business confidence.
He said: "Our politicians need to be more careful about what they say. In today's society, being seen to do the right thing is very important, but it has consequences.
"Statements and policies have resutls, and people who want to make investment decisions, whether that's investing in new assets or M&A, need to understand the environment that they're investing in. If you create uncertainty, don't be surprised about the consequences."