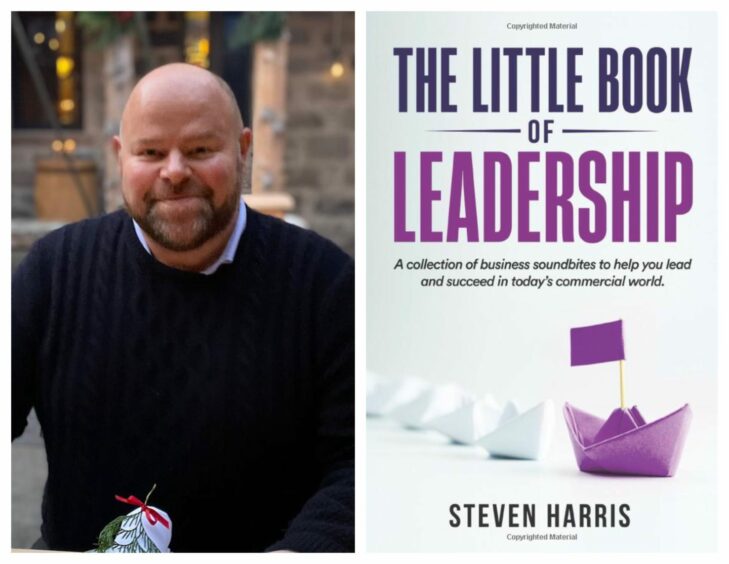 From managing oil and gas megaprojects to dodging bullets in private security, an Aberdeen energy boss has drawn on his varied career to produce a new book on leadership.
Steven Harris, who recently set up his own consultancy after nearly 20 years in oil and gas, has produced the "Little Book of Leadership" to start a conversation about the difference between managers and leaders, and help others on their growth journeys.
All profits from the book, out today, are going to Macmillan Cancer Support after Mr Harris' own scare with the disease, and being awed by the work of "heroes" in the charity, particularly for end of life care.
The book promises anecdotes from the oil and gas industry as well as "hairy times" dealing with local militia, threats of kidnap and a bomb miss in East Africa during his time working for six years in private security.
Dutch Mill to the Falklands
The idea came through discussions with industry in Aberdeen and finding a space in the market to develop leadership competence for the energy sector.
After finding some cases of misunderstanding between leadership and management, he decided to put together the volume which sets out the "fundamentals".
"They walk hand in hand, but management is not leadership," says Mr Harris.
"The book offers numerous lessons, anecdotes and metaphors, and brings some academic theory to life with real life experiences, so that the reader can go through it on what is a deeply personal journey of leadership competence."
The aim is to give readers the tools "to teach themselves how to be a leader" – something they have to do themselves.
"A true leader, a great leader, is an authentic leader. And because we're all wonderfully unique, that means everyone's authenticity is completely unique to them."
He adds: "The book also talks about the importance of your own self-development; ultimately you can't lead anyone unless you can lead yourself."
The move may ultimately lead to Mr Harris running leadership competence courses in Aberdeen as part of his consultancy work.
They could lead as easily in high-stress, high-action environments as they could when somebody got some bad news from home
Mr Harris joined the oil and gas industry in 2006 after a chance encounter with a rig manager in the Dutch Mill in Aberdeen during some off time.
Starting off by "chasing a hook" as a roustabout, he worked his way up before being headhunted by a rig inspection firm and travelled globally in the industry.
He went on to manage large projects for the industry, setting up helicopter and supply bases on the politically and environmentally sensitive Falkland Islands.
Before oil and gas, out of uni between 2000 – 2006, he worked protection detail for "ultra-high net worth clients or clients who were perhaps in trouble one way or the other".
What does that mean? The book describes his time working in "close protection and counter terrorism", the former being his speciality.
"We weren't the Robbie Williams' bodyguards, we were the people you called when you were in trouble.
"I was the person on your shoulder. You had other people who were surveillance and countrer surveillance and quick reaction forces.
"They tended to be ex-military but when you wanted somebody that was on your shoulder that could just blend into the background, you didn't necessarily want somebody who has been in the marines for two decades and had that military stance, that military look."
That's relevant because, in that space Mr Harris encountered "some of the most prolific fantastic leaders that I've certainly ever worked with."
He adds: "They could lead as easily in high-stress, high-action environments as they could when somebody got some bad news from home and they had to change their authoritative stance to the empathetic, more transformational servant leader stance and it fascinated me."
Macmillan profits from Steven Harris' book
Steven Harris is giving all the profits from the book to Macmillan after he had a cancer scare but was "very, very fortunate" in that it was a false alarm.
"But it introduced me to that unique perspective of those that I was waiting with in the oncology waiting room who hadn't got a false alarm."
He went on to add: "I look at the work that the Macmillan heroes and heroines do, and I am genuinely flabbergasted. I am not strong enough to do that, especially when it comes down to end of life care.
"It staggers me to think Macmillan can support somebody and their family through end of life and then go home into their own personal life, and then go to work the next day.
"I'm just not strong enough to do that, so I thought, 'wow, so OK, I can get the word out about this subject that I think we could do some work with and I could help people who do incredible work for other people in society who really need our help.'"
You can find the book here.