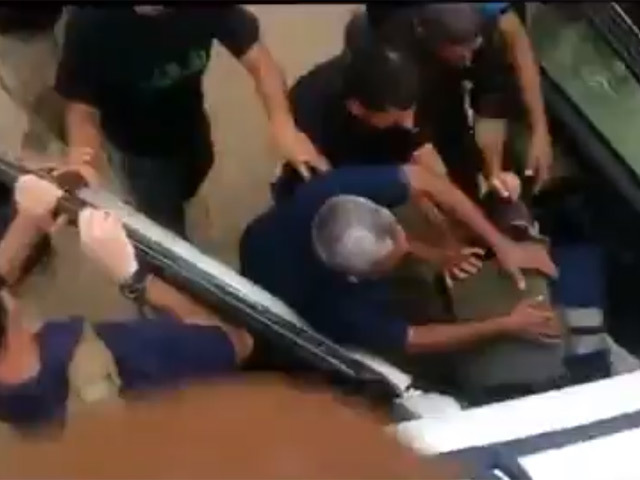 A British oil worker has been injured after violent exchanges at an oilfield in Iraq over an alleged religious insult.
The worker, who is believed to have been a security official with G4S, who has not been identified, was taken to hospital after being attacked at the Schlumberger camp near the Rumaila oil field near Basra.
Reports claimed the worker had tried to remove flags and pamphlets commemorating Shi'ite Imam Hussein ahead of the annual event marking his death.
"A British employee took down a flag for Hussein and a picture of Imam Ali from the cars of the security company, and tore them down with a knife," said Ali Salim Shaddad, a member of the provincial council of Basra.
"This provoked a group of workers, and they went and hit him repeatedly," said Shaddad.
The Briton was taken to a hospital in Basra, where he is still receiving treatment.
Watch video of the attack below
http://youtu.be/24EzUpo6BN4
The Foreign Office said it was not aware of the incident, and was now investigating the reports, but Iraq president Nuri al-Maliki has called for the worker to be deported.
Schlumberger have yet to comment on the incident.
The attack comes in the wake of a similar incident on Saturday, where protests at a plant near Basra forced oilfield services group Baker Hughes to declare force majeure and suspend operations in the country.
An Egyptian oil worker sparked the protests after taking down flags commemorating the Imams.
There were no injuries as a result of the protest, but operations at the facility were disrupted to the point the company decided to suspend activities.
"Baker Hughes supports the Iraqi oil industry," said Baker Hughes chief executive Martin Craighead.
"The safety and welfare of our employees are our top priorities. While we investigate this incident, and until the work environment has stabilized, we are halting activities in Iraq.
"We hope to resolve this issue in a timely manner, and resume operations in support of our customers and the country of Iraq, as soon as it is safe to do so."
The flashpoints come ahead of events to mark the death of Imam Hussein in 680 AD, which has bee seen as the symbolic cause of the split between Sunni and Shiite Muslims.