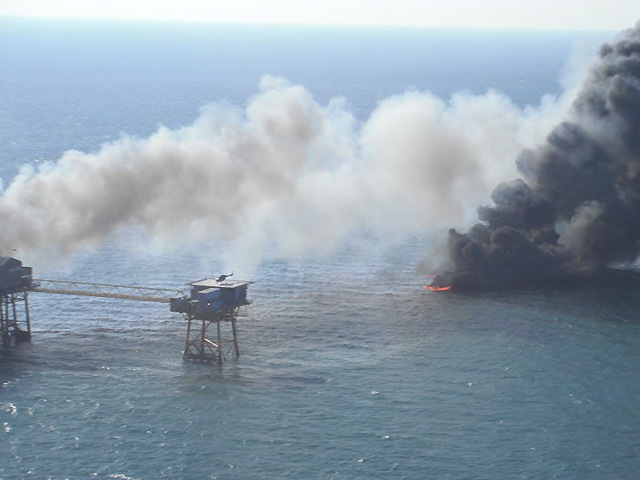 Wood Group PSN has been hit with eleven safety violation warnings following a fatal rig explosion in the Gulf of Mexico.
The decision by US authorities follows a damning report into safety procedures on the platform where three workers were killed following an explosion during welding work last November.
Each incident carries a potential fine of $40,000 per day of non-compliance. Wood Group has 60 days to appeal the decision.
The company told Energy Voice it was now reviewing the non-compliance incidents and would study the findings of the safety report.
The Aberdeen-based company is one of three contractors, alongside rig operators Black Elk, to face safety violation citations by the Bureau of Safety and Environmental Enforcement.  Louisiana firms Compass Engineering and Grand Isle Shipyard have also been charged.
MORE:
Click here to see the full citation
Wood Group PSN criticised for safety failings after report into fatal rig explosion
The BSEE notice of noncompliance cites Wood Group PSN for failing in eleven areas, including :
"WGPSN failed to ensure that construction activities being completed onboard the facility were performed in a safe and workmanlike manner to protect health, safety, property and the environment when welding operations were conducted in close proximity to piping containing hydrocarbons"
"WGPSN did not take necessary precaution to protect all personnel from hydrocarbon accumulation and fire hazard during the construction operations by ensuring that all hazards were identified and addressed"
"WGPSN did not ensure the removal or protection of equipment containing hydrocarbons or other flammable substances within 35 feet from the point of impact of slag, spark or burning materials.
"WGPSN did not designate adequate quantity of personnel to conduct duties of a fire watch during simultaneous hot work operations in separate locations"
"WGPSN failed to take measures to prevent unauthorised discharge of pollution into offshore waters"
"The welding operation was conducted in an area not equipped with a properly functioning gas detector and WGPSN did not maintain continuous monitoring with gas detection equipment during the welding operation in the affected areas"
The charges come almost a year to the day after three workers on the West Delta rig died and three more were seriously injured.
Oil vapours ignited during welding work on an oil tank pipe on the platform. It was connected to two further oil tanks, sparking a chain reaction that blew two of the containers into the sea.
Ellroy Corporal was killed almost immediately, while Jerome Malagapo died of injuries caused by the blast.  A third worker, Avelino Tajonera, died of his injuries at Baton Rouge Hospital.
A spokeswoman for Wood Group said the company was studying the recommendations of the safety report following the citation.
"This was a tragic event involving seven companies and we need to take some time to fully understand the recommendations in the BSEE report issued last week," the company said.
"Wood Group actively promotes that every employee has the right to stop work that may be unsafe or presents any risk to people. The findings from this investigation serve to reinforce the importance of effective communication between all parties on a facility, and the right for people to stop work.
"The BSEE has made recommendations in its report that are relevant to the entire US oil & gas industry, operators and service companies alike. We will work with the BSEE to ensure that the industry recommendations that are attributed to us are implemented to prevent anything like this happening again."