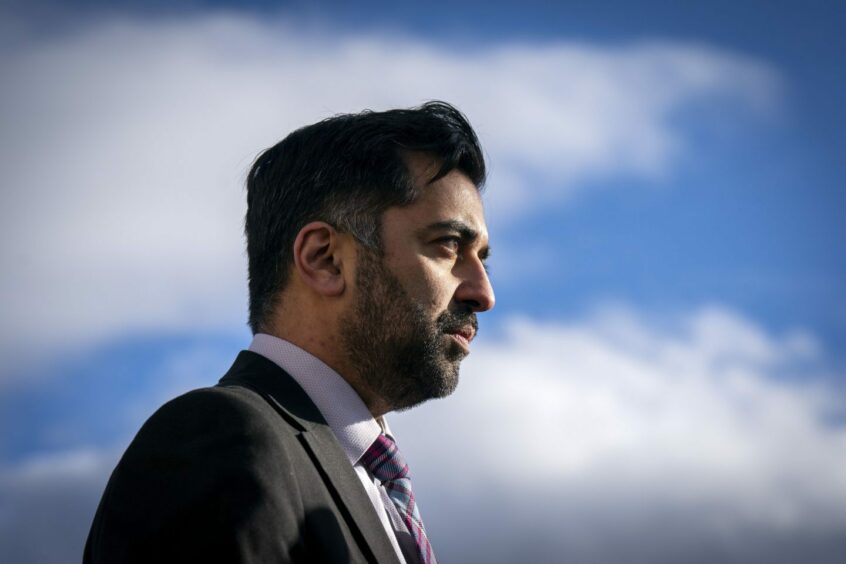 Humza Yousaf has been named leader of the SNP and is set to take over as Scotland's first minister – and as he now looks to form a government Energy Voice looks at his history with the energy sector.
On the campaign trail for the leadership race, the new Scottish National Party leader vowed to turn the north-east into a renewable energy "superpower".
However, Mr Yousaf said this would only be possible if he manages to achieve independence for Scotland.
He said thousands of jobs would be created under his plans to invest in state-owned onshore wind, solar and hydro projects.
Mr Yousaf wants the Scottish government to have a 10% stake in all future offshore wind developments that are awarded licenses through future ScotWind leasing rounds.
This echoes the sentiment of his predecessor Nicola Sturgeon, who last year suggested some energy companies could be nationalised last year. in a bid to protect consumers from rising bills.
'Renewable energy capital of the world'
On a recent trip to Aberdeen's Altens industrial estate, Mr Yousaf said: "It is time for Scotland to own our green future and my plans will use the powers we have available to cement Aberdeen as a renewable energy capital of the world."
He met with trade body Offshore Energies UK (OEUK) while at Wartsila's Aberdeen facility during his time in the Granite City.
After meeting with the SNP leader, OEUK's external relations director, Jenny Stanning, said: "We're pleased Humza Yousaf recognised the need to rapidly scale up renewable electricity, strengthen Scotland's energy security, and ensure we support our brilliant skilled workforce to reap the benefits of an expanding and competitive offshore energy sector.
"As we build that future there is no simple choice between oil and gas or renewables. The reality is that to keep the lights on and grow our economy, we need both."
History in government
In March this year, the new party leader voted for the "Transition to a Wellbeing Economy", this movement entails a worker and community-led just transition to a net zero.
This vote passed with 64 MSPs voting for while 54 opposed.
While he has served in several cabinet positions, Humza Yousaf has little background in the energy sector, having previously served as a member of the Public Audit Committee and the Justice Committee.
In his most recent role in government, Yousaf served as Sturgeon's health secretary, however, on the build-up to the leadership vote he was criticised by opponents for his competency the roles he has held.
One of his rivals in the race, Kate Forbes, said in a televised debate: "When you were transport minister the trains were never on time, when you were justice secretary the police were strained to breaking point, and now as health minister, we've got record high waiting times."
Industry Reaction
Since the announcement of Yousaf's win the energy industry has not shied away from outlining what it expects from the new SNP leader.
Chief executive of Aberdeen & Grampian Chamber of Commerce, Russell Borthwick, was quick to say: "We were encouraged during the campaign by Mr Yousaf's ambition to turn the North East from a region of enormous renewable potential to a 'genuine renewable superpower'.
"That must, however, be part of a genuine plan for a transition that doesn't leave oil and gas workers high and dry in the short term, before the jobs in low carbon industries are rolled out."
Davis Larssen, chief executive of energy services firm Proserv, wrote in an op-ed that was published soon after the news broke.
Mr Larssen wrote: "Our ability to accelerate new energies is inextricably reliant on drawing upon the critical mass of skills, infrastructure and financial capital build up through 50 years of a world-class oil and gas industry.
"Therefore, we must have greater cross-party agreement and commitment recognising that North Sea oil and gas must remain a central pillar, not only to support energy security in the mid-term but to drive much of the funding to unlock the technologies of a clean energy future."
Recommended for you

Sunak pledges £1.6 billion to try to show COP28 he's on message