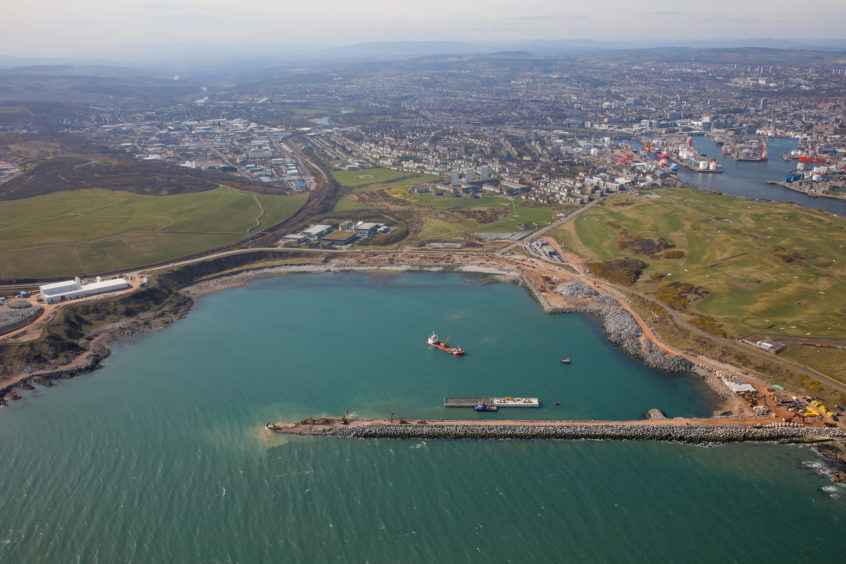 Altens Industrial Estate in Aberdeen is on the cusp of a new lease of life as a "hub of excellence" for driving the world's energy transition, it has been claimed.
Granite City-based commercial property expert Iain Landsman told The Press and Journal that the area has the potential to play a leading role in tackling climate change.
Like a phoenix rising from the ashes, it is going through something of a revival, catalysed by the opening of Port of Aberdeen's new South Harbour."
Altens is the main gateway to Aberdeen's new south harbour and focal point of the proposed Energy Transition Zone (ETZ).
Mr Landsman, who recently left CBRE to become managing director for the new commercial property arm of Aberdeen-based professional services firm Hutcheon Mearns, hailed its "excellent transport links.
'The estate has seen turbulent times'
He added: "Like many industrial estates in Aberdeen, it was born on the back of the oil and gas boom which blessed the city in the late 70s.
"The estate has seen turbulent times over the last decade, with a number of high profile companies relocating – notably TotalEnergies and CNOOC.
"However, like a phoenix rising from the ashes, it is going through something of a revival, catalysed by the opening of Port of Aberdeen's new South Harbour."
Only Wood and Weatherford remain as major office occupiers.
Some landlords have taken a hit on property values. Other buildings in the area have been sold and redeveloped.
The old offices of Amec Foster Wheeler, now part of Wood, are now a Lidl supermarket.
TotalEnergies' former offices were demolished and their warehouses extensively refurbished, which led to FedEx committing long term to a new facility.
ETZ 'masterplan'
Mr Landsman said current activity in the area includes private landlords investing capital to upgrade dated stock – at Forties Industrial Centre, for example.
ETZ Limited, the not-for-profit company driving the energy transition zone project, has a campus-style "masterplan" for the area.
It aims to deliver "revitalised brownfield accommodation alongside a new release of catalytic development sites, providing businesses with the unique opportunity to invest in the largest dedicated energy transition complex in Scotland."
ETZ Ltd land and planning director Neil Young said: "In Altens alone we have taken forward the refurbishment of Richard Irvin House, which will become – in collaboration with ORE Catapult – the National Floating Wind Innovation Centre.
"It is already attracting businesses seeking to capitalise on the vast opportunities provided by this emerging sector.
"In addition, we've just recently announced the creation of the brand new Energy Incubation and Scale Up Hub to be built on Harness Road, a £6.5 million investment supported by BP and Scottish Enterprise.
"It will support small companies seeking to grow as part of the transition to a low carbon economy."
Mr Young added: "These are just the very first projects to be advanced a part of a comprehensive investment programme to deliver market-ready properties and sites for high-value manufacturing and the wider energy transition supply chain.
"Our 'brownfield first' approach means Altens Industrial Estate is a focal point of our activity and we are certainly confident we can contribute to its rejuvenation in the coming years."
'Exciting' new lease of life
Mr Landsman added: "Investment in the new South Harbour is bringing with it an upturn in demand for space in Altens.
"With the vision that was proposed and is now being delivered by ETZ, it's an exciting time for Aberdeen and in particular Altens Industrial Estate despite the wider economic challenges.
"Altens' new lease of life is exciting and, with more public sector support, both on a macro and micro level, the future of one of Aberdeen's leading industrial locations is bright."
New figures provided by Mr Landsman show Aberdeen's industrial take-up in 2022 totalled 924,890sq ft over 93 deals, the highest number of transactions in a decade.
Recommended for you

Keir Starmer: 'I will unleash a generation of secure jobs for Aberdeen'