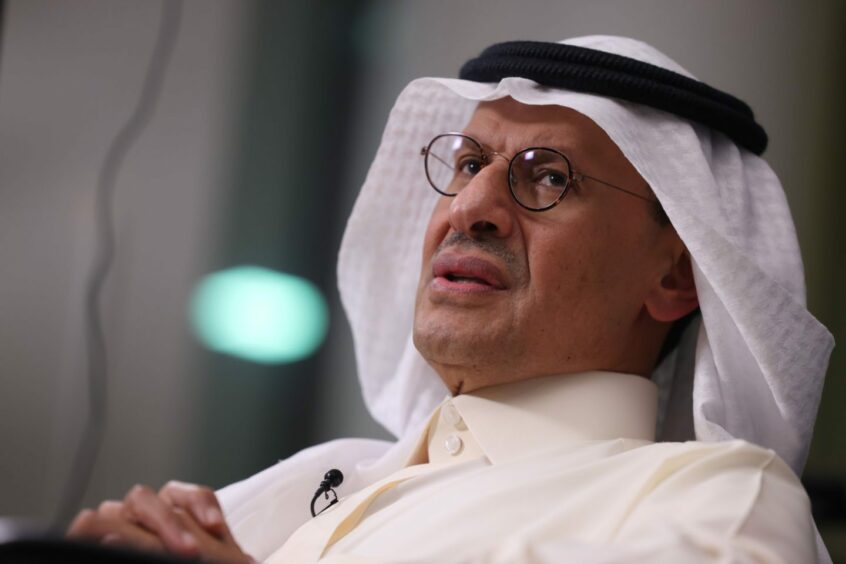 OPEC+ announced a surprise oil production cut of more than 1 million barrels a day, abandoning previous assurances that it would hold supply steady and posing a new risk for the global economy.
It's a significant reduction for a market where — despite the recent price fluctuations — supply was looking tight for the latter part of the year. Oil futures soared as much as 8% in New York on Monday while gasoline also gained, adding to inflationary pressures that may force central banks around the world to keep interest rates higher for longer.
Saudi Arabia led the cartel by pledging its own 500,000 barrel-a-day supply reduction. Fellow members including Kuwait, the United Arab Emirates and Algeria followed suit, while Russia said the production cut it was implementing from March to June would continue until the end of the 2023.
"OPEC+ clearly want a higher price," said Gary Ross, a veteran oil consultant turned hedge fund manager at Black Gold Investors LLC. The group "is following through on being proactive and ahead of the curve, and is trying to rip oil prices from the grip of" macro sentiment.
The international Brent benchmark traded near $84 a barrel at 1:30 p.m. in Singapore, while US gasoline jumped as much as 4.5%. Any increase in the cost of transportation fuels tends to be closely monitored by American politicians, particularly ahead of the summer season when more people take road trips and vacations.
Top oil analysts issued calls for $100 crude after the decision, with some expecting worldwide supply-demand balances to be in deficit earlier than expected. That view was reflected in the strengthening of Brent's backwardation — where the premium of prompt shipments rises relative to later supplies in a closely watched signal of tightness.
The surprise move could once again flare tensions between the US and Saudi Arabia, a regional partner whose relationship with President Joe Biden's administration has been tense. The White House said that the new cuts were ill-advised.
The initial impact of the cuts, starting next month, will add up to about 1.1 million barrels a day. From July, due to the extension of Russia's existing supply reduction, there will be about 1.6 million barrels a day less crude on the market than previously expected. Russia initially moved to lower production in March, in retaliation against western sanctions prompted by its invasion of Ukraine.
Riyadh said on Sunday the reductions were a "precautionary measure aimed at supporting the stability of the oil market."
Relations between Saudia Arabia and the US have been fraught since last year, when the White House's efforts to cajole the kingdom into pumping more oil fell flat.
Biden made a controversial trip to the region last July, but came away without any commitments on production. Then in October, when OPEC+ made a surprise cut of about 2 million barrels day just weeks before the US midterm elections, Biden vowed there would be "consequences" for Saudi Arabia, but the administration did not follow through.
On Sunday, the White House said the OPEC+ decision wasn't advisable under current market conditions. The Biden administration also said the US will work with producers and consumers with a focus on gasoline prices for Americans.
Economic Interest
The move on Sunday — announced a day before the OPEC+ monitoring committee is due to meet — was an unprecedented way to decide policy for the group, which has had to adapt in recent years first to the demand shock of the pandemic and now to the war in Ukraine and the fallout of sanctions.
As recently as Friday, delegates had been indicating privately that there was no intention to change their production limits.
Oil fell to a 15-month low last month due to the turmoil caused by the banking crisis, but prices had recovered as the situation showed signs of stabilizing. Brent crude closed just below $80 a barrel on Friday, up 14% from its March trough.
But that may not be high enough for the group. Back in October, the last time it made a massive cut that took consumers aback, Nigerian Minister of State for Petroleum Resources Timipre Sylva said the group "wants prices around $90."
For its part, Saudi Arabia is embarking on a huge swathe of spending running into trillions of dollars to transform its economy into a tourism hot-spot and global logistics and business hub. While much of that spending is driven by a few sovereign wealth funds that may not directly benefit from higher crude prices, government officials have said they will use surpluses to help accelerate domestic investments.
"We see this closely held decision as just one more indication that the Saudi leadership is making its oil production decisions with a clear eye to their own economic self-interests," said Helima Croft, head of commodity strategy at RBC Capital Markets LLC.
Country                   Size of cut (b/d)
Saudi Arabia            500,000
Russia                       500,000
Iraq                            211,000
UAE                           144,000
Kuwait                      128,000
Kazakhstan               78,000
Algeria                       48,000
Oman                         40,000
The actual reduction in supply may be smaller than the advertised volumes of around 1.6 million barrels a day, assuming that OPEC+ sticks with current reference levels for the cuts. Most OPEC+ members, like Iraq and Kazakhstan, are already producing significantly below their present quotas as they contend with under-investment and operational disruptions, and so may not need to make further curbs. RBC's Croft estimated the cuts would amount to about 700,000 barrels a day from the core OPEC group.
Still, the move will have surprised the market. All fourteen traders and analysts polled last week by Bloomberg predicted no change. They were taking their lead from Saudi Energy Minister Prince Abdulaziz bin Salman, who had said last month that the current OPEC+ production targets are "here to stay for the rest of the year, period."
From time to time, the prince has delighted in wrong-footing speculators with unexpected supply changes. During one such intervention he warned that short-sellers would be "ouching like hell," and for crude bears this latest move may be similarly painful.
Recommended for you

Angola breaks with OPEC quota decision