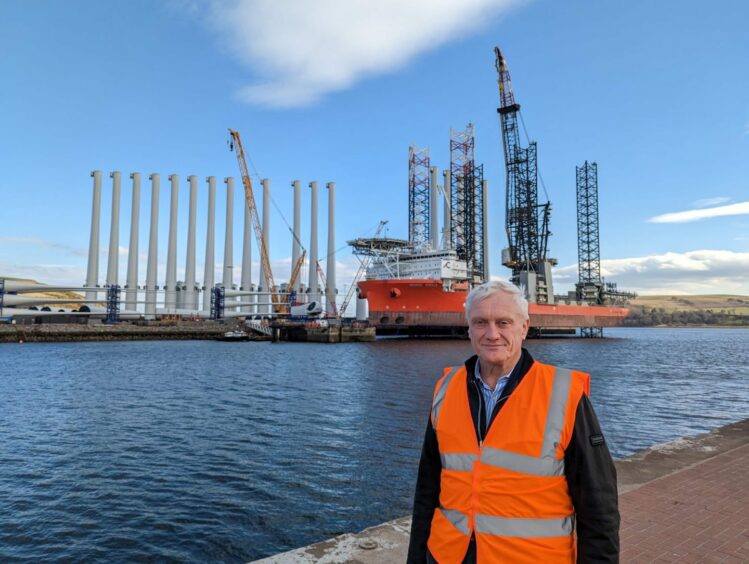 The minister of state for energy security and net zero, Graham Stuart, visited Aberdeen this week to meet with industry leaders.
Mr Stuart said he welcomed "candid" discussions with the energy sector on windfall taxes and support for carbon capture during his visit to Aberdeen on Wednesday.
Mr Stuart has been in the Cromarty Firth to visit Port of Nigg and the Seagreen offshore wind farm before heading offshore to set foot on an installation in the North Sea.
The stopover in the city also saw him meet with oil and gas sector representatives as part of a North Sea Transition Authority roundtable.
This comes as Aberdeen-based Harbour Energy announced it would be cutting 350 jobs across the UK as a result of the controversial Energy Profits Levy, more commonly known as the windfall tax.
Describing this, he said: "The discussions have been very open, very candid and very focused on action both by government and by industry to make sure we can accelerate the transition and maintain the health of the North Sea Basin as a place for investment and delivery of energy security."
The energy minister has said that he has "taken a number of pointers from my engagement with industry" that he will bring up in discussions with his colleagues.
In a conversation with Energy Voice, our reporter asked Graham Stuart about the sector's current hot topics.
Acorn
Last week Mr Stuart opened the Track 2 Carbon Capture Utilisation and Storage (CCUS) round, to which the UK government has said Peterhead's Acorn project is a "leading contender."
When questioned on Acorn's likelihood of taking home funding from the government, the energy minister said that "it's in pretty much in pole position."
Mr Stuart explained: We're looking for expressions of interest by the end of next month, and we're looking to take that forward.
"We've already said that the acorn transport and storage system in Aberdeenshire is one of the two best places to deliver our objectives."
The north-east carbon capture project controversially missed out on the previous funding round in 2021 to East Coast Cluster and HyNet, leaving the Scottish cluster in the lurch.
The UK energy security and net zero minister told Energy Voice why Acorn missed and what might be different this time around: "What we wanted to do was make sure that we could move with the fastest and best developed and we deliberately came up with track one and track two to do that.
"Industry told us they want to go with whoever can move the quickest. If we're going to meet our 2030 goals, we're going to need a number of clusters across the country."
When pushed on when Acorn's backers could expect a decision, Mr Stuart said: "I haven't got a fixed date that I can give you now."
Rosebank
CCUS is not the only hot topic in the UK energy sector at the moment, the ever-consensus Rosebank field in the west of Shetland is back in the headlines.
As the Track 2 process opened as part of the UK government's 'Energy Security Day' the industry waited with baited breath on whether Equinor's development would get the green light.
However, there was no announcement made while Arne Gurtner, Equinor's senior vice president for the UK, told an OEUK event that he wants the industry to be talking about FID on Rosebank by the time Offshore Europe rolls around.
When questioned on when, if ever, the industry can expect news on the west of Shetland field's license, Mr Stuart said: "On a high-level point, the government is committed to new gas licences in the North Sea.
"Oil and gas is going to play a big part in our future, even in 2050 under net zero, we'll be using about one-quarter of the gas we do today, although it will be updated with carbon capture.
"No decision has yet been made regarding the proposed Rosebank field Development proposals for all fields under existing licences are a matter for the regulators and they always consider the environment when making their judgement."
Windfall tax
To complete a trifecta of headline mainstays, the tax legislation that has caused Offshore Energies UK members to cut spending in the UK by 90%, windfall tax was put to Mr Stuart.
When asked whether a price floor will be added to the energy profits levy, the minister said: "Tax is a matter for His Majesty's Treasury, and I'll leave it to the Chancellor to deal with that, which is his responsibility."
Me Stuart said he will work with his colleagues at the treasury "to ensure that we do have a framework which incentivises investment and facilitates the transition."
However, on the day he said this Energy Voice reported that Equinor and Harbour Energy had exited their stakes Bressay oilfield in the UK while the latter made 350 people redundant.
In both stories, the companies involved blamed the energy profits levy for the decision.
To this he said: "I speak quite regularly to oil, gas and renewables companies and I make sure that the messages that I pick up are shared with colleagues so that we have the right business environment to align with public interest objectives."
Recommended for you

2024: A lost year for North Sea FIDs?