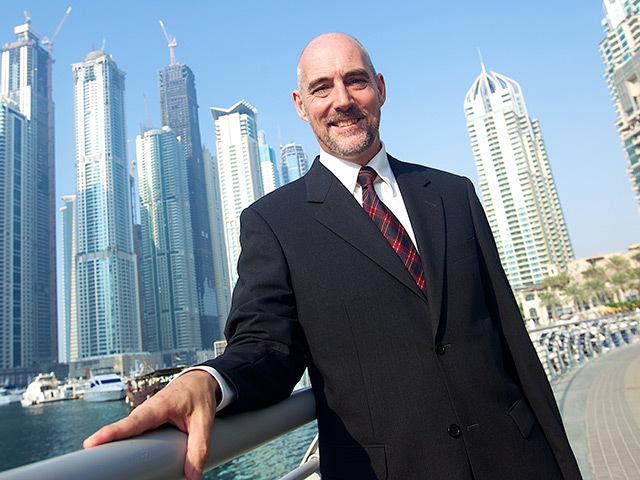 It's a jet set life for Senergy co-founder and chief executive James McCallum.
By the time you are reading this article, he will have just arrived back to his home in Dubai from Cape Town where he was attending Africa Oil Week.
The conference attracted thousands and Mr McCallum was there to drum up some business.
"It's certainly one I'll now attend regularly. We are here to win business.
"Africa is an incredibly important part of the energy story for the next decade. The number of customers is only getting larger."
And larger is part of Mr McCallum's plans for Senergy. In September, he sold the Aberdeen-based firm to the venerable shipping insurance group Lloyds Register.
It was a marriage made after a long – and unusual – deliberation process.
Founded in 2005 by the merger of two firms, Senergy made around £12.5million in its first year.
Last year the company, which specialises in both technology consultancy in oil and gas as well as renewables, enjoyed a turnover of £121million, with pre-tax profits of £491,000 and a staff of 442.
"We had a very successful run in terms of the development of the company," said Mr McCallum.
"If we were going to grow the business into being one of the thought leaders of the industry, we needed a partner that would give us a stronger capital base, that enabled us to more effectively manage some of the cash flow issues associated with globalising the business, but also allowed us to continue building a reputation of punching well above our weight."
The company started searching for an investor two years ago, a process he admits took longer than expected. The firm had received a number of approaches – dominated by private equity firms.
But when approached by the 250-year-old register, which is owned by a charitable trust and promoting values of education and safety, McCallum believed Senergy found its match.
But could a firm owned by a charitable trust outbid the guns of big finance? Oddly, no-one knows, not even Mr McCallum.
He said the Senergy shareholders insisted on an unusual bidding process whereby it first asked for a "values-based" bid submission, with a second bid elaborating how much money was on the table.
"We were never going to be blinded by a number that compromised what we were fundamentally about. It leaves you with having made the decision for all the right reasons."
The terms of the deal remain hush-hush. Mr McCallum had a 24% stake in Senergy and LR intends to acquire 100% over the next three years.
Since the two firms joined forces, the LR energy division, comprising Senergy, has become the largest part of the Lloyds Register group.
Mr McCallum confirmed he will remain as chief executive and chairman of the Senergy business, while the LR energy division will remain led by John Wishart. Eventually the two divisions will merge and move into shared offices in Aberdeen, with the aim of building a £1.5billion business over the next two to three years.
"We are acutely aware if the issues of integration and the challenges around that," said McCallum
Mr McCallum left Scotland five years ago to spearhead Senergy's growth in the Middle East, relocating his young family from a 17th century manor house in Fife they are still fixing up.
But, particularly since the buyout, the firm remains committed to Aberdeen and the North Sea despite its global ambition. He said: "The North Sea remains a cornerstone of the company."
James McCallum: Q&A
Who helped you get where you are today?
There's lots of people, but one person who stands out would be Miss Yosten, my primary three teacher. She was the first person who said you could be anything that you want to be.
What do you still hope to achieve in business?
I have positioned the company as a thought leader in the industry. I don't think that will ever end – thought leadership has no end to it.
If you were in power in government, what would you change?
I would have an energy minister at Cabinet level. For a second one I would ensure the energy agenda was split into longer term investment decision made at a multi- party level
What are you reading, listening to or glued to on TV?
We are about to renovate an old house in Fife so we spend endless hours going through design books. It will embody the marriage of 16th century Scottish architecture with cutting-edge contemporary design.
If you were a character in a TV series or movie, who would you be?
That is a real tough one. Doctor Who – my kids would love that.
What do you drive and dream of driving?
I'm big into cars. At the moment what has most frequently appeared in my life is my Land Rover 110. What I dream of driving is an Aston Martin DBR1 – there were only five made. One just came on the market for £20million. It's not likely I'll get one.
What would your children or partner say about you?
They would say I'm on the phone all the time.
Which charity do you support and why?
The Lloyds Register Foundation. It promotes the furtherance of education in engineering and development of engineering that promotes health and safety in the working enviroment. Both are geared toward building a safer world.
Recommended for you

Is a new global oil supercycle looming?