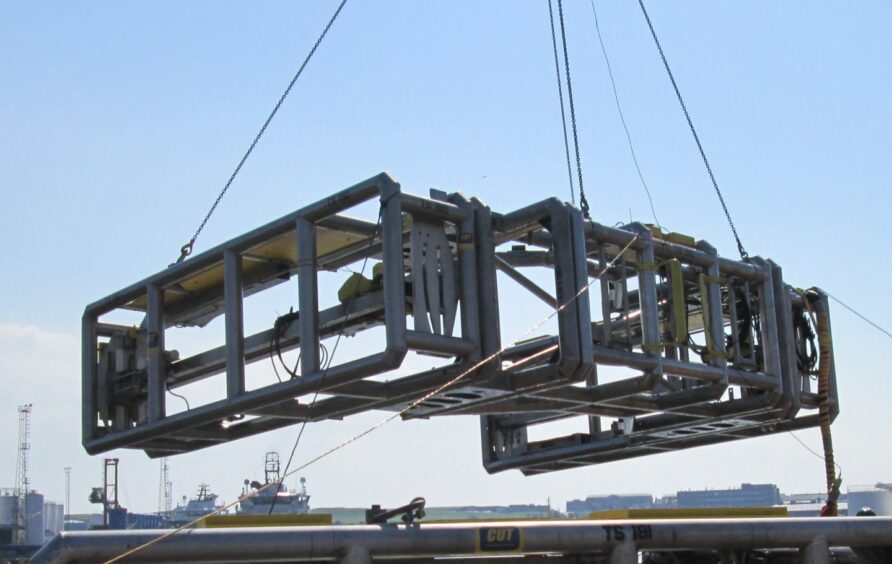 CUT have just completed another large decom project in Western Australia.
16 successful diamond wire cuts were completed utilising their 120" extended and 50" diamond wire cutting machines to cut 3.85m diameter Mid Water Arches and 0.98m diameter Production Riser Gutters as part of the MEFF project.
The entire operation was completed safely, efficiently and on time. This comes on the back of CUT operating their impressive 240" machine to cut a 5.45m Disconnectable Single Point Mooring (DSPM) as part of the Woolybutt Decommissioning project.
Bruce Sinclair, CUT Business Development Manager, said "These projects both highlight that CUT truly are the global experts in our field. We have been involved in almost every decom project in the North Sea, and active in regions such as Africa, the Gulf of Mexico and the Middle East, but its very pleasing to have completed these large decom projects in this relatively new region."
The worlds' first ever ROV diamond wire machine was designed, built and operated by CUT's parent company. Bruce Sinclair said "The Australian decom market is looking to the established North Sea specialists to provide support for their vast decom requirements. CUT can bring our 40-year track record and expertise to support their projects, and it's encouraging to see our activities growing there."
According to CODA (Centre of Decommissioning Australia) US$40billion of decommissioning work is necessary over the next 50 years in Australia's offshore O & G industry, over half of which needs to start within the next decade. CUT state that "We focus on reducing project costs through detailed planning and implementation of best practice approaches – lessons learned from CUT's +1,000 projects. CUT aim to support this emerging decom market via our Singapore base."
CUT UK have been reflecting on a busy Q1. Highlights include:
* 24 projects awarded so far for operations in 2023
* 5 cutting projects completed in Q1
* Work is underway for a new build machine, which CUT believe will be a "gamechanger".
* Ongoing operations in 13 countries and 6 continents, so far, in 2023
* Range of solutions provided to projects including deepwater cutting, in-air topside cutting, cutting of chains, monopiles, risers, jacket legs and many more.
CUT, based in Bridge of Don, Aberdeen are adding to their large fleet of machines and ancillary equipment, and are looking to increase their workforce to meet demand.
Recommended for you

Decom Mission targeting greater project visibility amid sector challenges