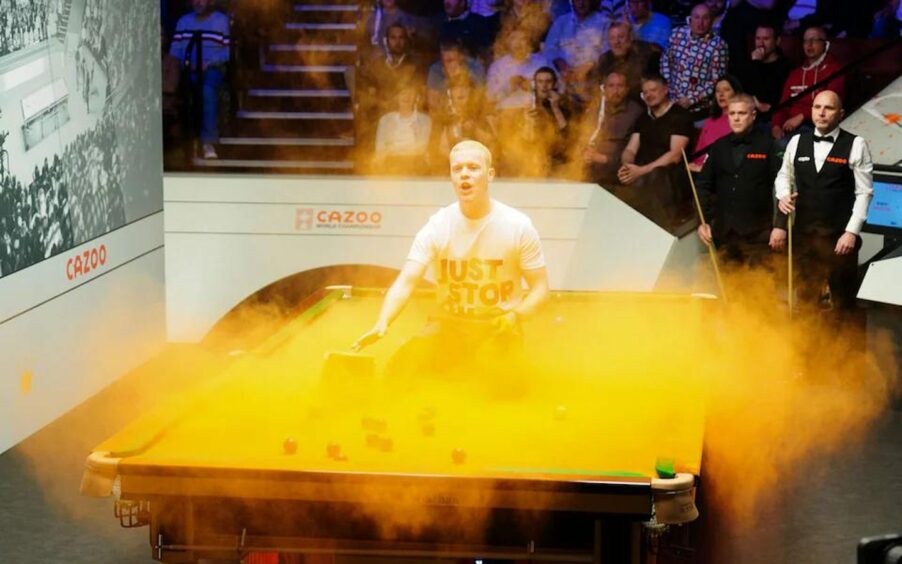 Two Just Stop Oil protestors caused the World Snooker Championship to screech to a halt as paint was thrown over a table during a match at The Crucible.
The two protestors targetted a table each, however, only one was successful in mounting the playing surface and unleashing the activist group's trademark orange paint. 
At around 7:20 pm on Monday, the pair disrupted matches between Robert Milkins and Joe Perry and between Mark Allen and Fan Zhengyi, causing both games to stop.
The table being used by Perry and Milkins was successfully hit with the powder paint while the protestor targeting the other tablet was unable to carry out the plan as security intervened.
It has been reported that both protestors were arrested following the incident.
🧡 CAN YOU BLAME THEM FOR TRYING?

💀 We know new oil and gas will kill millions, but the UK government is licensing 100+ new fossil fuel projects.

🦺 Why would ordinary people not try everything in their power to stop that?#SnookerWorldChampionship #JustStopOil #TheBigOne #UK pic.twitter.com/OaXWjawzrj

— Just Stop Oil (@JustStop_Oil) April 17, 2023
The disruptor of the match between the two Englishmen, a 25-year-old student at Exeter University, said: "I don't want to be disrupting something that people enjoy, but we're facing an extremely grave situation.
"Europe is experiencing its worst drought in 500 years. We're seeing mass crop failure right now.
"We're facing mass starvation, billions of refugees and civilisational collapse if this continues."
"We can't continue to sit back and act as if everything's okay."
The protestor targeting Allen and Zhengyi's match, a 52-year-old former museum worker, said: "I did not take this action lightly, but I cannot remain a passive spectator while our government knowingly pushes us down a path to destruction.
"They are giving handouts of £236 million per week of our money, to the most profitable industry on earth, during a cost of living crisis. I can no longer justify watching from the side lines."
"I am angry and heartbroken that I have found myself in a position where taking this sort of disruptive action is the only way to get heard."
Play has been suspended at the Crucible after a protester jumped on the table and covered it in orange powder.@WeAreWST | #WorldSnookerChampionship pic.twitter.com/epqAOsDGD1

— Eurosport (@eurosport) April 17, 2023
The play was immediately stopped and staff at The Crucible in Sheffield as staff used vacuum cleaners to tidy up.
Master of ceremonies Rob Walker joined in, rolling up his sleeves to help sweep up the mess left behind.
The match between Allen and Zhengyi resumed soon after while the other game was postponed as the table needed to be reclothed overnight.
Recommended for you

Forbes hits out at Just Stop Oil, saying support still needed for oil and gas